News
Rivals Tiger Woods and Phil Mickelson, together again, in perfect harmony … maybe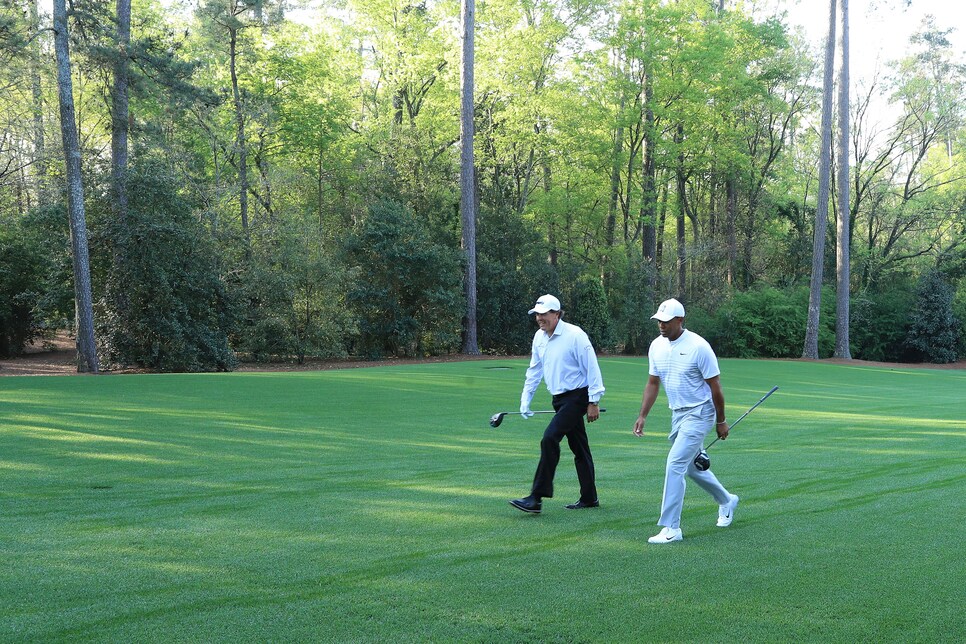 Photo By: Andrew Redington/Getty Images
PONTE VEDRA BEACH, Fla. — Time, it softens hard edges and thaws icy relationships. Tiger Woods is 42 years old, Phil Mickelson 47. They are on the back nines of their Hall of Fame careers.
They are also enjoying each other more than ever.
"We don't really do this very often, unfortunately," he said of playing with Lefty. "For me to be able to play with a person I've gone against for over two decades, it's a lot of fun."
Many in and around the Mickelson and Woods camps, including the two men themselves, say the dynamic between them was never quite as frosty as it was made out to be during their prime. That's only partially true.
For the better part of 20 years, Woods and Mickelson were the face of golf. With no disrespect to the other actors -- Vijay Singh, Ernie Els, David Duval -- they were bit players in this drama. No one loomed as large as Mickelson in terms of personality, resume and talent.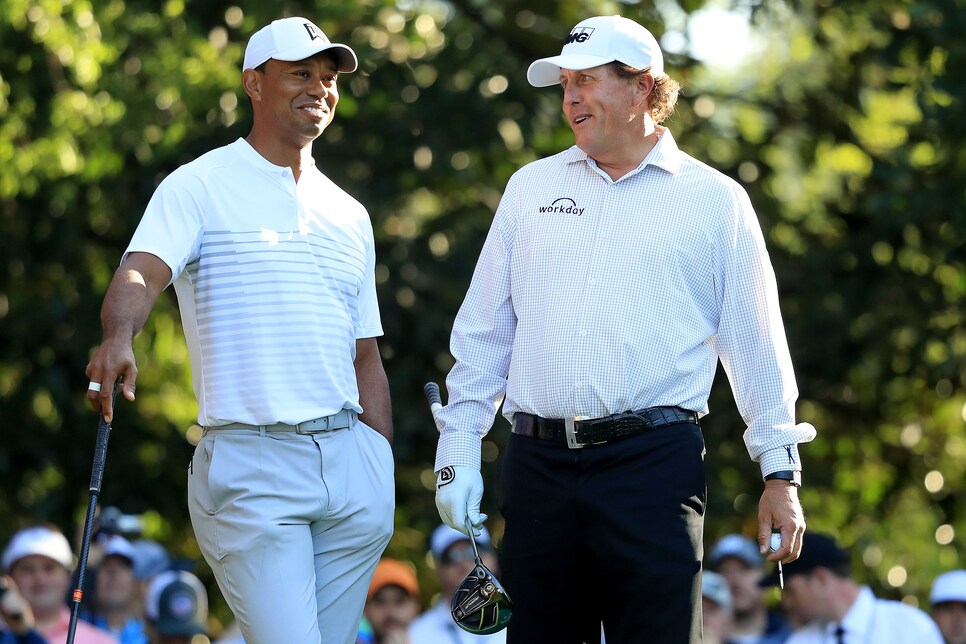 When Woods turned pro in 1996, the elder Mickelson had already won nine times on the PGA Tour. He'd also said in so many words that Woods wouldn't dominate the way he had as an amateur. Incendiary comments they weren't, but it angered Woods anyway, according to one insider. Others say that Tiger also viewed Mickelson as the biggest threat to his throne and that only fueled the animus.
There were other moments, too. Like Mickelson's infamous line in a 2003 magazine interview about Tiger using "inferior" equipment, and the eye roll from Woods after Mickelson went OB during an ill-fated four-ball pairing by Captain Hal Sutton in the opening session of the 2004 Ryder Cup. Another insider told of an off-color joke about Mickelson that Woods had gotten caught telling. And in 2007, Mickelson began working with swing coach Butch Harmon, who had worked with Woods early in his career. Mickelson went on to win the Players shortly thereafter.
On went Woods, too, racking up trophies and setting records. Mickelson did more than OK in this department, too. But the two rarely went head to head. On the rare occasions they did, Woods outplayed Mickelson more often than not, especially in the beginning. It was something Tiger took particular enjoyment in.
Of those duels, none was more memorable than their 2005 final-round showdown at Doral. Mickelson was coming off his best season, which included a breakthrough at the Masters, and he had arrived in form. Woods, meanwhile, had spent a year overhauling his swing with Hank Haney and hadn't won a major since the 2002 U.S. Open. Mickelson had a two-stroke lead going into the last day but Woods shot 66 to Mickelson's 69 to win by one.
It hasn't always gone Woods' way, though, especially in more recent times.
In 2012, Mickelson shot a final-round 64 to dust Woods by 11 shots on his way to winning the AT&T Pebble Beach National Pro-Am. In their most recent pairing, in the first two rounds of the 2014 PGA Championship at Valhalla, Mickelson was a dozen strokes better.
Of the 35 times Mickelson and Woods have played together, however, their scoring averages are remarkably close—Woods 69.93, Mickelson 70.06—and Woods has shot the lower score 16 times, just once more than Mickelson.
"We've always had a mutual respect over the years, and I've always appreciated what he's done for the game of golf," Mickelson said Tuesday. "Fifteen years ago my record against him sucked, and now it's OK. I'm doing better as time has gone on."
So is the relationship between the two.
"I think [it] has certainly gotten a lot closer with me being a vice captain the last couple teams and sitting there and having very lengthy conversations with him about things," Woods said. "When I was trying to deal with the nerve in my back and trying to come back and trying to play and I wasn't very good, he always texted me some very encouraging words."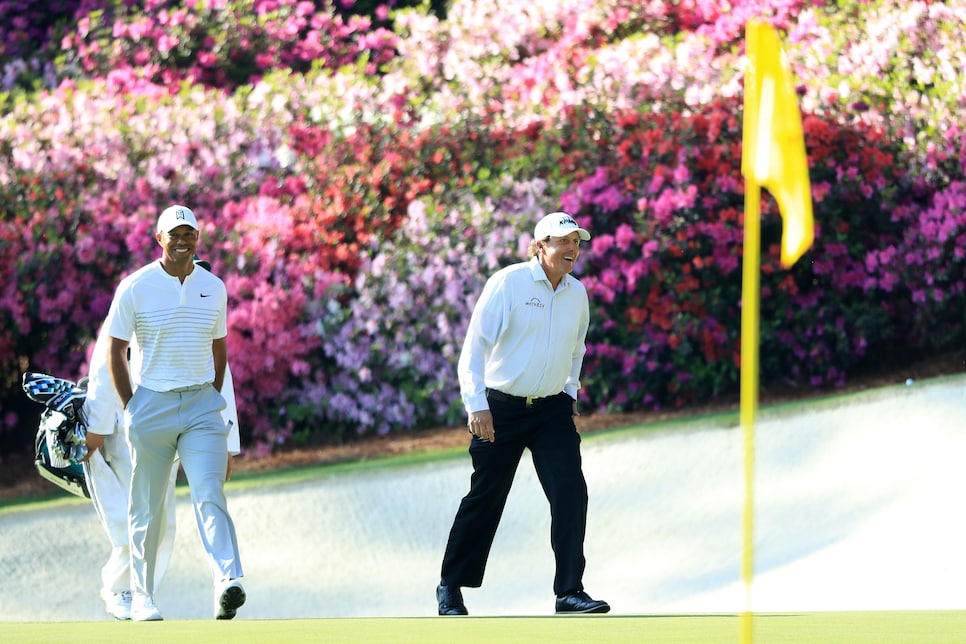 Andrew Redington/Getty Images
Among them, according to Woods, were chipping tips from Mickelson when Woods was dealing with the yips in early 2015. Imagine that.
"Both are late in their careers and they've softened," says Haney. "They're both at different stages in life."
Still, some things never change.
"As I look at the cover of the newspaper and the pairing is on there and the excitement that's been going on around here, it gets me thinking, why don't we just bypass all the ancillary stuff of a tournament and just go head-to-head and just have kind of a high-stake, winner-take-all match?" Mickelson reasoned. "Now, I don't know if he wants a piece of me, but I just think it would be something that would be really fun for us to do."
"I'm definitely not against that," he said. "We'll play for whatever makes him uncomfortable."