The Loop
Rickie Fowler wins at Abu Dhabi, gains on the Big Three
The best field money could buy delivered a show commensurate to the sponsor's investment, though you'll have to take our word for it. It unfolded largely in the dead of night in the U.S.
Rickie Fowler, if not seen, made himself heard with a resounding victory in the Abu Dhabi HSBC Golf Championship that reinforced his contention that the future better make room for more than a Big Three.
"We had a very strong field here," he said. "Not just Rory [McIlroy] and Jordan [Spieth], but Henrik [Stenson] and down the line. A lot of guys were playing well. This is a step in the right direction."
Nos. 1 (Spieth), 3 (McIlroy), 5 (Stenson) and 6 (Fowler) in the World Ranking were in the field, principally the result of appearance fees that are allowed by the European Tour. However many millions HSBC committed to them was repaid in kind with a leaderboard of which major championships would be envious. McIlroy and Stenson tied for third, two shots back of Fowler, and Spieth tied for fifth.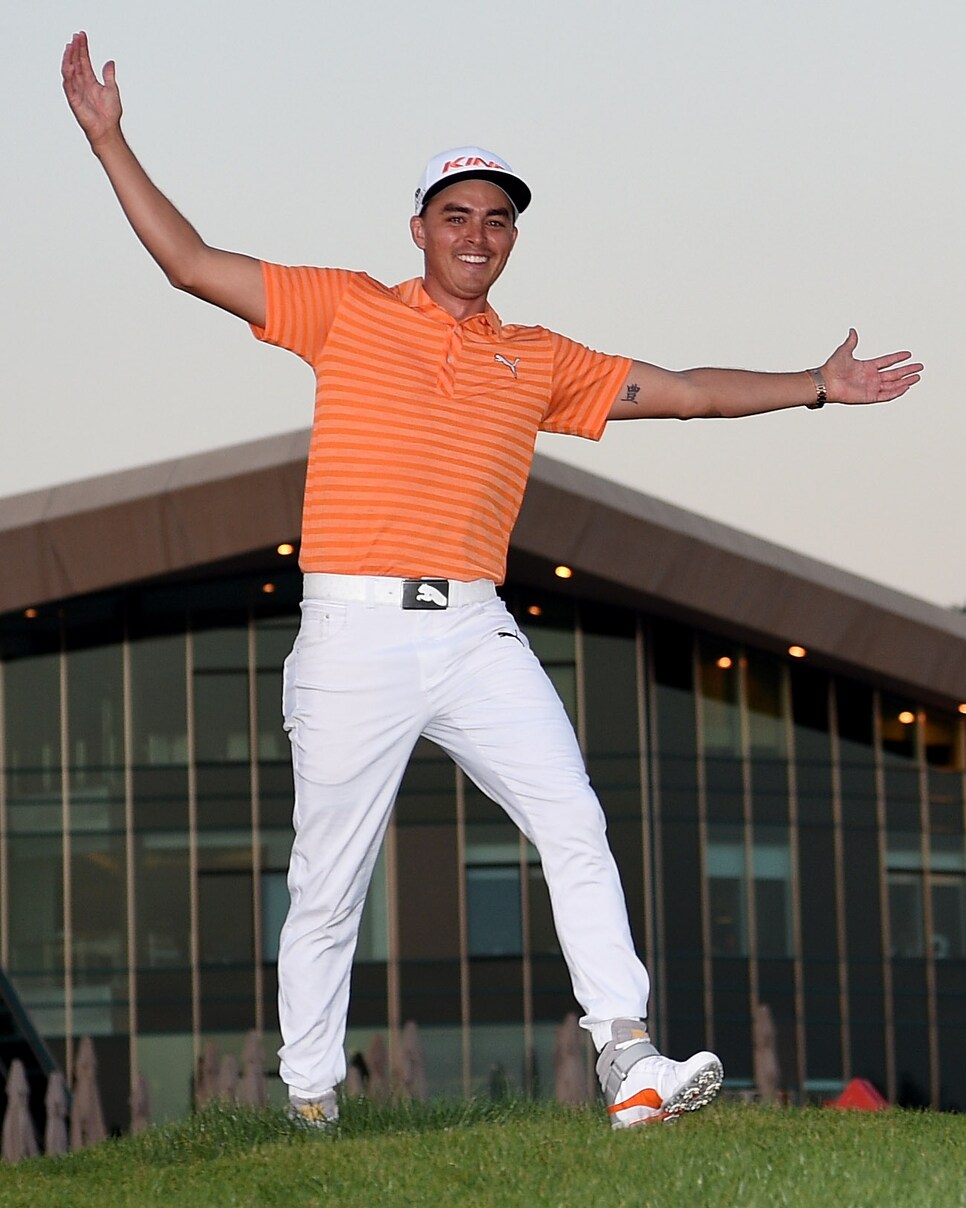 Fowler's victory, his fourth in the last eight months, makes the case for including him in a conversation in which he would still argue he does not belong, one that includes Spieth, Jason Day (No. 2 in the World Ranking) and McIlroy.
"I feel like to be in the same conversation I need to get a major and get that on the resumé to at least have some sort of credentials to be there," he said prior to the Hyundai Tournament of Champions recently. "But I'm just looking forward to working on being the best that I can be. The ultimate goal is to be the best player in the world. I obviously have some pretty tough competition out there."
No. 1 in the World Ranking seems likely to be a revolving door that indeed could involve Fowler, the best player on this weekend, at least. His scorecards in the final two rounds, including a bogey-free third-round 65, contained only a single blemish, one that he erased with a flourish on the ensuing hole. At the par-3 seventh hole in the final round, his tee shot landed just a few feet from a water hazard right of the green and led to a double-bogey.
"Probably one of my few bad swings of the day," he said. "That was the wrong place, wrong time."
Yet he followed by holing a bunker shot for eagle at the eighth, allowing him to carry a three-stroke lead into a back nine that was filled with drama nonetheless. Thomas Pieters of Belgium, who ultimately finished second, cut Fowler's lead to one at the 13th hole. McIlroy, meanwhile, eagled the 18th hole to also move within one, and Stenson birdied three of the last four to join them.
The chase ended, however, when Fowler chipped in for birdie at the 17th hole and made a two-putt par at 18 to win by one before the sun came up on the West Coast. It was, then, a very good night, even without Day, for a game that no longer wonders how it would survive post Tiger.