There's only one way to play this game, and that's to be fully committed on every shot. I'm sure you've heard that before, but that doesn't make it any less true. Commitment doesn't necessarily mean swinging harder.
I think of it as everything moving with certainty. Big slices and big hooks happen when one part of the body gets tentative and then another part moves faster to compensate or manipulate.
I used to hang back with my upper body and throw my hands hard at the ball. That required a lot of timing, and my distance control with my irons was inconsistent.
To get better, I needed to do something, so I teamed up with Butch Harmon. We cleaned up some bad habits and worked on a "full-body release," which I'll talk about later. It took me a while to get comfortable with the new move, but not too long—2014 was the best season of my career. Because I was making better contact, my long irons were flying higher and my short irons a hair lower, which helped me get more, and better, looks at birdie.
Obviously, the changes were specific to me, but I think they get at fundamentals that every golfer should learn.
For each change, Butch gave me a swing thought to rehearse in slow motion. What follows are the three thoughts that helped me most. Commit to these, and soon you'll find yourself taking aggressive lines at the flag.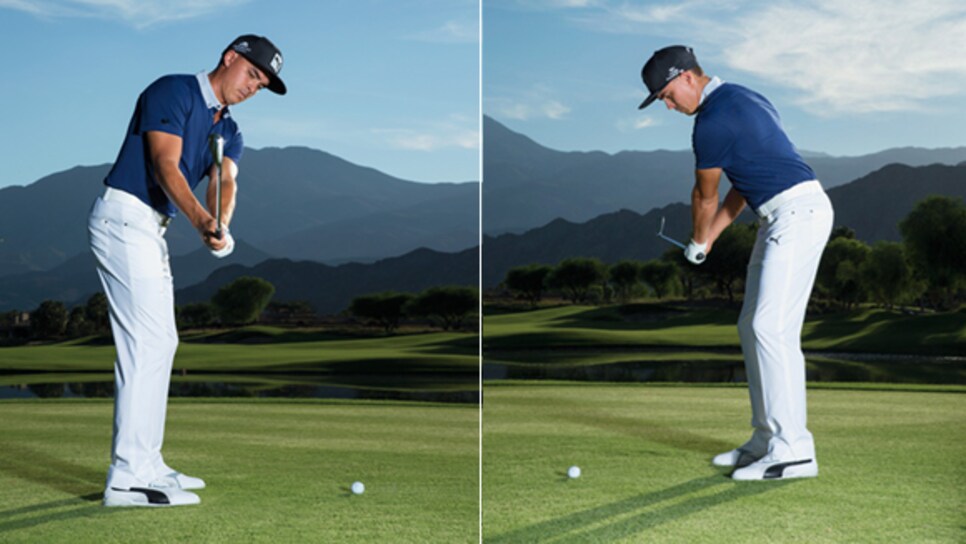 BACKSWING: STAY CONNECTED
I used to suffer the same tendency that affects a lot of amateurs: My arms kept going back after I completed my shoulder turn. When the arms get disconnected from the trunk muscles like this, the club goes past parallel and can cause a bunch of issues. The grip might bounce around in your hands, and you're going to have to find a way to re-sync your arms with your chest on the downswing. If you don't sync them, you end up flipping your wrists at the ball to save the shot.
So to keep everything unified going back, my slow-motion rehearsal thought was, I'm holding an umbrella on my backswing. As in, I stop going back the moment I feel the shaft points straight up and down like an umbrella. In reality, the club travels much farther. But this is what I, and the other over-swingers out there, need to feel to deliver the club to a classic position at the top with the shaft parallel to the ground (inset).
At the beginning, when the umbrella thought wasn't always working, Butch told me to pretend I was Steve Stricker. Strick probably has the most quiet wrist hinge on tour. For golfers who can get overly wristy, Strick's simple, straight-arm action is another great image.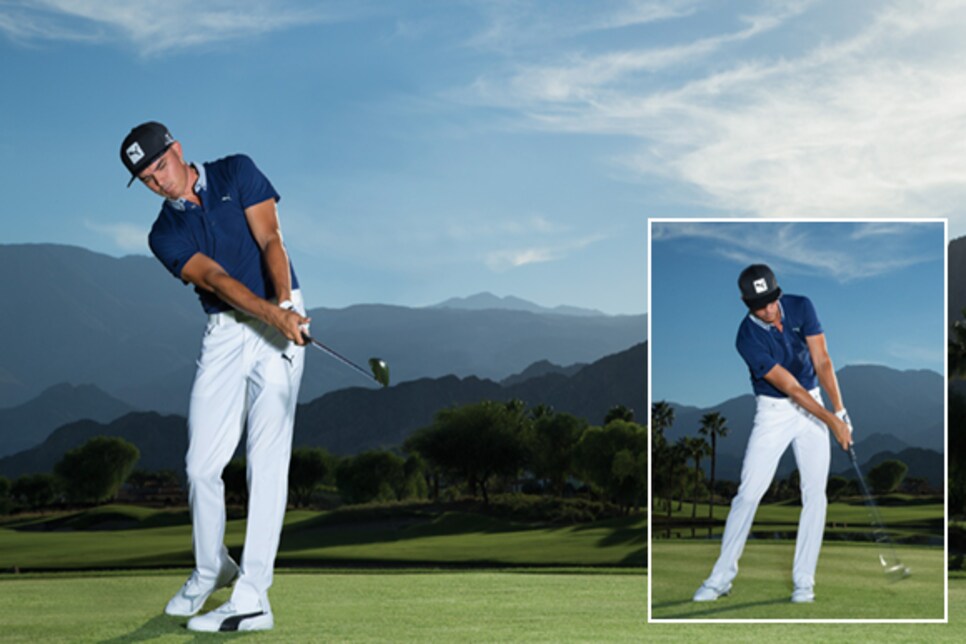 9 THINGS YOU DIDN'T KNOW ABOUT RICKIE
Why am I holding a wedge under my nose on the cover of this magazine? The orange mustache stamping on the back is a reference to the character Dick Fowler, P.I., who I played in a series of Farmers Insurance ads. That wedge is in my bag.
The first time I broke 70 I was 12 years old. The craziest stretch of scoring I ever had was in my junior year of high school. I shot 10 under three times in three weeks, all in tournaments.
Growing up I didn't have a favorite tour player. The guy I wanted to learn from was from a different era—Ben Hogan.
I play a lot of golf with Michael Jordan at the Medalist Club in Hobe Sound, Fla. I spot him five shots a side. His Highness has got game, so I need to make a bunch of birdies to beat him.
I get along real well with a lot of guys on tour and have fun traveling to events with different crews. But if you're going to make me say who my best friend is out here, I gotta go with Bubba Watson.
My favorite course we play in the United States is Torrey Pines South. It just suits my eye. Overseas I really like Royal County Down in Northern Ireland.
On the inside of my left wrist I have a tattoo of Barry McDonnell's signature. Big B was my coach from childhood until he passed in 2011.
I'll play golf without a shirt every now and again. I've done it in the Bahamas and at a few men's clubs in the United States that allow it. Frees up your swing.