The Loop
Rickie Fowler *clearly* intends to crash reigning triumvirate of Spieth, McIlroy, Day
Isn't a game requiring that you hit down to get the ball up and swing right to hit it left already confusing enough without algorithms that require an MIT math degree to understand?
NBC's Johnny Miller went to BYU and majored in physical education, which rules him out. "If any of you out there can figure out how a guy [Jordan Spieth] can miss two cuts in a row and now become number one [in the World Ranking] over Rory [McIlroy], let me know," he said.
Clarity is preferred, and on that note the erstwhile enigma known as Rickie Fowler has provided it, by stepping up in 2015 and finally matching his style with substance.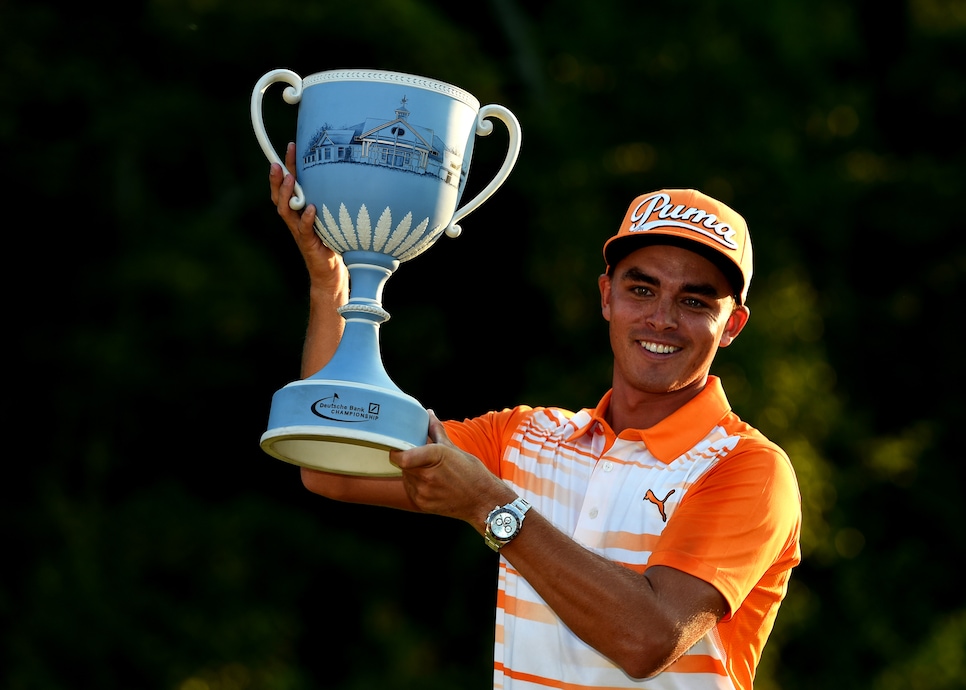 Fowler won the Deutsche Bank Championship on Monday by overcoming a three-shot deficit with eight holes to play at the TPC Boston and defeating Henrik Stenson by a shot. It was his third victory of the season — he won the Players Championship in May and the Scottish Open in July — and one that declared his intention to disrupt the reigning triumvirate of Spieth, McIlroy and Jason Day. Clearly.
A resume that included top-five finishes in each of the four major championships in 2014 was void only of victories, and though the major win has eluded him, he has erased that blemish against formidable fields and no doubt already is looking ahead to April and the Masters.
What also has become clear in this, his breakout season is that he isn't afraid of center stage, to wit his dramatic playoff victory over Sergio Garcia and Ken Kisner in the Players and his clutch 18th-hole birdie to win the Scottish Open.
In this final round, like previous rounds in the second event of the FedEx Cup playoffs, Fowler relied on grit and a hot putter to rescue him from wayward shots. He played the back nine on Monday in a bogey-free two-under par 33 that enabled him to profit from a costly mistake by Stenson, who hit his tee shot at the par-3 16th hole into a hazard.
"I was put in positions [throughout the tournament] where I wasn't maybe swinging the best and was able to get the most out of my round that day," he said, "and I really hung in there today as well. It's pretty special to fight it out the way I did."
He was a survivor, as he has been in a career that from the outset was longer on promise than deliverance until now. Clearly, he is among the best players in the world, and no algorithm is required to confirm it.