The Loop
Rice strikes symbolic tee shot at Shoal Creek
BIRMINGHAM, Ala. -- There weren't a lot of folks around the first tee at Shoal Creek early Thursday morning, but there was plenty of symbolism.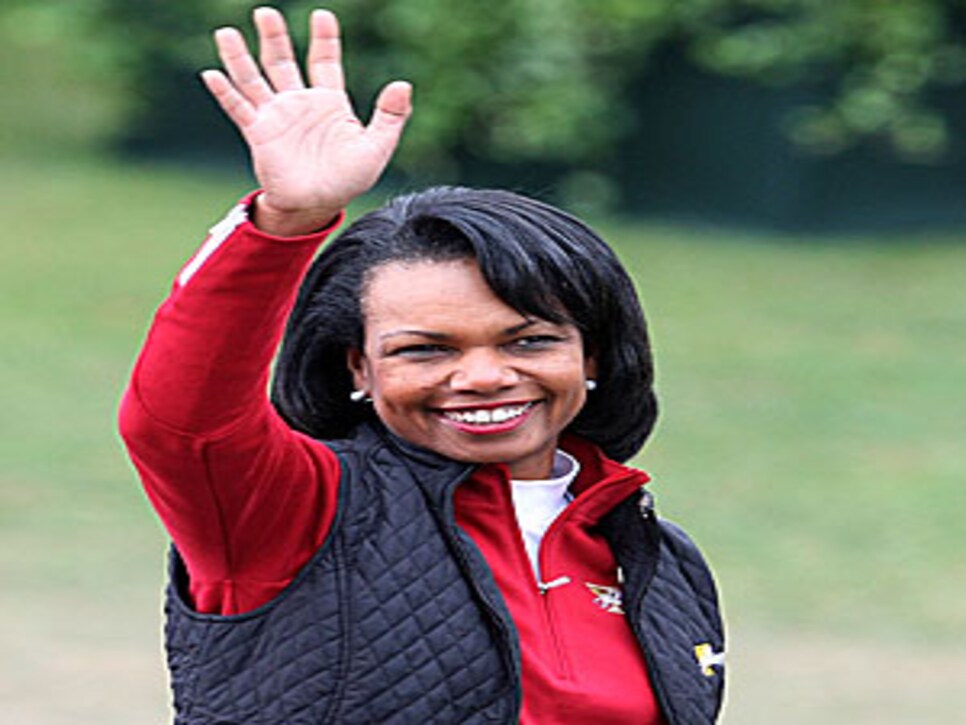 It was a moment. Not that Condoleezza Rice hit the fairway (right side, about 175 yards), but merely that the former U.S. Secretary of State, merely was there to hit a ceremonial first shot at the Regions Tradition.
Twenty-one years after Shoal Creek was vilified for not having any black members, forcing golf to take a hard look at itself, Rice, an African-American and Shoal Creek member, signaled the club's return to big-time golf.
"Our country's been turning a chapter for a while," said Rice, a Birmingham native. "We have a tough history [regarding race relations], and you always need to remember that, but you also need to see how far our country has come. To me, this speaks to that."
Rice remembered Shoal Creek founder Hall Thompson, who died last year at age 87. "Unfortunately we lost him a little while ago, but I know he was looking down on this and very proud of what was happening here," Rice said.
After Rice drove off No. 1, 1976 U.S. Open champion Jerry Pate, a longtime Shoal Creek member who couldn't play in the Tradition because his son Jamie is getting married Saturday, also hit a ceremonial shot. Pate had walked the hilly property with Thompson and Jack Nicklaus when the course was being built in the late-1970s and helped the club land its first PGA Championship in 1984. Six years later, Shoal Creek's second PGA was overshadowed by the discrimination issue.
"As difficult as it was for Mr. Thompson, it changed the world of golf into a better place," Pate said. "Unfortunately, the people who suffered the most was the Thompson family. But they survived it and moved on. Life's better, and golf's better for it."
*(Photo: David Cannon/Getty Images)