The Loop
Report says rounds played are up in 2016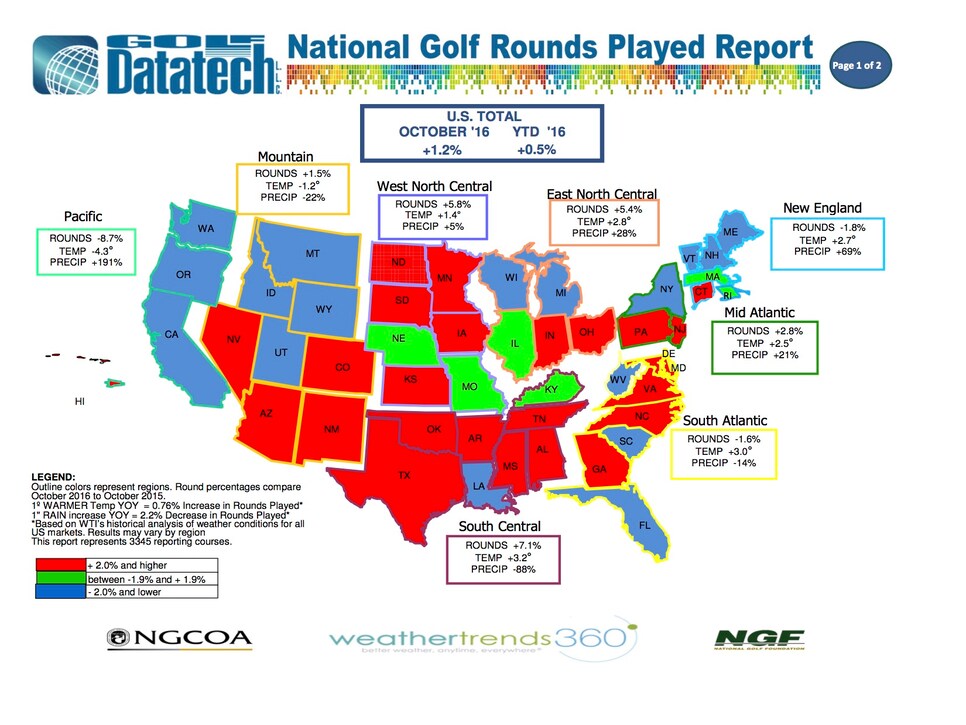 Rounds being played across the United States rebounded in October after declines in the previous three months had eaten into some early season gains. Rounds played were up 1.2 percent year-over-year increase in October, according to Golf Datatech, helping to bringing the year-to-date uptick to 0.5 percent.
The central part of the country deserves the bulk of the thanks for the solid numbers. The West North Central region was up 5.8 percent while the East North Central area saw an uptick of 5.4 percent. The South Central region (Texas, Oklahoma, Arkansas, Mississippi, Louisiana, Alabama and Tennessee) saw the greatest gain at 7.1 percent. The biggest decline was in the Pacific area at -8.7 percent (thanks to a 191 percent increase in precipitation). Indiana is the state with the largest gain in October at a whopping 26 percent while Georgia has the highest year-to-date increase at 10.6 percent. There were 3,345 courses reporting.
Weather certainly plays a role. In two regions that saw a decline in rounds played there was significant precipitation (In addition to the large number in the Pacific, New England had a 69 percent gain in precipitation).