need a reminder?
Reminder grips can be a useful tool to assist with proper hand position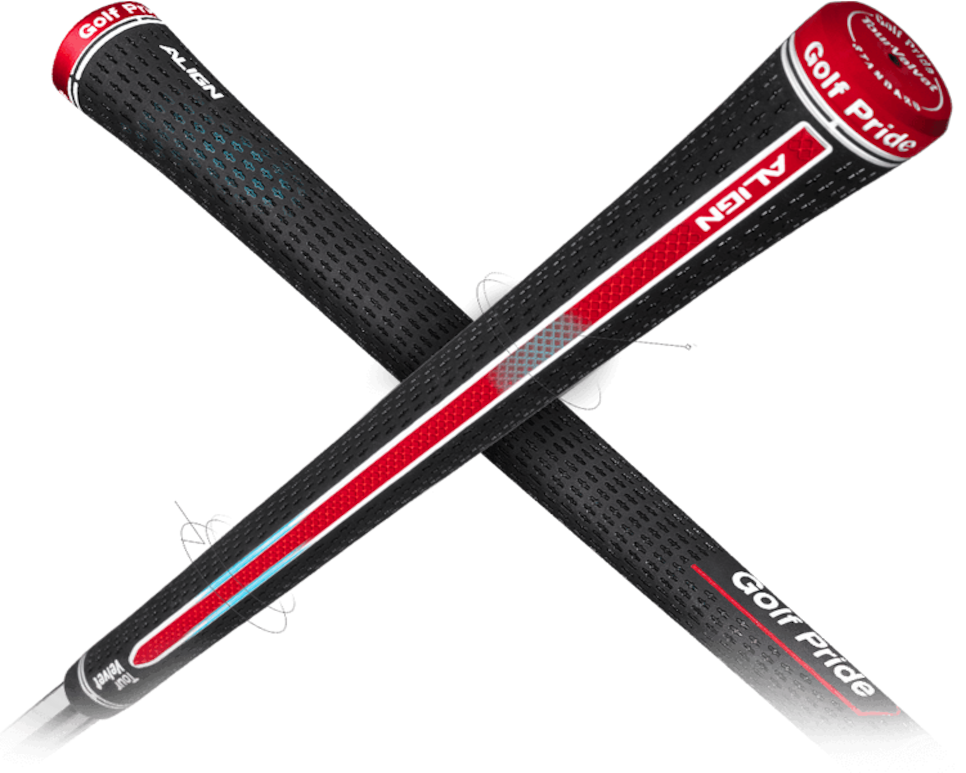 Mike Spicci is a 6-handicapper at Rock Ridge C.C. in Newtown, Conn. His irons and wedges feature typical round rubber grips. His driver, fairway wood and hybrid, however, are adorned with Golf Pride's Align reminder grips. The reason for the difference makes sense.
"I have a tendency to shut the face with the woods," Spicci says. "The reminder puts my hands in a position where the face is neutral at address every time. It's been a big help."
For years reminder grips were a staple on the clubs tour players used (Ben Hogan, in fact, was known to place part of a wire hanger under his grips to promote a weak grip to prevent the hook he hated). Manufacturers also made them for the masses. For those not familiar with them, the reminder is a narrow rib located on the underside of the grip that fits into the crease of the fingers—in short, a way to "remind" a player to grip the club properly.
"A lot more players should consider reminder grips than do, especially higher handicappers," says Woody Lashen, a Golf Digest 100 Best Clubfitter at Pete's Golf in Mineola, N.Y. "There used to be a stigma that only high-handicappers used them, but fact is some of the best players do and a lot of mid- to high-handicappers would benefit greatly from positioning their hands on the club the same way all the time."
But despite this perfectly legal advantage (although there are rules limiting how big of a rib is allowed), reminder grips, over time, fell out of favor. The primary reason for the decline was ease—or lack thereof—of installation. Ribbed grips command considerable attention to ensure they are aligned consistently, with the reminder in the same position from club to club.
Just ask Ryan Moore, who claimed at the 2011 Travelers Championship that his spotty play for much of the year was due to his reminder grips being placed with the rib 2 to 3 degrees closed, thus causing him to shut the face more than he wanted.
That concern translates to everyday players as well. Craig Zimmerman, a Golf Digest 100 Best Clubfitter and general manager of RedTail Golf Center in Oregon, notes that any vendor that does not offer a dual cog sleeve (like Callaway) for adjustability would require a regrip as the orientation of the grip will be off if the setting is changed.
Zimmerman also says to be careful with the wedge. "We discourage golfers from installing a grip with alignment feature on any wedge," says Zimmerman, who estimates 20 percent of his fittings result in reminder grips. "When players manipulate the face angle to hit different types of shots the reminder can be a hindrance for shots such as playing the club more open to hit a "flop" shot. That said, some players may benefit from the reminder in this scenario as it helps them identify more clearly when they are gripping the club "open" for a flop shot."
Still, over the last decade the reminder has had it loyalists, including 2007 Masters champ Zach Johnson, who told Golf Digest a few years ago. "It's one of those things," he said. "I'd love to use round but [the reminders] are so ingrained … it's just the way they sit in my hands. It's all feel."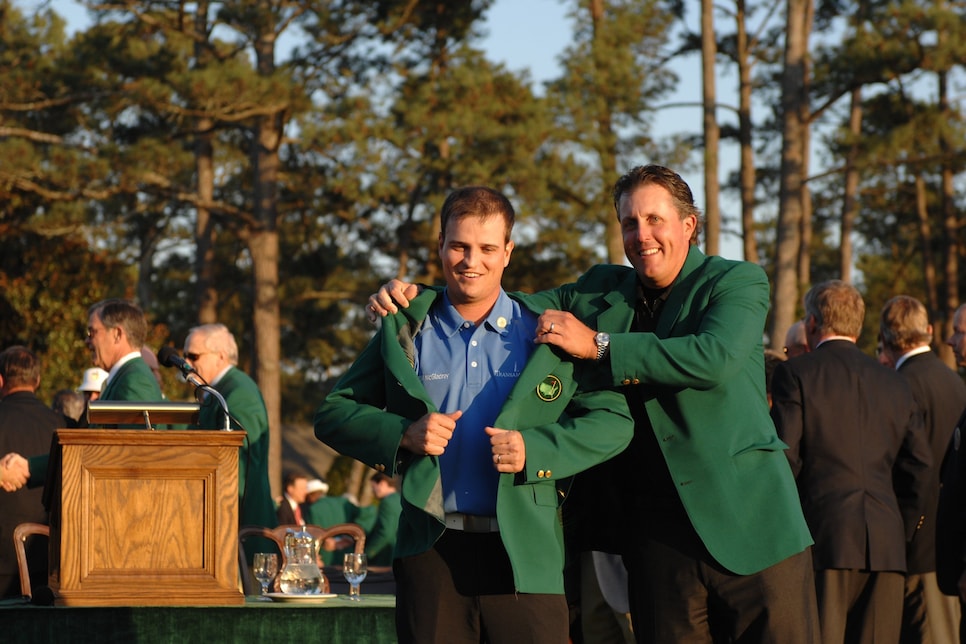 Zach Johnson putting on green jacket with Phil Mickelson after winning 2007 Masters
Fred Vuich
Three-time major champion Padraig Harrington is another fan of reminders, although is notorious for being persnickety about how they are set. Currently players such as Sam Burns, Garrick Higgo, Cam Champ, Harrison Endycott, Harris English and Joaquin Niemann use reminder grips.
Not surprisingly, many PGA Tour Champions players who grew up playing with reminder grips continue to use them as well, including Bernhard Langer who sets the reminder to help him keep the face open. In short, the rib helps place their hands on the grip the same way every time. Players that play ribbed swear by the feel, but those that don't tend to feel that if they need to reposition their hands in a certain way for a shot that the reminder might get in the way.
Yet for all the rules and attention to detail that is required, reminder grips can be a handy tool for some players wanting to make sure they get their hands in the proper position time and time again.
"Ribbed "reminder" or Align grips can provide a guide to the feel of where to position the hands on the club," says Zimmerman. "Better players can also benefit from grip alignment features as they can enhance face awareness such as getting the face square at impact with a "protrusion" that is in line with the leading edge. Moreover, certain players may favor a stronger or weaker grip position. Having the reminders can provide consistency of grip position."
That consistency can boost confidence as well, which can result in a more consistent, faster swing. And no golfer needs a reminder to know that's a good thing.