Remembering The Greatness Of Lawson Little Jr. And Lawson III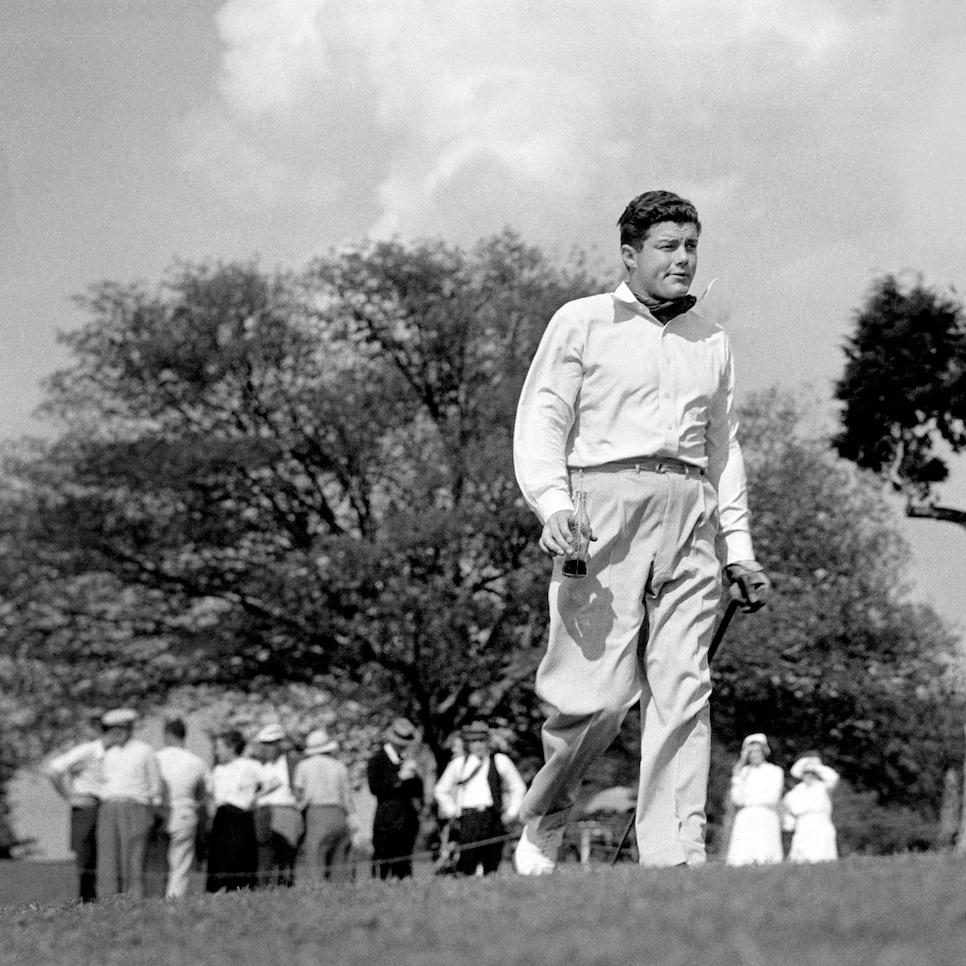 Photo by Augusta National/Getty Images
On June 3, 2015, in keeping with a long tradition, I visited my home club in the Pepper Pike suburb of Cleveland, known simply as The Country Club. It's an old William Flynn design and perhaps the most underrated course in America. It's elegant, challenging and filled with old-world charm. One of its early members was Coburn Haskell, who invented the first rubber-core wound ball. It's the kind of club that reeks history and somehow beckons to you. I never fail to play there early in the week of the Memorial Tournament, played down the road outside Columbus.
On this day, playing with my friends Hughes Norton and the head pro, Jack McKelvey, I followed a personal ritual at the par-5 16th hole. Mounted on a large rock there is a plaque noting the spot where Lawson Little Jr. closed out Walter Emery, 4 and 2, to win the 1935 U.S. Amateur. I always pause at the plaque for a few moments and give it a little pat, because Lawson Little is special to me. Although I never knew him­—he passed away from a heart attack in 1968 at age 57­—I've always felt connected to him. Just as many golfers feel a kinship with Ben Hogan or Bobby Jones after studying their lives, such is the closeness I feel with Lawson Little Jr.
Little quite simply is the most underappreciated golfer of the first half of the 20th century. In 1934, as an amateur, Little won the U.S. and British Amateurs, a huge feat in that day. In 1935, he won both of them again to achieve what was called the Little Slam. Bobby Jones, who was in attendance at The Country Club in '35, said Little's performance was the finest he'd ever witnessed in an amateur championship. Little won 32 consecutive matches during the Little Slam, an accomplishment that is hard to fathom. The quality of golf he played was unreal. Known as Cannonball for packing 200 pounds on his 5-foot-9 frame, Little was a massively long hitter who had all the shots. In a 14-and-13 thrashing of James Wallace in the 36-hole final of the 1934 British Amateur at Prestwick, Little made a dozen 3s.
Little turned pro in 1936, but Great Depression times being what they were, he chose to give exhibitions for sure income rather than focus exclusively on a tour career. But he did win eight PGA tournaments, including the 1940 U.S. Open, beating Gene Sarazen in an 18-hole playoff at—coincidentally, I should add—Canterbury in Cleveland, just a few minutes' drive from The Country Club.
Considering that the U.S. and British Amateurs absolutely were considered major championships, that brings Little's major count to a very respectable five. And he won them all with an unusual flair. An intense, somewhat surly competitor on the course, he was something of a bon vivant off it. Little carried as many as 26 clubs in his bag (including seven wedges), which in 1938 prompted the USGA to lower the maximum to 14, where it's been ever since.
But here's the personal connection. In 1953, Little purchased a home along the first fairway at Pebble Beach, near where I live today. The house was known as Fairway House No. 2, and after it was sold in the wake of Little's passing, it's where I stayed when I anchored my first AT&T Pebble Beach Pro-Am in 1986. My roommate was the incomparable Bob Drum. I always felt a piece of Little's spirit still resided there.
As I became more interested in Little's life and career, I became aware that his son, Lawson Little III, not only grew up in Fairway House No. 2 but became an institution in the area. For many years he was the pro at Quail Lodge & Golf Club in Carmel-by-the-Sea and went on to serve as president. He was a giant in the Monterey Peninsula community. He loved his father and his legacy, and by all accounts could regale people for hours with stories about him. I always wanted to call Lawson III and pass along how much I respected his father and hear some of his stories. But you know how these things go. Reaching out as a stranger takes a little courage, and somehow it didn't happen.
During that round on June 3, 2015, I vowed to finally call Lawson III. After I patted the Lawson Little Jr. plaque and talked to Hughes and Jack about him, I said, "This is the year. As soon as I get home from this tournament swing, I'm calling Lawson III." I obtained Lawson's number, even marked a day on my calendar to make the call.
On June 30, shortly after I returned home but before I could pick up the phone, I received word that Lawson Little III had passed away a day earlier during a visit to Las Vegas to play in a poker tournament. He was 67. I couldn't believe it. The sense of regret at not reaching out to him was overwhelming.
This August, I stopped by Country, as we affectionately call it, for the second time this year. As always, I paused by the Little plaque at the 16th. But this time I lingered there a while longer, giving it two extra pats. One for a legend that golf history has overlooked, the other, for his son I regrettably never met.