The Loop
Remembering Miller Barber as a great player and a singular character
At approximately 4:30 p.m. on Tuesday afternoon, Miller Barber's cell phone rang for the last time. Barber, in hospice at the Silver Stone Care Center in Scottsdale, Ariz., was too ill to answer the call. But his wife, Karen, did. And when she whispered to Miller that Jack Nicklaus was calling for him, Miller motioned for her to hand him the phone. "It was a sweet call," said Miller's son, Larry. "It was short, and Dad did more listening than talking. But Mr. Nicklaus obviously told him some pretty nice things, because he brightened. He became alert."  Three hours later, Miller Barber, 82, died, a recurrence of cancer he suffered from in 2012 finally getting the best of him. We don't know yet what Nicklaus told him, but if he conveyed that Barber was one of the very best players of his era and a colorful character who made pro golf fun -- and added that he was a good man to boot -- he would have been dead on. Barber, with his ungainly swing and funny stories spouting from beneath his trademark bucket hat, was one of a kind.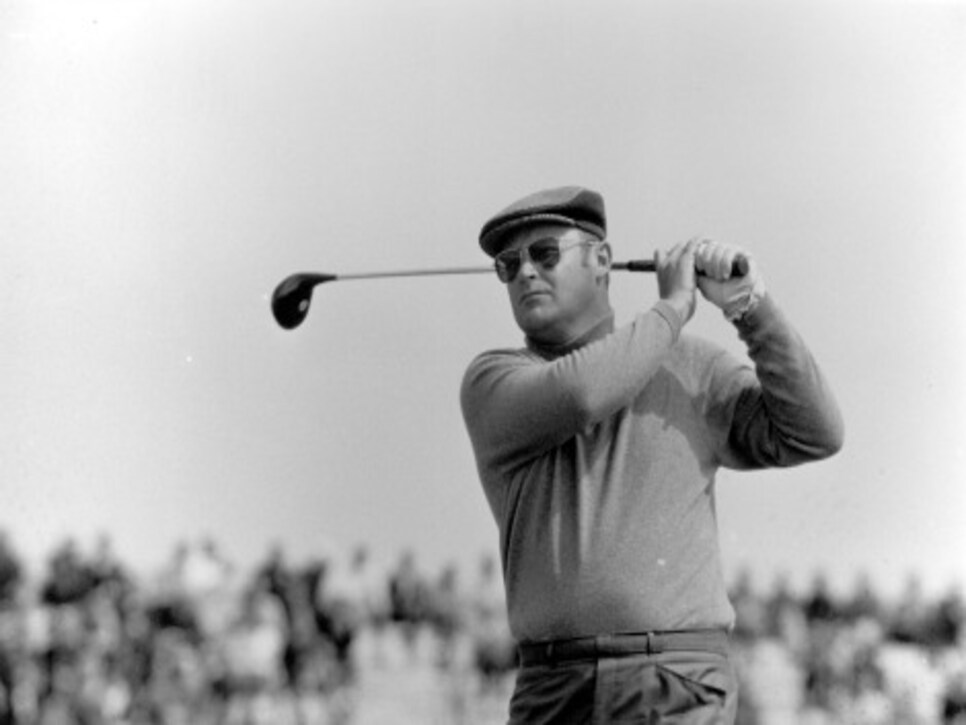 Related: My Shot: Miller Barber Barber's story is one of the last of old-school perseverance. Raised by his mother, he took up the game at age 11 in Texarkana, Tex. His first golf bag was a cardboard tube coated with shellac. He earned money for lessons by preparing vegetables for troop trains passing through to the West Coast. After graduating from the University of Arkansas in 1954, he spent four years in the Air Force, then turned pro. He played the PGA Tour with little success, but after a stint as head pro at the Apawamis Club in New York, he lit out on the tour again and won his first title, the Azalea Open, in 1964. It was during this period that fellow pro Jim Ferree appointed Barber with the nickname "Mr. X" for his mysterious nighttime activities. "We never knew where he went," says Ferree. "First, it was 'the Mysterious Mr. X.' We shortened that to 'Mr. X.' In later years, we just called him, 'X.' After Barber married at age 39, he acquired a second nickname: "Precious," dubbed by Arnold Palmer after overhearing Karen Barber refer to her husband by that name.
Related: That 70's Show Barber won tournaments in eight consecutive PGA Tour seasons, a remarkable accomplishment. Despite his powerful and accurate game -- Ferree notes he was an especially gifted long-iron player -- Barber never won a major. He came close at the 1969 U.S. Open, blowing a three-stroke lead in the final round. At the Masters earlier that year, he tied for sixth, three strokes behind winner George Archer, despite hitting 11 balls in the water during the course of the week. He played on the U.S. Ryder Cup team that year, and again in 1971. His 1,297 combined starts on the regular and senior tours is a record. He continued to compete occasionally after retiring at the end of 2004, and played frequently at Whisper Rock, his favorite hangout in Scottsdale. Barber was diagnosed with melanoma in 2012, but after he received treatment, the disease went into remission. He contracted pneumonia three times before the cancer resurfaced in the spring, this time in the form of lymphoma in his stomach. This past April he was scheduled to play at the Legends of Golf with Ferree as his partner, but was too ill to attend. Ferree, representing the team by himself, finished 12th and won $17,000. "I spoke with Miller shortly afterward, and he wanted to know when his check for $8,500 was going to land," said Ferree. "Typical Miller."
Related: On Crenshaw's 60th birthday, a salute to his generation His last days were peaceful and pain-free. Wife Karen, and sons Larry and Richard were at his side. His stepsons, Casey, Doug and Brad, were in close touch. "Dad was determined to watch one more U.S. Open, but it wasn't to be," said Larry Barber. "The timing of the call from Mr. Nicklaus was amazing. My dad was one of the key guys he had to beat to get those 18 majors. It was special to know he respected guys like Miller Barber."