The Loop
Reliving Butch Harmon's long lost career as a PGA Tour pro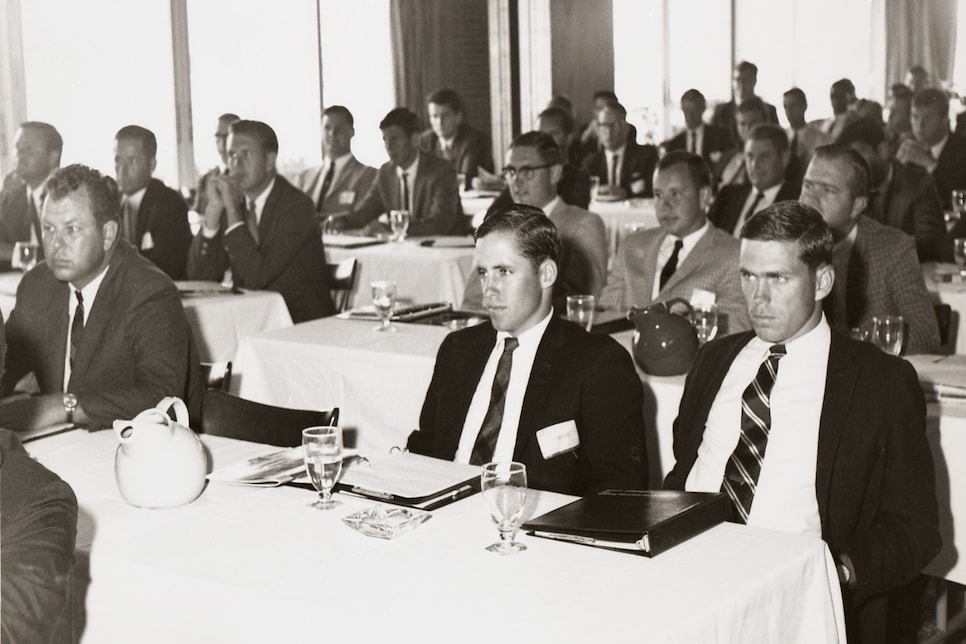 Butch Harmon, one of history's most lauded golf instructors, clocks in as the full four rounds on Friday. The son of 1948 Masters champion Claude Harmon turns 72 years old, coincidentally on the same day that the Champions Tour plays the first round of a tournament on a course that was the site of the biggest moment in Harmon's pre-teaching playing career.
In honor of both bio moments, we go back to when Claude Jr., (Butch's formal name) was in the habit of competing in stroke-play events. Harmon tried to make a go on his own as a player, turning pro in 1965 and going through the various qualifying schools to play the pro tour. In 1967, Orville Moody, Rick Rhoades and he sat in the front row during a lecture session for the ATP School (see photo with Harmon at the far right).
Harmon played tour events into the early 1970s. He had his lone big success at the 1971 Broome County Open, winning the satellite event in a five-hole playoff at En-Joie Golf Club in Endicott, N.Y. The tournament was renamed the B.C. Open the next year and was a regular PGA Tour stop from 1973 to 2006. From 2007 to present, the Dick's Sporting Goods Open has been held at En-Joie, and the 2015 edition starts Friday.
Like the site of his moment in the tour sun, Harmon was repurposed, going from tour player to hall-of-fame teacher, commentator, author, Golf Digest contributor and golf school owner. In 1973 he was head pro at Royal Golf Rabat Dar es Salaam in Morocco as personal pro to King Hassan II. He left there the following year and began a series of club jobs. He started working with a young Tiger Woods in the mid-1990s and has had a flood of other stars end up on his lesson sheet through the years: Greg Norman, Adam Scott, Fred Couples, Natalie Gulbis, Ernie Els, Davis Love III, Justin Leonard, Justin Rose, Rickie Fowler, Dustin Johnson, Jimmy Walker, Brandt Snedeker and Phil Mickelson.
Not a bad roster for a guy named Butch who ended up teaching a King and his court.