The Loop
Relaxed Tiger eager to end winless drought
LA JOLLA, Calif. -- A refreshed and fit Tiger Woods returned to the scene of his last major championship victory Wednesday still intent on beating his peers on the golf course, but less interested in dominating the field on Twitter.
Such was the range of questioning at Torrey Pines Golf Course as Woods met the media on the eve of his 2011 season debut at the Farmers Insurance Open. Woods, who this week slipped to No. 3 in the world, appeared relaxed -- but then, why shouldn't he? He's won this tournament six times and also claimed the 2008 U.S. Open on the South Course, emerging victorious in a playoff over Rocco Mediate despite an injured knee that days later required reconstructive surgery.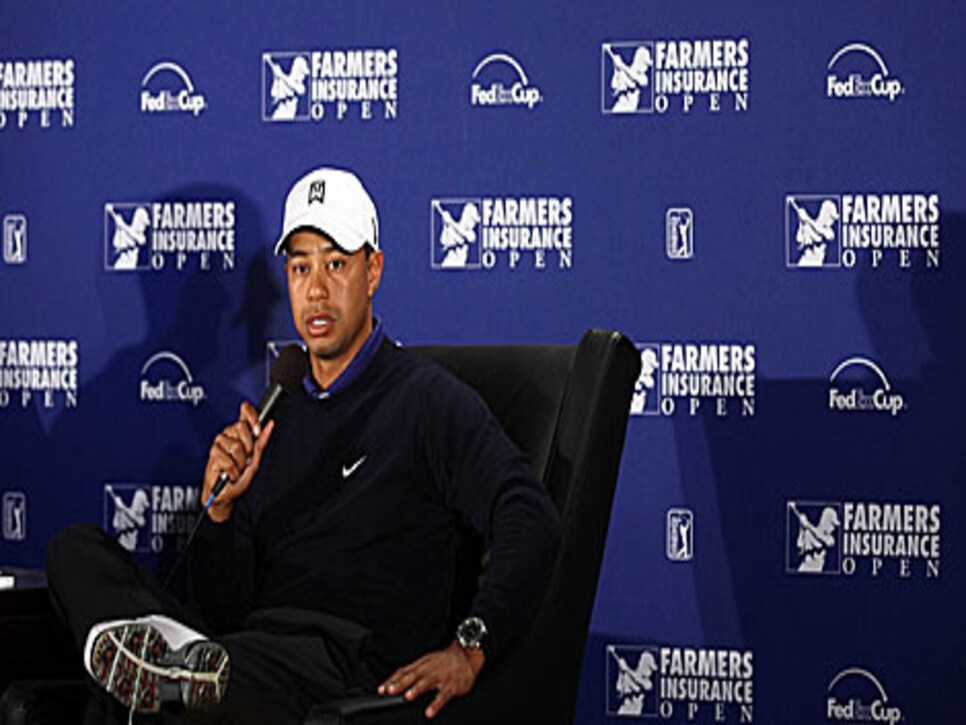 Woods, 35, hasn't played this event since '08, which he won, of course, and hadn't been back since his Open triumph, the last of his 14 major titles. Having endured his first winless season in 2010 marked by personal struggles off the course and swing problems on it, he's eager to turn the page, if not new leaves, which includes connecting more with fans via Twitter and connecting better with the golf ball.
"My expectations are the same. Whatever event I enter is to win the event," said Woods, who begins his season at 9 a.m. Thursday on the No. 10 tee on the North Course with Mediate and Anthony Kim. "The determination hasn't changed. It's just that I need to be focused and put into a proper perspective. I went down a path I should never have gone, and now the determination is keeping my life in balance. If my life's in balance throughout the course of my career, I've had good years. More importantly, what's most important to me is my kids. I need to be in balance for them, and that's what it's all about."
Though he admitted that golf "falls somewhere down the list," after his children, Woods said he's worked hard on his game of late and enjoyed not only a longer off-season than in recent years, which has him feeling fresher, but also one relatively free of injury. His only issue was a sore heel for which he received a cortisone shot in early December after losing a playoff to Graeme McDowell at the Chevron World Challenge.
Woods, who has 71 tour wins but hasn't won anywhere since November 2009, spent the past month refining swing changes he made under the tutelage of Sean Foley. He's prepared, he said, to "feel the heat again." And the heat is on, with questions about just how successful he can be as he embarks on a new phase of his career, one in which he is older, wiser and facing more good young players than ever before.
"That's fine. I've heard it before," Woods said of the doubters. "I've gone through stretches where I haven't won. I've had it happen in my career before. All I have to do is keep working and stick to the game plan, just like I have in the past. I think my record kind of speaks to that."
(Photo: Donald Miralle/Getty Images)