News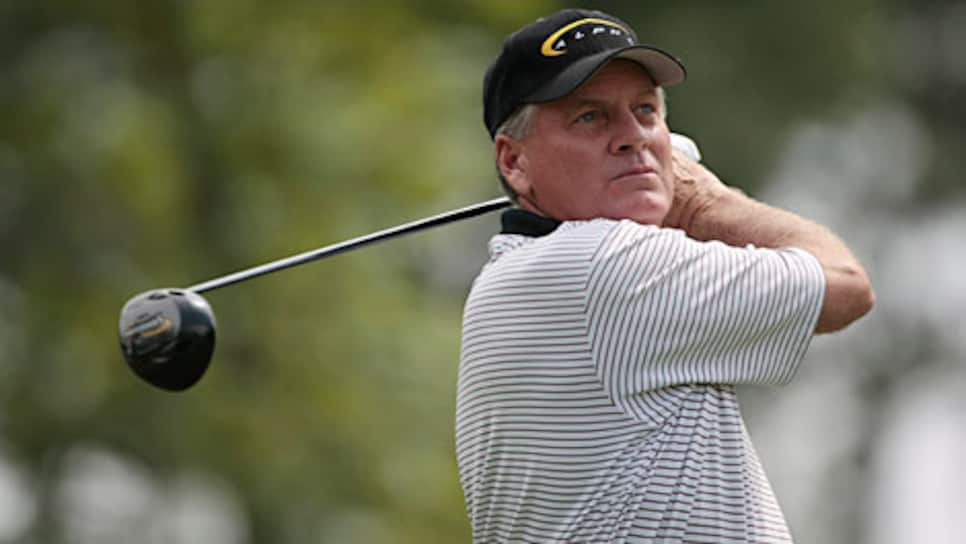 Fergus' only Champions Tour win came in 2007 at the Ginn Championship.
HOOVER, Ala. (AP) -- Gene Jones and Keith Fergus were in the lead at 10 under when play was suspended by rain in the second round of the Regions Charity Classic on Saturday, ending a day that was dominated by the weather.
Rain had halted play for 3 hours, 33 minutes in the morning and it was suspended with the threat of storms looming after Jones was 7 under through 14 holes in his second round. Fergus had finished the front nine in 4 under to join him atop the leaderboard at the Champions Tour event on the Robert Trent Jones Golf Trail at Ross Bridge.
"You never know how your body's going to react to things like that, or your mind," Fergus said of the long delay. "It worked out pretty well."
He moved into the lead with a short birdie putt on the par-3 ninth, a few minutes before play was suspended.
Tom McKnight was one shot back after playing his first 10 holes in 4 under. Jay Don Blake and Joe Azaki were another shot back, and five more players were at 7 under. That group included first-round leader Dan Forsman, who was even through nine holes.
It was the Champions Tour's first suspension of the year, setting up an early two-tee start on Sunday to complete the second round. The final round is scheduled to follow.
For the second straight day, Jones eagled the par-5 sixth hole using a new sand wedge. This time he pitched in from about 20 yards.
"I just fell in love with that darn thing," he said. "I spun it in, it took a good hop and boom, right in the jar."
Jones had no complaints about his putter, either, saying "I felt like I was going to make everything."
Jones has spent several weeks working on his game with his father Gene, also a golf pro, at home in Orlando because he wasn't eligible for the Liberty Mutual Legends of Golf.
Like Fergus, he didn't sweat the long morning of idle time.
"If you get in the groove and keep things simple, I don't think it bothers you too much," Jones said. "I just had a good feeling and I still have a good feeling."