The Loop
Recruiting middle-school golfers? Tiger Woods set the precedent
A middle-schooler, Ben James, recruited to play golf at Connecticut made headlines last week, but it doesn't break new ground. Tiger Woods established the precedent in 1989.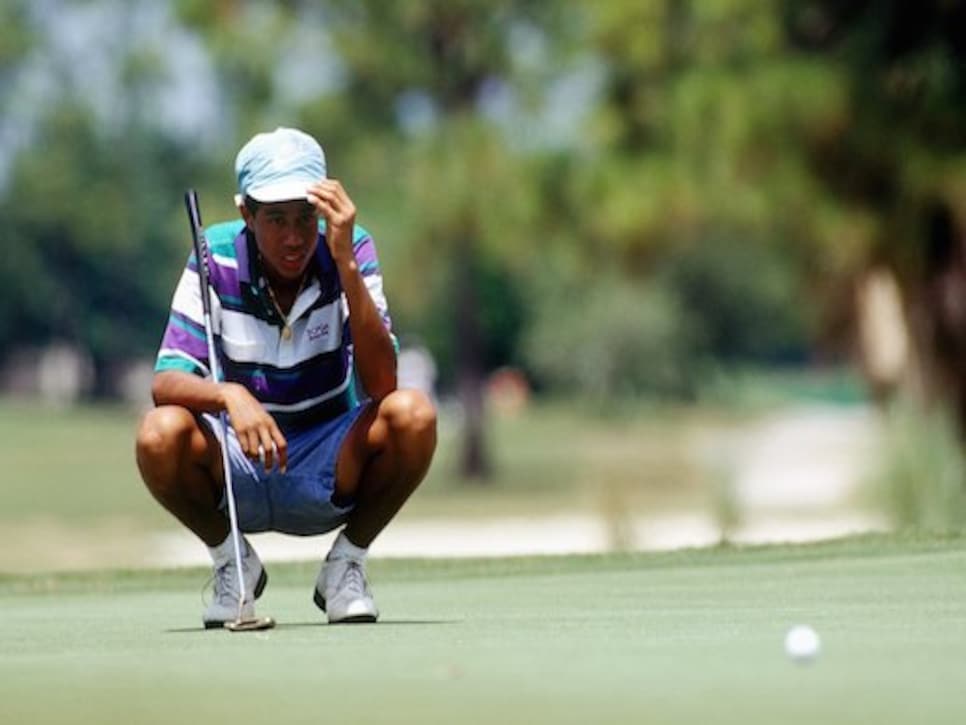 Woods was in the seventh grade when he got his first recruiting letter (James is in sixth grade). It was dated March 28, 1989, and came from Stanford golf coach Wally Goodwin. It began this way:
"Dear Tiger, Here at Stanford I'm finding that it is never too early to get word out to you exceptional young men."
Goodwin previously had heard about Woods from Tom Sargent, at the time the head pro at Yorba Linda Country Club, which hosted an annual junior tournament in which Tiger played. Goodwin apparently had forgotten about it until Woods' photo appeared in Sports Illustrated, in its Faces in the Crowd feature.
But lest anyone conclude that recruiting Woods in the seventh grade was a no-brainer, consider that Goodwin's letter was sent more than two years before Woods won the first of three consecutive U.S. Junior Amateur championships or had even made an impact in American Junior Golf Association circles.
Here, incidentally, is Woods' response to the otter from Goodwin:
Dear Coach Goodwin, Thank you for your recent letter expressing Stanford's interest in me as a future student and golfer. At first it was hard for me to understand why a university like Stanford was interested in a thirteen-year-old seventh grader. But after talking with my father I have come to better understand and appreciate the honor you have given me. I further appreciate Mr. Sargent's interest in my future development by recommending me to you.
I became interested in Stanford's academics while watching the Olympics and Debbie [sic] Thomas. My goal is to obtain a quality business education. Your guidelines will be most helpful in preparing me for college life. My GPA this year is 3.86 and I plan to keep it there or higher when I enter high school.
I am working on an exercise program to increase my strength. My April USGA handicap is 1 and I plan to play in SCPGA and maybe some AJGA tournaments this summer. My goal is to win the Junior World in July for the fourth time and to become the first player to win each age bracket. Ultimately I would like to be a PGA professional. Next February I plan to go to Thailand to play in the Thai Open as an amateur.
I've heard a lot about your golf course and I would like to play it with my dad some time in the future.
Hope to hear from you soon.
Woods did not commit to Stanford at that time, at least publicly, but there is every indication that he already had made up his mind. He played two years for Stanford before turning professional.