The Loop
Records & Rarities: The unlikely ace/300 game double
Exceptional two-sport athletes are not uncommon, but having golf be one of the two sports is. The mix is most often football and baseball, such as a Bo Jackson or Deion Sanders, or football and basketball.
World Golf Hall of Fame member Jumbo Ozaki pitched and played outfield in Japan, and another Hall of Famer, Babe Zaharias, excelled at any sport she wanted, but was mainly known for her Olympic-caliber track ability. Former MLB hurler Ralph Terry played golf professionally, primarily on the senior tour.
The companion sport often associated with the recreational golfer is bowling, which makes sense. Most casual athletes have time for an outdoor sport and an indoor activity, depending on the weather, to stay busy year-round. So naturally, anyone who possesses talent in golf or bowling is going to have a strong chance of accomplishing something special. But is it possible to be doubly touched by the ultimate moment?
Golf Digest, the leading repository for the game's Records & Rarities, has kept track of golfers who have not only had perfection on the golf course with a hole-in-one, but had the equivalent at the bowling alley and rolled a perfect game of 300.In our record-keeping, 40 golfer/bowlers have reported accomplishing the hole-in-one/300-game feat, including 26 who have made their feat known to us during the last year. (See the honor roll below.)
Some of the intriguing 300-game/hole-in-one club reports we got included: Mike Sipple, of Cumberland, Md., who reported he did the feat on the same day, May 31, 2011. In telling us about his feat, Russ Hunt, of Kennewick, Wash., said he's had 75 300-sanctioned games right-handed and 10 left-handed. Cliff Connors of Tempe, Ariz., said he had a magical spell in which his first ace and first 300 game came in a span of less than two months during which time he also had his first 7/10 split conversion.
Also intriguing are the pro bowlers who showed golf brilliance. One of them, Jim Pencak of Parma, Ohio, a PBA member since 1973, reports he holds two PBA records for the most consecutive TV victories at 16 and the highest winning percentage on TV at .733 percent. The 300 game wasn't a tough "get"; he's had 60 of them, including in February when his team shot the highest mixed-team, three-game score in the nation at 2,906. His ace, though, came at a regional sales meeting for AMF Bowling Products when golf was pretty much secondary to the meetings.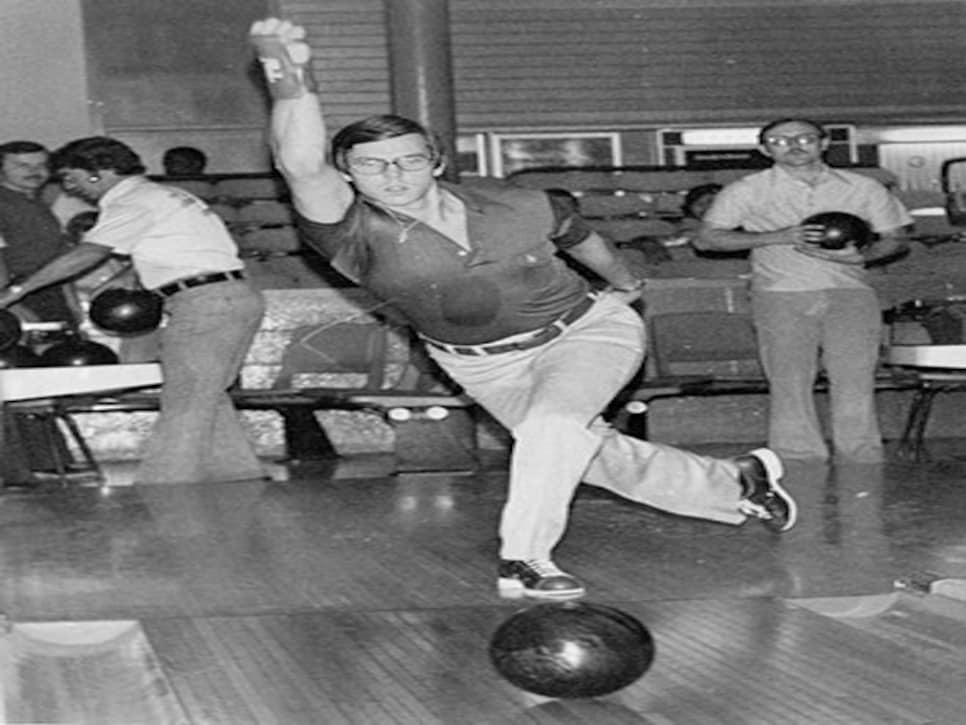 Bill Spigner, of Vernon Hills, Ill., (pictured) is another pro bowler who had the 300-game achieved fairly quickly. He was 21 in 1970 when he rolled one and is now up to 41. But the hole-in-one was harder to come by: He was 60 in 2010 when he aced at Hickory Point in Decatur, Ill. One of his witnesses was PBA Hall of Fame member Wayne Webb.
Golf Digest has not calculated the odds of making a hole-in-one and bowling a 300-game, but they've been calibrated separately. We have the odds at 12,000 to 1 for an average player making an ace. It's 3,000 to 1 for a tour player and 5,000 to 1 for a low-handicapper.
Similar to making an ace, the more proficient you are at bowling, the better your chance of a 300 game. The odds for a PBA bowler rolling a 300 are 460 to 1, while it's 11,500 to 1 for the average bowler. So that puts the odds for success at about the same for the average player in each sport, but what about the realities of doubling up? It would seem to require more proficiency in bowling than golf.
There's no pressure to ace a hole; it's not expected, is often helped by luck (a bounce off a hillside or sprinkler head, for instance), and even the most novice golfer can strike gold. It's one shot in golf versus 12 great shots in bowling. To bowl a 300 game produces a lot more pressure, and you have to be above average in talent. After about six or seven strikes, the pressure builds so that by the time you're in the 10th frame, you might have the entire bowling alley watching. The pressure to finish off the 12th strike for a 300 game is immense.
Sipple, who did the dual deed in one day, sees difficulty in equal measures, but points out that as a competitive bowler, he bowls 50 to 75 games a week. If he played golf at that rate, he says he'd have more aces than 300 games.
"I think with the way bowling has evolved and the equipment and easier conditions, for me a 300 game is easier," he notes. "I am torn, though, because in a 300 game you have to repeat 12 times to shoot 300. In golf, for a hole-in-one, it is one swing and the luck of the bounce."
So for all you acers who go to the bowling alley on occasion, fall is in the air, and the indoor activity calls, so get rolling to see if you can get that 300 and join the club. And if you're in the club and you haven't told Golf Digest about your milestone, send me an email (Cliff_schrock@condenast.com) with the details on both feats.
300 Game/Hole-in-One Makers
Jerry Anderson, Smithton, Ill. Mike Bankert, Indianapolis; Jim Bell, Anna, Texas; Cliff Connors, Tempe, Ariz.Pete FitzgerelDario FrankBill Henson, Westerville, OhioRuss Hunt, Kennewick, Wash. Jerry Kessler, Englewood, OhioClint Kilb, Plymouth, Wis.Kyle King, Sterling Heights, Mich.David LaberJoe Mullenax, Cumberland , Md.Michael Nett, Kiel, Wis.Doug Otto, Salisbury, Pa.Don Parsons, Frostburg, Md.Jim Pencak, Parma, OhioRandy L. Russell, Monroe, Ga.Mike Sipple, Cumberland, Md.Kevin SmithBill Spinner, Vernon Hills, Ill. Bob StrickeStan Whisnant, Morganton, N.C.Tony White, Greenville, N.C.Nick and Christine Wissinger, Sterling Heights, Mich. Gerry Zumult