News
Fowler says he's ready to make the career leap we've all been waiting for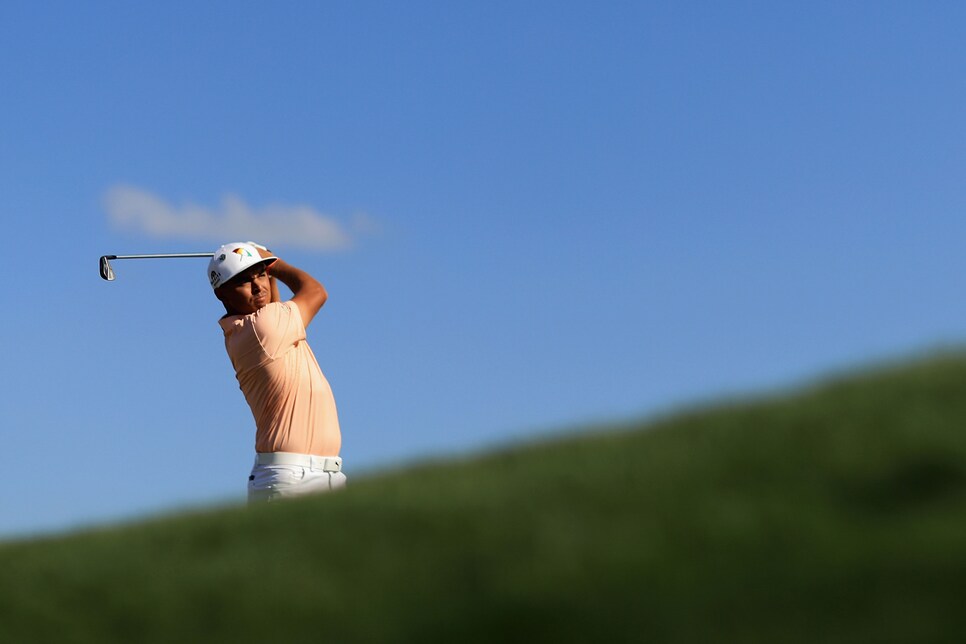 Photo By: Mike Ehrmann/Getty Images
There is a cliché in travel writing, immortalized by Bart Simpson in his report on Libya, that has been overdone to the point of becoming a meme: "The land of contrasts." If you don't know enough about a certain subject, or if the scant information you have seems to be at odds, simply resolve your confusion with a turn of phrase. Hence, "Brazil/Iceland/Mozambique is a land of contrasts." See how easy it is? See how worldly and definitely-not-ignorant you sound?
Which brings me to my point: Rickie Fowler is a land of contrasts.
I first started trying to decode Fowler in 2014, and the quintessential contrast that typified everything I would learn is that among the interviews I did that year, Fowler's was both the hardest to land and the easiest to conduct. It was a complete pleasure speaking with him one-on-one for 45 minutes, and absolute misery trying to arrange it in the first place (a process Fowler had nothing to do with, by the way). That surprising contradiction was my guiding clue for everything I've learned about Fowler, and everything I haven't.
As Fowler prepares to play this week at the Wells Fargo Championship, the first tournament since his one-stroke, runner-up showing at the Masters, and at the site of his first PGA Tour victory at Quail Hollow Club in 2012, I can't resist the urge to explore the career of a player who has been both enormously successful and mildly underwhelming, and who, at age 29, seems to stand on the precipice of either unprecedented success or crushing disappointment.
Let's start at the beginning: Rickie Fowler grew up riding dirt bikes, and he loved the colors on the racers' uniforms. For a shy kid, color became a way to express himself, and years later he teamed with Puma to profit from that aesthetic in what stands as one of the most fruitful branding exercises in modern sports. Fowler's bright orange jumpsuits, paired with the flat-billed cap, turned him into a sort of icon, and the transformation happened, arguably, before his accomplishments on the course merited the status. To some extent, it even made him a controversial figure in the sport, as indicated by grumbling from the traditional set and the odd hint of resentment from fellow players who envied his endorsement deals.
It also had the effect, in my opinion, of submerging his true personality behind a manufactured image. It's hard to think of the most luminous player on the golf course as humble, and even harder to believe that the man behind the kitschy clothes is anything but an eccentric. But Rickie Fowler is humble, to an almost unheard-of degree in professional golf, and he is just about the opposite of eccentric. On the Mickelson Scale, Phil being a 10, he rates about a 1.5, and the supporting evidence is sometimes comical—like how, in college, he was practically a teetotaler and served as a designated driver when his teammates hit the town. As I've written before, he's the only player who I've never seen express true rage on a golf course, and as far as I can tell, he's genuinely one of the nicest guys on PGA Tour. (Player polls back this up, and he even finished atop a list of "best-mannered people," per some organization with the word "cotillion" in their name.) Kids love him, and he seems to love them back. There's an utter lack of pretense to everything he does.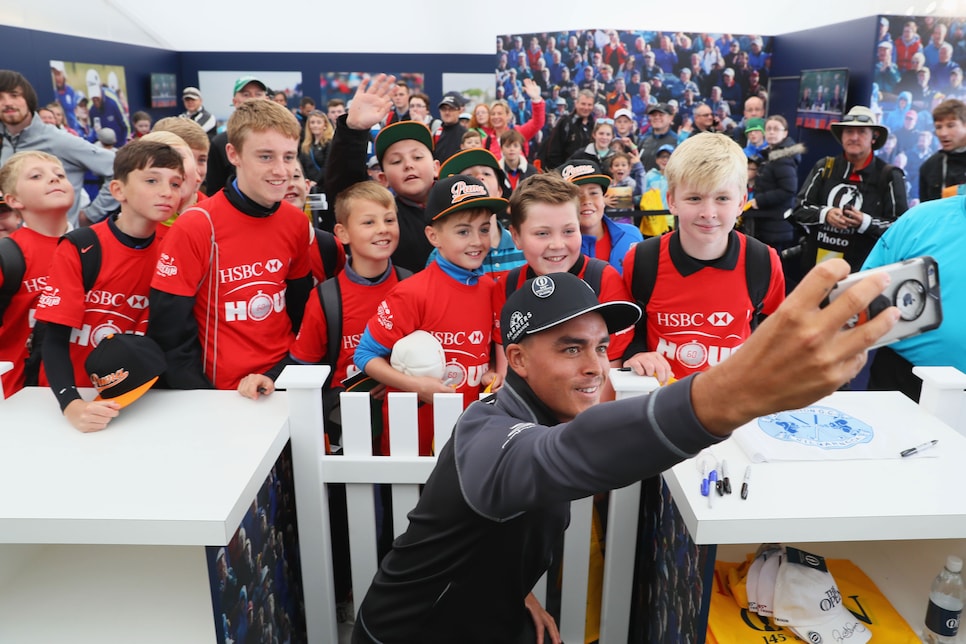 Andrew Redington/Getty Images
None of these qualities were readily apparent in the face of the clothes, and though his wardrobe has changed significantly in recent years, the superficial definition of Fowler lingers. That's the contrast at the heart of his image.
It extends to his playing career. Fowler came to the tour with a good deal of hype. He was the No. 1-ranked amateur player for almost a full year, he won the Ben Hogan Award as the best college golfer in the country, and he helped lead the U.S. to two Walker Cup victories. He only needed a season to earn his card for the PGA Tour, and by 2010 he looked poised for big things.
Have those big things panned out? Well … sort of.
If you looked at Fowler's résumé divorced from his image, and from his name, it's very good—starting with that 2012 Wells Fargo win (in a playoff against Rory McIlroy), he's won four times in America, including a FedEx Cup playoff event and the 2015 Players, and twice in Europe. He's been ranked as high as No. 4 in the world, and at age 29, he's already played on three Ryder Cup teams. This is a solid résumé, by ordinary standards.
But the combination of Fowler's amateur reputation, paired with the attention that came his way thanks to Puma, casts this is a somewhat different light. Fair or not, there's a sense that he should be better, and the argument extends to every part of his professional career. Take his 2014 season, for instance, when he pulled off the rare and difficult feat of finishing inside the top five in all four majors. It's a much ballyhooed feat, partly because we don't entirely know how to digest it. Was that a good thing, proving he had the game to compete with the best of the world with remarkable consistency? Yes, of course. But could it also be a bad thing, proving he lacked the intangible quality required to win?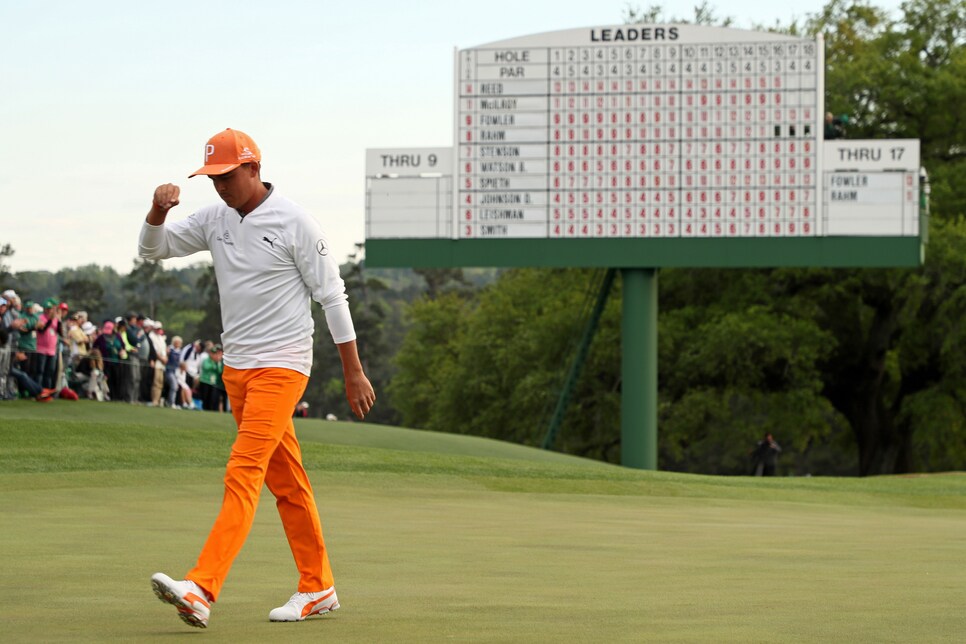 Jamie Squire/Getty Images
In a similar fashion, it's tricky to figure out how to evaluate Fowler's excellent finish at the Masters this year—a Sunday 67, with birdies on four of the final seven holes and six of the last 11 to nearly catch Patrick Reed at the tape. Was it evidence of a player on the verge of summiting the last obstacle, as Fowler himself said, or another indication that he's destined to play the role of perpetual bridesmaid?
So why isn't he winning more? Even Fowler's defenders in these prestige spats have to concede that in the last three years, he's been outshone by the likes of Jordan Spieth, Justin Thomas and Reed. Each of them has surged past Fowler's career-win total, and they're all younger (24, 25 and 27, respectively). Nor is that an unfair comparison; with the possible exception of Spieth, there was more fanfare attending Fowler's rise to the pro game than any of them.
Even Brooks Koepka has a U.S. Open title now, and Fowler has also had to watch players in similar circumstances to his own, like Dustin Johnson and Jason Day, breakthrough and win their own first majors. If Fowler isn't necessarily the best player to lack a major title—and I think he is, at least among players 35 and younger—he's certainly the most famous.
Which is why, in terms of legacy, there's no player with more at stake in the coming years than Fowler. The contrasts that lay within image and personality may always persist, but there is a simple and emphatic way to end all debate where it matters, beginning this week at Quail Hollow and extending to the coming weeks at Shinnecock Hills, Carnoustie and Bellerive Country Club, sites of 2018's remaining majors. Standing on the doorstep of his 30th birthday, Rickie Fowler has everything to gain, and everything to lose.