The Loop
Reader's Fashion Tip: Insulated shorts for winter golf
The golf courses within driving distance of my hometown have been closed for so much of this winter that I haven't had many opportunities to take advantage of Sunday Morning Group's shorts rule: one extra handicap stroke if you wear shorts after November 1, two extra strokes after December 1.
If we do get to play again, I'm going to try some shorts I learned about from Tim Kresse, a reader in Oxford, Ohio. They're called Alpha Shorts, and they're filled with Polartec insulation. They're made by a company called Qor, which is practically giving them away.
The company's website describes them like this:
"They're super stretchy, don't look insulated, and are styled like trousers: structured waist with front zip/button fly closure, slash hand pockets on the side, two back pockets (one with a zipper), and belt loops."
"I'm an administrator at Miami University, the alma mater of Ben Roethlisberger and the place Robert Frost called 'the most beautiful campus that ever there was.' I have to agree that it is quite a pretty campus and a good school. The Qor catalog just showed up, but I have to say that the insulated shorts seemed the perfect thing for the winter golf game. I do wonder, though, would that be cheating or does the open air nature of the leg sufficiently offset any insulation value?"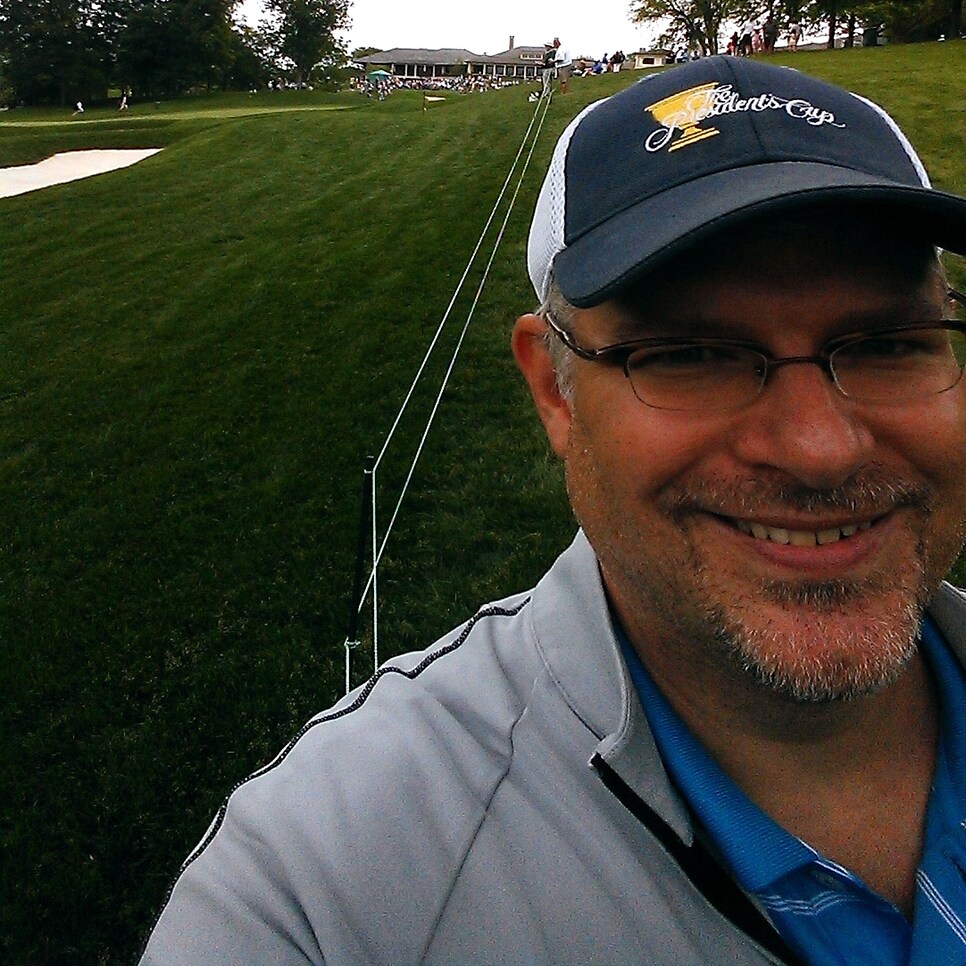 The rules, so far, allow insulated shorts. What they don't allow is tall socks. Back to Kresse:
"The picture above is of me during a practice round at the Memorial Tournament last year. I bought my daughter (no, really) a tournament flag and got some autographs. Once I realized I had the autograph of the winner of the Memorial, the Masters, the US Open, the (British) Open, and PGA championship, I decided it could stay in my office for a while. She'll get it one day. I play golf at Hueston Woods State Park Golf Course, just north of town, and Indian Ridge Golf Club, just south of town. Here's a summer moon over Hueston Woods:"

During the winter, though, golf is mostly in hibernation, with the occasional trip to the driving range or a trip south. I last played at Great Dunes on Jekyll Island, Georgia, just before Thanksgiving. Here's a picture of the fifth green and sixth tee, which overlook the Atlantic. It's a nice nine-hole course, perfect for walking:"

"To keep ourselves busy in the winter, we move to indoor sports, including broomball, and I have found that winter golf gloves are great for for broomball. They are just enough to keep hands warm on ice, improve the grip on the broomball stick, and work great as a goalie gloves (the position I usually play)."
I'd never heard of broomball before, but here's what it looks like. That's not Kresse in the net. At least, I don't think it is. (I found the photo online.)
Broomball players don't wear skates, but they do get to buy broomball shoes, among other things. You can read all about the game here. Back to Kresse:
"I first played broomball at Ohio University (another very attractive campus) in the early 1990s. Games were almost always late at night, when the ice was free, and we played with a deflated volleyball, our own tennis shoes, and cut-down brooms (both ends) for 'sticks'. Now games are still often played late at night, but there are specific broomballs, sticks, and shoes, which make it easier to get around the ice (I call them clown shoes). I've also bought hockey shin guards to protect from sticks and falls. And, thankfully, we play half-ice (half-rink) and not full-ice games."