Takeaways
Bryan on verge of bounce back, Cink boat races the field, and Horschel continues to be a human highlight reel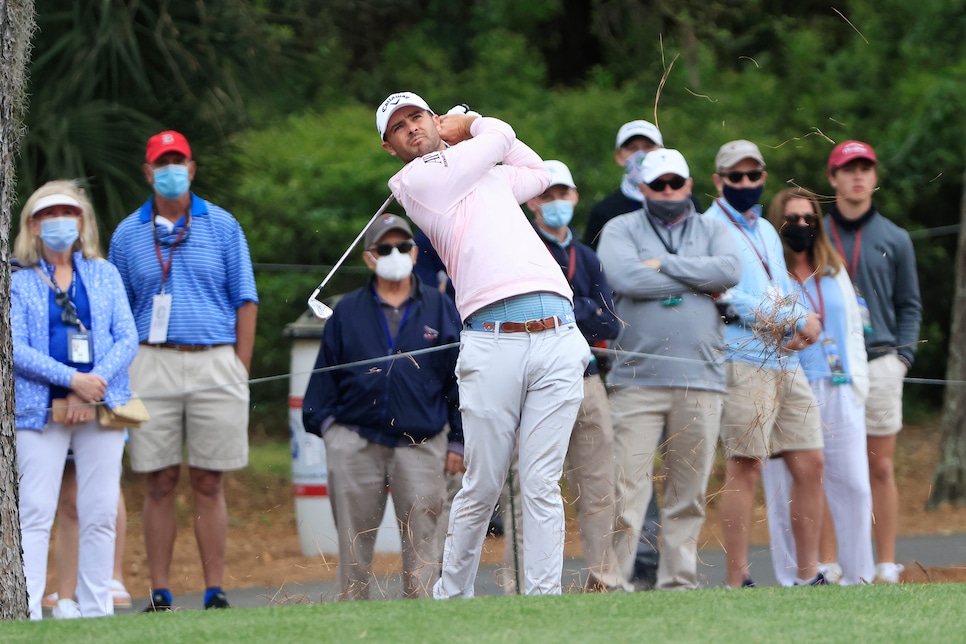 Wesley Bryan plays a shot on the ninth hole during the second round of the RBC Heritage.
Sam Greenwood
For all its allure, fame can be cruel and cold, gone well before you realize it left. Wesley Bryan had it as a trick-shot artist and reality-show contestant, a celebrity that grew when he turned those talents into success on the Web.com Tour and a popularity that was solidified with a win at the RBC Heritage. But that was four years ago, and injuries and the struggles that followed moved Bryan from the game's spotlight to its fringes.
Luckily for Bryan, though fame is a part of his profession, it is a profession dictated by meritocracy. And through two days at Harbour Town—highlighted by a five-under 66 on Friday—Bryan is back near the flames.
"It's been a lot better than what the scores have been showing," Bryan said Friday. "It's nice finally this week to see some results, and hopefully we can keep the pedal down."
Posting a 68 in Round 1, Bryan began Day 2 with a 53-foot birdie at the 11th (his second hole of the day) to spur three consecutive birdies. Though back-to-back bogeys followed, he had a chip-in bird at the 17th. Bryan hit what he would later describe as a "buttery" 5-iron from 210 yards at the par-5 second to eight feet, which he cleaned up for eagle, and carded another birdie at the seventh for his best round since last fall's Sanderson Farms Championship. Honestly, it's felt longer than that.
After lighting the then-Web.com Tour on fire in 2016 with three wins and a runner-up, Bryan carried his hot streak to the big leagues, racking up three top-10 finishes before earning his breakthrough at the 2017 Heritage. But a shoulder problem did a number on Bryan; he finished outside the FedEx Cup top 150 the next season and made just nine PGA Tour starts in the two campaigns that followed. Playing on a major medical extension this year hasn't brought much luck (eight starts, five missed cuts).
Yet Bryan said Friday the shoulder feels fine and that despite what his outings convey, he's on the right track. "Post-surgery I picked up a lot of speed and started actually striking the ball well for the first time in my career, which was nice," Bryan said.
Though Stewart Cink is doing his best to make this a one-man event, Bryan will be near the top of the leader board come Saturday. At a course where he's won before, with plenty of friends, family and local support to galvanize the Columbia, S.C. product. Bryan might not be "back," but he's back to a place he feels he belongs.
"I know I hadn't been in the feature groups or in contention that much, but all the opportunities I had to play in front of people I've really enjoyed it and kind of relished that moment," Bryan said. "The heart beat getting up a little bit more, I really like that. It's fun."
Four other takeaways from Day 2 at the RBC Heritage.
Stewart Cink reacts to his shot on the 12th hole during the second round of the RBC Heritage.
Sam Greenwood
In one sense we shouldn't be surprised the player leading the Heritage through 36 holes is one who already has a win this season and is coming off a T-12 at the Masters. But in another, truer sense, let's be frank: It's pretty darn surprising to see 47-year-old Stewart Cink boat-racing the field.
Cink paired his first-round 63 with another 63 on Friday, making six birdies, an eagle and no bogeys to take a five-shot lead into Saturday morning.
"It doesn't feel like anything all that special to be honest," Cink said. "We just kind of worked our game plan. I don't know. We haven't had too much wind, and so this course without a lot of wind, there's just not that many surprises when you have a lot of experience around here, and I think we've kind of gotten what we expected out of most of our shots, and we've put it in the right place a lot, and really the key is we haven't put it in the wrong place very often."
Through 36 holes it's been a tour de force performance. Cink leads the field in strokes gained/approach, is third in SG/putting and fifth in SG/around-the-green. This, despite losing strokes to the field off the tee on Friday, hitting just five of 14 fairways. Still, his 16-under total is a 36-hole tournament record.
While Cink is enjoying a late-career revival, this season has been a season of runs. He started out with a win, T-4 and T-12 in his first four starts, then posted just one finish inside the top 30 in his next eight appearances, yet comes into Hilton Head off the aforementioned strong showing at Augusta National and a T-19 at the Honda Classic. What we've seen through two days is an off-shoot of that trend. And though he has some formidable opponents trailing, that Cink ranks in the top 25 in both birdie average (24th) and bogey avoidance (T-18) are exactly the ingredients needed to keep a letdown at bay.
"There's a lot of work still to come, and I've seen leads like this go away quickly and I've seen leads like this expand really quickly. I don't see any reason to change what I'm doing. I want to double down on a couple of my little things … I didn't feel like I was quite as clean on the ball-striking today, so I want to double down on some of that stuff and just keep the plain goal with him and get some good rest."
Should he ride this lead to a tartan jacket, Cink would become the first player 47 or older to win multiple times in a tour season since Kenny Perry in 2009, according to the 15th Club's Justin Ray. Oddly enough, before his win in the fall in Napa, Cink's previous win came in 2009 (that sound you heard was Tom Watson's sighing).
"I think about that all the time because every day I wake up and I remind myself that I'm like a PGA Tour player at age 47," Cink says. "I probably didn't expect to be here still when I was 47, so it's a good reminder for me because it keeps me calm and it gives me sort of a sense of reality and a dose of like hey, there's not really all that much expectations of me that I can just come out here and have fun."
Young Master Zalatoris is really feeling himself. That, or he's channeling Hideki Matsuyama.
On the par-3 seventh, the broadcast caught Will Zalatoris finishing with a one-arm swing. According to announcers, it was his third unfinished swing in as many holes. The fledgling star was out of sorts, clearly, believing his shot had come up well short. Except that ball took a mighty bounce, caught a slope and finished eight feet from the pin.
Zalatoris has been one of the better iron players in the sport this year (fifth in SG/approach). But it takes a special type of talent for the bad shots to be good.
Zalatoris did not waste the opportunity, converting the eight feet for birdie and eventually finishing with a four-under 68. He'll need Cink to fall back to Earth, but at seven under he's well in-line to make a run at his first tour title this weekend.
Morikawa in contention despite putting woes
At times golfers need to be like baseball closers, putting whatever just happened in the past and keeping it there. It is a mindset Collin Morikawa is well aware of, and one he displayed Friday.
On the surface, Morikawa is in good position, and he is, after a second-round 68 put him in a tie for fourth. Only that 68 could have been a 64 or lower, as the reigning PGA champ failed to convert a number of makeable birdie attempts.
"Everything felt good. Just was probably about a foot short on speed all day," Morikawa said. "Could have had five, six more birdies out there. It happens, and I was glad to have a bogey-free round."
Morikawa is not exaggerating, and the stats back it up. He averaged 1.87 putts per green in regulation and lost over a stroke and a half on the dance floors in Round 2. Granted, Morikawa's struggles with the flat stick are well-documented (180th in SG/putting), but Friday seemed to encapsulate his short-game frustrations.
"After I missed—after I three-putted on 2, I knew there was still a lot of birdie opportunities and I just had to keep hitting good shots," Morikawa said. "I mean, I kept doing that, which was good. I didn't play too aggressive when I didn't need to.
"Yeah, it was tough not seeing a few birdies in. I got kind of a lucky birdie on 6, but we'll work on a few things and be fine for the weekend."
Luckily, Morikawa seemed to already compartmentalize what happened and doesn't plan on letting Friday ruin what could be this weekend, saying he already "forgot" about his putting woes.
"If you want to put yourself in contention by Sunday you got to give yourself chances," Morikawa said. "Game is feeling good, so hopefully we just start dropping a few more putts like yesterday on the weekend."
Billy Ho, the human highlight reel
It's been an interesting few weeks for Billy Horschel. He won the WGC-Dell Match Play in Austin, then went viral multiple times at Augusta National. The first time was in good fun, as Horschel slipped down Augusta's 13th green. The second time, not so much, for actions that ultimately led Horschel to apologizing for his behavior.
"It's just one of those weeks where it drives you a little insane with the way the wind can be, the way they set it up," Horschel said Thursday of the Masters. "It just requires a lot from you as a golfer. So it's nice to come over here. This course is—requires very similar to what you need over there. Really good iron play, distance control. But it's not obviously long and the greens aren't nearly as challenging as Augusta. So always nice to come over here after a stressful challenging week like it would be at any major."
Of course, a relaxed Horschel still displays the frenetic energy of a roadrunner on Red Bull. But he's channeling that energy in proper fashion at Harbour Town, sitting in a tie for fourth after a 68 and 67. Yet for all the red on the scorecard, it's a hole out for par that caught our attention Friday.
Our only disappointment is that Horschel didn't pick up the flag and chuck it into the gallery in celebration.