Branded Content
A Path to Equity: A Brief History of the LPGA Tour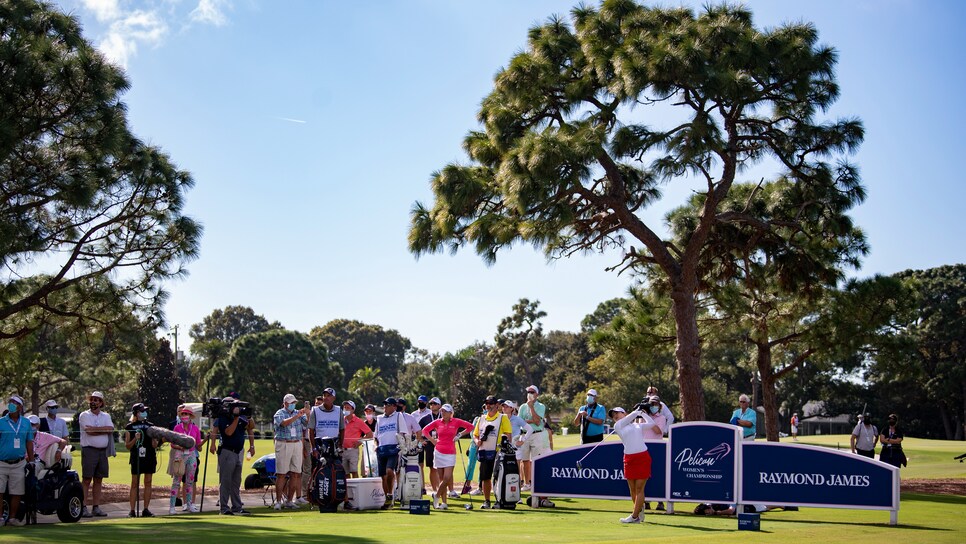 When 13 women came together in 1950 to form the LPGA, it was their vision, determination and sacrifices that helped turn the top women's professional tour into what it is today. Over the past 72 years, the LPGA has steadily grown in stature and relevance. Now with 34 official tournaments and more than $85 million in prize money, the dream those founding members had for women's golf has likely exceeded even their own high expectations. It's that commitment to equity for women's golf that has helped the LPGA maintain strong financial support from a wide range of companies, including Raymond James, a partner for this month's Pelican Women's Championship.
In celebration of today's thriving LPGA, here are a few noteworthy timeline facts every golfer – man or woman – should know about the tour.
In its first 10 years (1950-1960), the LPGA grew from just 14 events to 26. Prize money jumped from $50,000 to $200,000.
The color barrier in women's professional golf was broken in 1963 by an athlete whose first love was tennis. That year, two-time Wimbledon champion Althea Gibson became the first Black woman to join the LPGA Tour. Four years later, Renee Powell, recipient of this year's inaugural Charlie Sifford Award for advancing diversity in golf, followed Gibson onto the LPGA circuit.
The LPGA was dominated by Mickey Wright and Kathy Whitworth in the 1960s – when the duo combined for an astonishing 121 victories. Wright won 68 tournaments, while Whitworth amassed 53 titles. Wright's 13 wins in 1963 still stands as the most wins by a female golfer in a single season. Only Byron Nelson's 18 wins in 1945 surpasses Wright's accomplishment among all golfers.
Of Kathy Whitworth's 53 wins in the 1960s, 35 came over just a four-year period from 1965-68. In 1981, Whitworth became the first LPGA player to win $1 million in career earnings.
The 1980s could also be known as the international decade for women's golf. In 1987, England's Laura Davies won the U.S. Women's Open to earn a one-year exemption on the LPGA Tour. That same year, Japan's Ayako Okamoto won four LPGA tournaments and became the first international player to win the Rolex Player of the Year award. In 1988, Sweden's Liselotte Neumann won the U.S. Women's Open as a rookie, marking back-to-back international wins in the event.
Australia's Karrie Webb, who posted 16 wins in the 1990s, became the first player to cross $1 million in season earnings in 1996.
Following Neumann's Swedish breakthrough in the U.S., fellow swede Annika Sorenstam owned the 1990s on the LPGA Tour, posting a decade-leading 18 wins. Her dominance continued into the next decade – breaking or tying 30 records in the 2001 season. That season, Sorenstam became the first LPGA player to record a single-round 59, achieving the score in the second round of the Standard Register Ping event in Phoenix.
In 2005, Sorenstam won her eighth Rolex Player of the Year award to break Whitworth's long-standing record of seven. Sorenstam compiled 54 wins in the 2000s and ended her career with a total of 72. Although she retired from full-time play 14 years ago, Sorenstam still leads all players in career earnings with $22.5 million.
The first single-event payout of $1 million came in 2006 when 19-year-old Julieta Granada of Paraguay won the LPGA Tour's season-ending LPGA Playoffs at the ADT.
In 2021, Australia's Minjee Lee led all players with $3.7 million in earnings, marking a 7300% increase from the total prize money offered for the entire inaugural LPGA season in 1950.