The Loop
Raymond Floyd, golf's longest-suffering Cubs fan, 51 years and no longer counting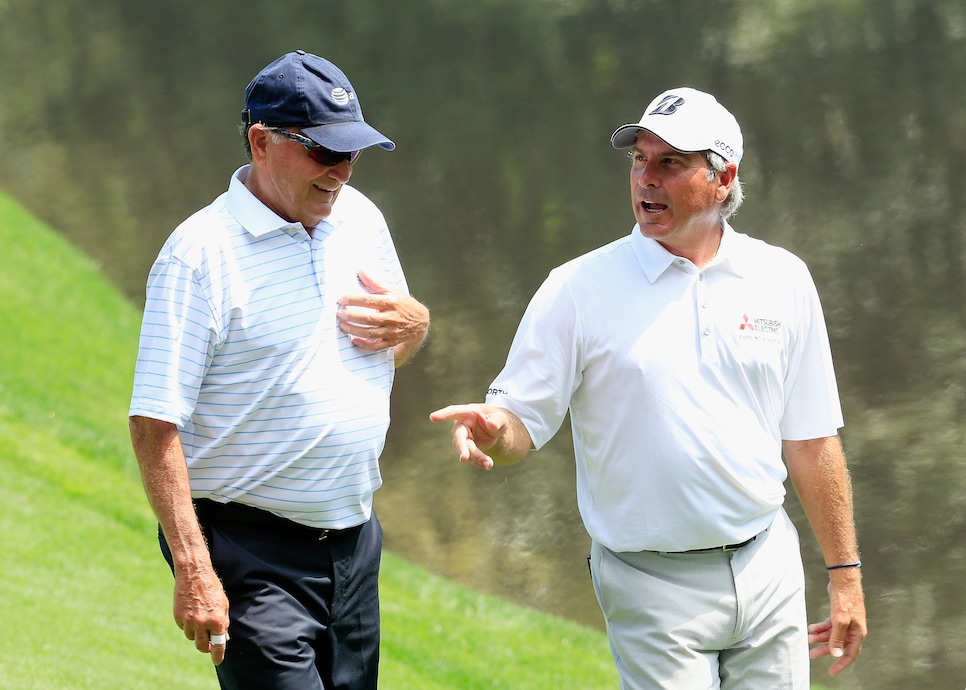 Raymond Floyd wore a Cubs' uniform, No. 8, as he recalls, and occasionally sat on the team's bench during games. He had his own locker in the Cubs' Wrigley Field clubhouse, maintained for years by his friend Yosh Kawano, the team's clubhouse manager.
Floyd has been a Cubs fan since 1965, he said Monday, "so I've been waiting for a long time."
Fifty-one years, or virtually his entire adult life, and the Cubs are finally going to the World Series.
There might be others from the golf world who are equally ardent Cubs fans, maybe Wheaton, Ill., native Kevin Streelman, or David Ogrin, a former PGA Tour player who named his son Clark Addison, after the streets that intersect outside Wrigley Field.
But none from golf are as long-suffering a Cubs fan as Floyd.
His relationship with the Cubs began through his friendships with Kawano and Leo Durocher. "Yosh and I became the dearest of friends," Floyd said. "We became great buddies. He was almost like a second father to me. He gave me a locker in the clubhouse."
Floyd, meanwhile, had met Durocher during the Dodgers-Twins World Series in 1965 "and we become friends,' he said. Then Durocher was hired to manager the Cubs in 1966.
In 1969, Floyd moved to Chicago. He pitched batting practice occasionally, shagged fly balls. "It was great. It was a great release from the game I was playing at the time," he said. "That's why I'm such a fan. I knew all of them, Billy Williams, [Ernie] Banks, [Ron] Santo. Fergie's [Ferguson Jenkins] a dear friend."
Floyd even traveled with the Cubs during one of their most traumatic spells, September, 1969. "I was with them in the great collapse in New York, then went to Philadelphia and lost three in a row," he said. The Cubs were in first place in the National League for much of the season before losing 17 of their last 25 games and finishing eight games behind the Mets.
When the Cubs and Indians tee it up in game one of the World Series Tuesday night in Cleveland, Floyd will be watching from "the best seat in the house," in front of his television at home in Palm Beach, Fla.
"Cubs power, man," he said. "Let's get 'em in."