The Loop
Ray Romano admits his "man-crush" on Phil Mickelson, shares funny tale about drinking from claret jug
Have you ever heard the one about Ray Romano, Phil Mickelson, Kenny G, and the claret jug? Sit back and relax. It's a doozy.
Romano was recently on The Tonight Show with Jimmy Fallon and the two played a game called "Explain this photo" in which both comedians looked at photos on the other one's phone and asked to explain what was going on. With Fallon being a big golfer (Hello, Golf Digest June 2014 cover boy), of course, he settled on this photo to ask Romano about to begin the segment: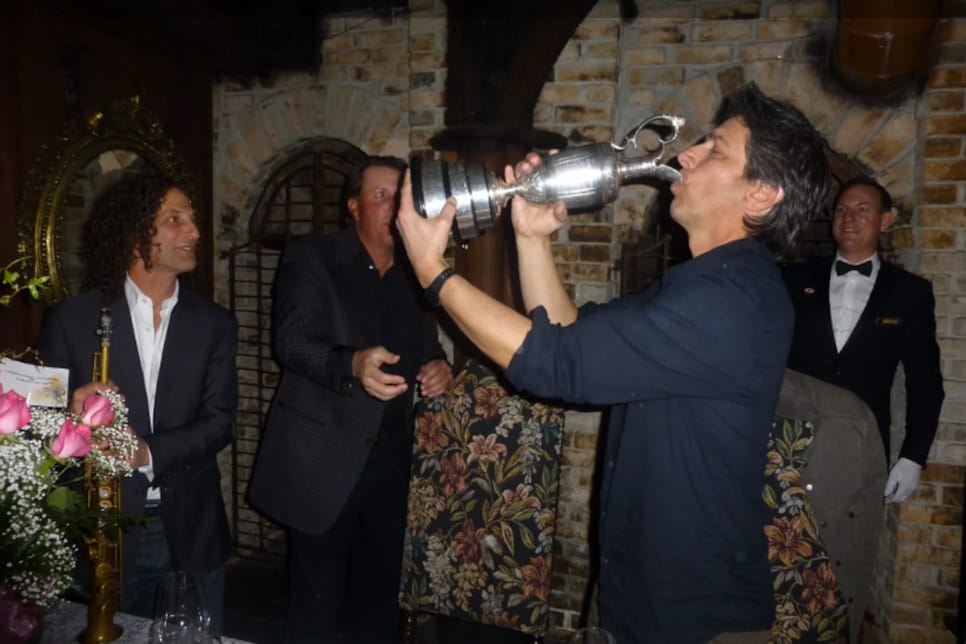 "This is a great moment in my life, actually," Romano says before launching into a story about how he drank wine out of the claret jug with Phil Mickelson, his self-proclaimed "man-crush," at the 2014 AT&T Pebble Beach National Pro-Am. Romano noted it was also "a stressful moment because I don't drink, and I'm a germaphobe." And then he added an even better story about Kenny G, who along with Mickelson and a well-dressed waiter, is also in the photo.
"He's related to the last time I drank," Romano said. "I got really drunk. And I went to the bathroom and I started hearing Kenny G in the bathroom. Then I realized I'm pissing in the elevator." Boom. Roasted. Watch the entire clip here: