News
Golf Digest's Top 100 In Music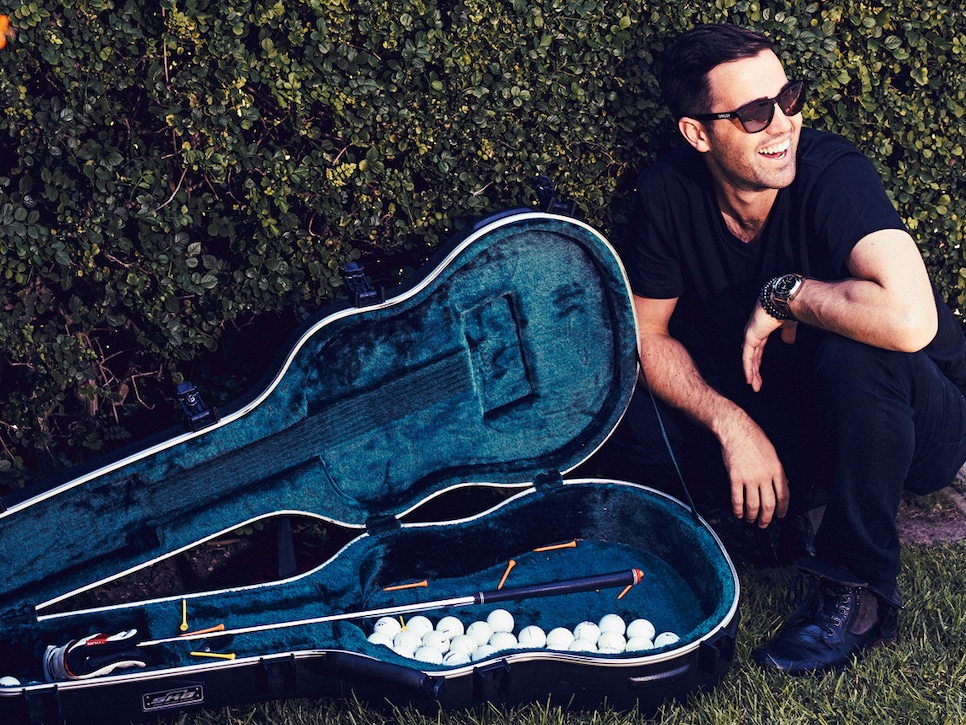 Compiling our Top 100 in Music, we wanted to include guitarists, bassists, pianists, saxophonists, drummers and vocalists across genres from jazz to country to heavy metal. We looked for golfers who would be fun to play with, most of them with little patience for the less-than-well-mannered in their industry who tend to dominate the tabloid headlines—but, yes, we included a few of them, too.
Although some are new to the game or struggle to find time to play, most pursue it avidly, often as an antidote to the noisy way they spend so many nights. "I prefer dead silence on the course," says Sevendust drummer Morgan Rose. Others voice a common refrain: "I play to get away from music." Touring gives musicians the opportunity to play some of the world's best courses, and a chance to get out of the spotlight. Not too many fans or paparazzi, we're told, are looking for a heavy-metal rocker on a fairway.
"Golf starts out as a great escape, then some people become really serious about it," says talent manager Steve Rennie, a member at Bel-Air Country Club, who has played with many on our list. Music mogul Irving Azoff, who manages groups from the Eagles to No Doubt and, through Azoff MSG Entertainment, owns prime performance venues, says so many musicians play that he has installed a TrackMan at The Forum in Inglewood, Calif., to keep them entertained.
Handicaps are from August and were determined from the USGA's Golf Handicap and Information Network, state associations, the musicians, publicists, friends and playing partners / Handicaps without decimal points are unofficial estimates.
Country legend has been a scratch player since high school and practices more than he competes at the Golf Club of Tennessee. "Take any of the top 25 on this list, and any of us can beat the other," says Gill, laughing at the news he's our No. 1. "Now everyone's gonna be gunnin' for me. I'm toast!"
Country singer played briefly on the then-Nationwide Tour as Jason Farris Brown.
Lead singer/business mind behind pop-punk band Cartel has moved to Nashville.
No Doubt drummer plays seriously—and in a lot of celebrity events.
Jazz saxophonist hasn't been posting scores but was a 2-handicap at the AT&T Pebble Beach National Pro-Am.
Tennessee-based singer played Winged Foot in June between gigs.
Country singer and former Valdosta State golfer was a scratch player before touring.
Lady Antebellum singer/songwriter's awards include six Grammys.
Award-winning country singer was derailed from a pro-golf career by injury.
Tower of Power legend's sax and clubs were stolen last year.
Consistently breaking 80 when home in California at Lakeside Golf Club in Burbank.
Index for this Mississippi singer is on the way back down after recent rounds.
Hall of Fame rocker is almost as well known for his golf addiction.
Along with Alison Krauss and Union Station, he toured with Willie Nelson. Also recorded with Avicii.
Singer best known for "She Won't be Lonely Long" plays at the Golf Club of Tennessee.
Drummer for Kentucky alternative rock band Cage the Elephant played his first 18-hole round four years ago.
Rascal Flatts guitarist/vocalist has good golf rep with fellow musicians.
Country singer married to actress Katherine Heigl; his brother Charles is No. 8.
Best golfer in Hootie & the Blowfish has also made it big as a solo artist.
Left his Montana home to spend the summer touring with The News.
Jazz pianist plays golf at Dyker Beach in Brooklyn, piano at Del Posto and Smalls Jazz Club in Manhattan.
22. DAVE (PHOENIX) FARRELL
Bassist for Grammy-winning Linkin Park, whose latest is "The Hunting Party."
Wake Forest, N.C.,-based pianist plays solo and with Branford Marsalis, No. 40.
Clean-shaven ZZ Top drummer plays frequently near his Texas home.
Legendary Yes drummer, 65, is still touring with the eponymous band.
Bon Jovi drummer, ranked among greatest of all time, plays at La Gorce in Florida.
Creed/Alter Bridge/Projected co-founder/drummer plays in Florida.
NeedtoBreathe bassist/vocalist lists love of golf on Web page.
Frontman for Scotland's Twin Atlantic, alternative rockers on Ryder Cup concert bill.
Doors guitarist co-hosts a California tournament to benefit St. Jude's.
Plays a lot at Bel-Air Country Club and last year performed with Avicii.
Legend has more time for golf after retiring from touring.
T-33. JOHN MICHAEL MONTGOMERY
Country singer's baritone still draws fans.
With Seth Bolt and Bo Rinehart, supports health initiative through NeedtoBreathe tournament.
Sevendust drummer spent summer after high school playing 36 daily.
Dirty Heads guitarist/vocalist has been playing golf for six years.
Bassist for punk's Bad Brains plays at Marine Park Golf Course in Brooklyn.
Incubus turntableist/keyboardist hit a mower's windshield at St. Andrews.
Cheap Trick singer/guitarist plays near home in Safety Harbor, Fla.
Saxophonist/band leader is super avid in Durham, N.C.
NOFX co-founder has a putting green at vacation home.
NeedtoBreathe vocalist/guitarist's "Little BoTweets" include golf as the topic.
Handicap: Legend continues to tour, which has cut into his golf in recent months.
Guitarist/vocalist for The Lumineers, whose "Ho Hey" reached No. 1 in 2012.
45. M. SHADOWS (MATT SANDERS)
Avenged Sevenfold frontman loves golf's traditions, "even the stuffy ones."
At his course, the country star is raising millions for pediatric cancer patients.
"Snowbird" singer plays her golf in Toronto and Nova Scotia.
Hootie's lead guitarist plays at Bulls Bay Golf Club near his South Carolina home.
Sister Hazel guitarist loves playing with his 8-year-old son, Briggs.
Former "American Idol" winner is glad to be home at Shoal Creek after Vegas stint.
Rock/Pop singer and Ben Crane pal wrote Golf Boys 2.Oh.
Plain White T's singer is working on not rushing his downswing.
Adult alternative contemporary singer made his seventh-grade team.
Country singer's dream foursome includes Bubba, Snedeker and Fowler.
T-49. ERIK (SMELLY) SANDIN
Drummer has recorded 20 albums with NOFX.
Guitar gifted by this Styx guitarist to Arnold Palmer hangs at Bay Hill.
57. BUZZ (KING BUZZO) OSBORNE
Melvins' guitarist/vocalist plays with non-musicians at Encino muny.
Collective Soul lead singer, also with Sweet Tea Project, plays in Georgia.
Longtime partner of Ronnie Dunn is now solo and a radio host.
Country star also known for winning "Celebrity Apprentice" in 2013.
In 44th year with Asleep at the Wheel.
Not quite the avid golfer today that he was at an Ontario, Canada, muny as a kid.
Former Eagles guitarist is a regular at Malibu Golf Club and plays the Alfred Dunhill Links.
Bel-Air member and Eagles singer calls himself Elvis while playing golf.
Singer known for "How Country Feels" took up the game two years ago.
Maroon 5 frontman and judge on "The Voice" benefited from Hank Haney's tutelage.
Rock and Roll and Songwriters Hall of Famer is still performing.
One Direction singer draws tabloid coverage at home in the United Kingdom when he plays.
T-60. DEAN WEEN (MICKEY MELCHIONDO)
Pennsylvania guitarist and fisherman loves Florida golf.
Lead vocalist for metal band Sevendust, which went acoustic in 2014.
Iconic crooner belongs to Mountaingate, Sherwood and Riviera.
Pink Floyd icon plays at "the" courses near his home in Southampton, N.Y.
Country singer is back in the spotlight after being named in Jason Aldean song.
Vocalist/guitarist for O.A.R. went to Jack Nicklaus' alma mater with No. T-76, Culos.
Unlike Crosby, Nash or Young, singer/songwriter is a Bel-Air Country Club member.
O.A.R. drummer says his band has opted for healthy habits.
Kings of Leon drummer is a lefty who recharges with tweets about golf.
Handicap: 18 Alice in Chains sin
ger/guitarist has been spotted practicing backstage.
Country singer/songwriter now touring to promote album "The Outsiders."
Bassist for the ska-punk Mad Caddies, who released first album since 2007 in May.
Mad Caddies' co-founder says the band's name derived from its success as an opening act for other bands.
Got only 16 strokes with pal John Daly at AT&T Pebble Beach National Pro-Am; observers say he needs a lot more.
Country singer says he typically shoots between 88 and 92.
Lead singer for Grammy-winning band fun. is playing a lot at Bayonne Golf Club.
Linkin Park vocalist has brought a videographer to his lessons.
R.E.M. co-founder/bassist can be found in galleries at golf's majors.
One Direction star playing golf again after January knee surgery.
Freestyle vocalist/guitarist will perform 130 shows worldwide in 2014.
DownBeat Magazine's tenor saxophonist of 2013 plays at West Point (N.Y.) Golf Course.
Train's lead singer travels with clubs, was an 11-handicap when he played more.
At his Texas course, "par is whatever Willie shoots," says the pro.
Brooklyn-based trombonist has backed Beyoncé, among others.
Maui-based legend plays in pro-ams and has been spotted at Bel-Air Country Club.
Best-known for 2013 hit "Blurred Lines," he keeps quiet about his golf.
American Authors guitarist grew up playing golf with his granddad.
One of rock's bad boys is best known for Limp Bizkit vocals.
T-97. CHARLES (CHIP) ESTEN
Singer/songwriter stars on ABC's "Nashville."
Singer/songwriter's tour included a stop at WGC-Bridgestone Invitational.
Rock band The Fresh & Onlys' singer/songwriter is also a visual artist.
100. AVICII (TIM BERGLING)
Swedish Electronic-Dance-Music DJ is new to the game.