FIRE PIT COLLECTIVE
Ranking the year in majors
Editor's Note: This article first appeared in Fire Pit Collective, a Golf Digest content partner.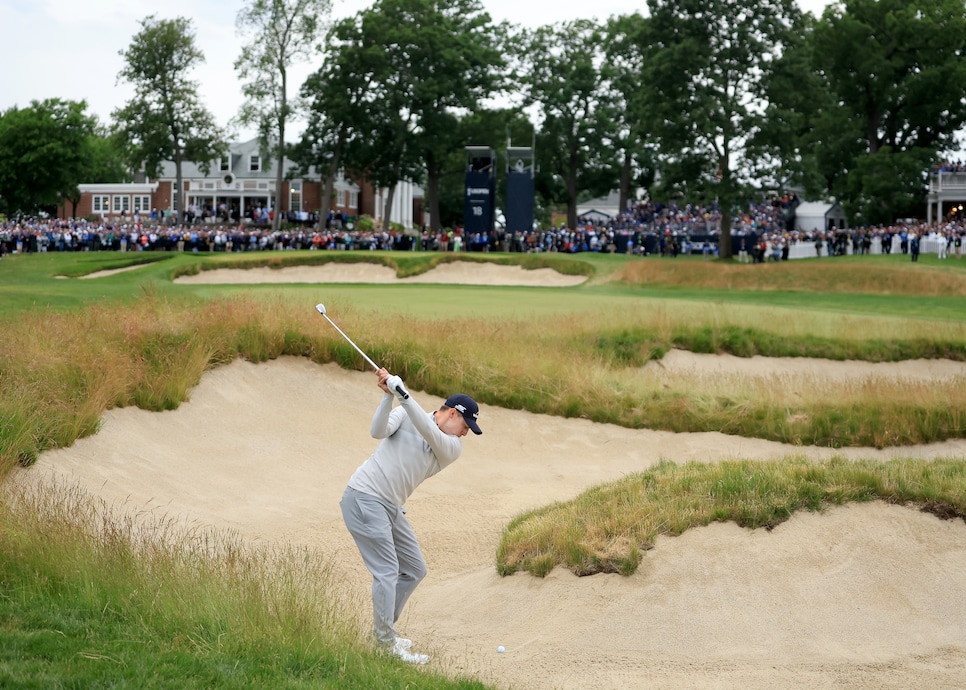 Admittedly, this is a decidedly odd public service, but this has been a decidedly odd year in golf. And so we proceed: our inaugural Fire Pit Collective ranking of the four men's Grand Slam events. The Year in the Majors, FPC-style.
First place: Open Championship at the Old Course, St. Andrews, Scotland, July 14-17, won by Cameron Smith of Australia.
Second place: U.S. Open at the Country Club, Brookline, Mass., June 16-19, won by Matthew Fitzpatrick of England.
Third place: PGA Championship at Southern Hills, Tulsa, Okla., May 19-22, won by Justin Thomas of Jupiter, Fla.
Fourth place: the Masters at Augusta National, Augusta, Ga., April 7-10, won by Scottie Scheffler of Dallas.
The Masters should not feel slighted here, if a tournament can be said to have feelings, and this is not in any way a condemnation of its young-meets-old winner, Mr. Scheffler. His Sunday night admission that he cried like a baby in his wife's arms on the morning of Masters Sunday, unsure if he was ready for the task at hand, is the most candid and moving thing any golfer has said in a press conference all year. He was a terrific winner, and the Masters is the Masters, our first sign of spring. But it's fourth here.
Over the years, the super-elite nature of the host club has added mystique to the tournament. This year it did the opposite. The tide is changing in golf (and beyond golf). People are growing tired of what extreme wealth and power can buy and do. LIV Golf, barging into the game's traditions with its open checkbook, is having a great deal to do with that.
And maybe LIV Golf can be a good thing for professional golf, in the long run. Maybe it will make the leviathan PGA Tour reinvent itself in creative and better ways. The early signs are not encouraging, but it is early.
The irony, of course, is that nothing whispers Establishment Golf more than the Masters and Augusta National. But you could also say LIV and Augusta National are opposite sides of the same coin. Augusta National is able to buy everything but the weather and its leaderboard, and that's what it does. It gets what it wants. Because everybody outside the gates wants to be inside. It's all a bit much.
All of that has helped the world's oldest golf tournament, the Open Championship, in our 2022 ranking. The Open is always played on courses the public has access to, but this year, of course, it was played on a muni, the Old Course in St. Andrews, as it is once or twice a decade. There's your sharp relief.
Every year, tens of thousands of golfers plot and save in an effort to get a tee time on the Old Course. That's especially in the air every time there is an Open at St. Andrews. The tournament is open, the course is open. Open is one of the great words in the English language. This year, on Open Sunday, we could all see a young man (28) holding the old jug (150 years old). Cam Smith seemed for all the world like the embodiment of pure I'm-just-a-golfer spirit.
Maybe you were rooting for Rory McIlroy. Seems like most everybody was, and understandably so. But you could also say that Cam Smith was the perfect winner.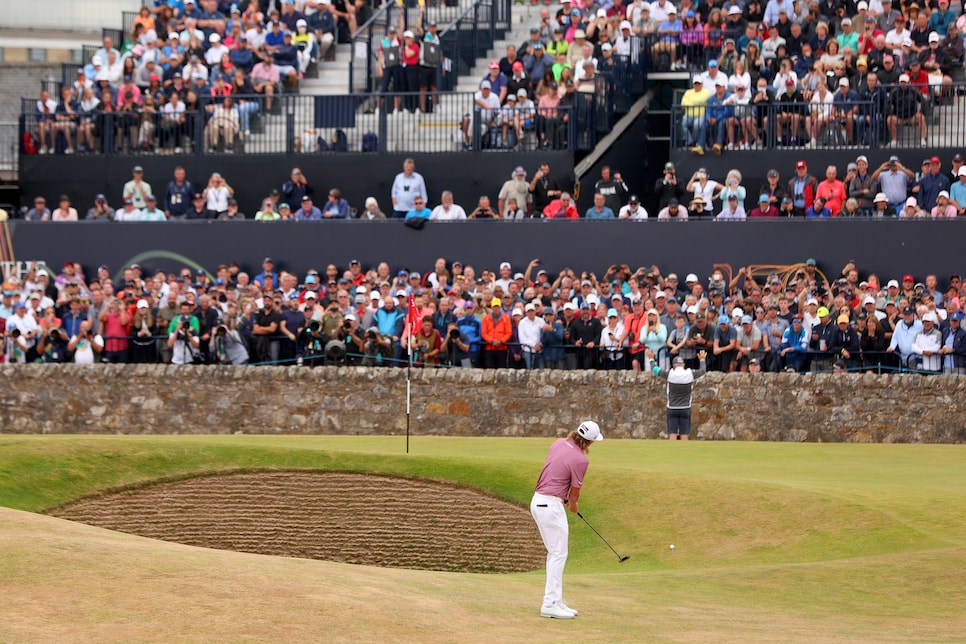 Smith is what our Australian FPC colleague Geoff Ogilvy calls, with his customary good nature, a "bogan." Working class. Unpretentious. Regular. Modest. Smith is seemingly (we type hopefully) not all about money. A year from now, if he's playing LIV Golf, I'll be surprised. Cam's blowing-in-the-wind mullet and his take-dead-aim playing style may not tell all, but it does tell a lot. As Ogilvy uses bogan, and as I borrow it here, it's a compliment. Cam Smith is good at golf, and he's making no claims beyond that.
Just a couple more things about the Old Course, because an Open at the Old Course is always going to get an extra look in this ranking. It's a quirky fascination and has stood up well to various golfing fads over the years. That is, centuries. It's not gorgeous, not in the conventional way, but it is beautiful. All that gets added into the equation. I have made many trips to St. Andrews over the years, and each time you notice something new. Before this year, I never focused on how spectacular the evening light is over the old gray town. OMG, ROYGBIV. Paris, move on over. St. Andrews, Scotland—city o' lights.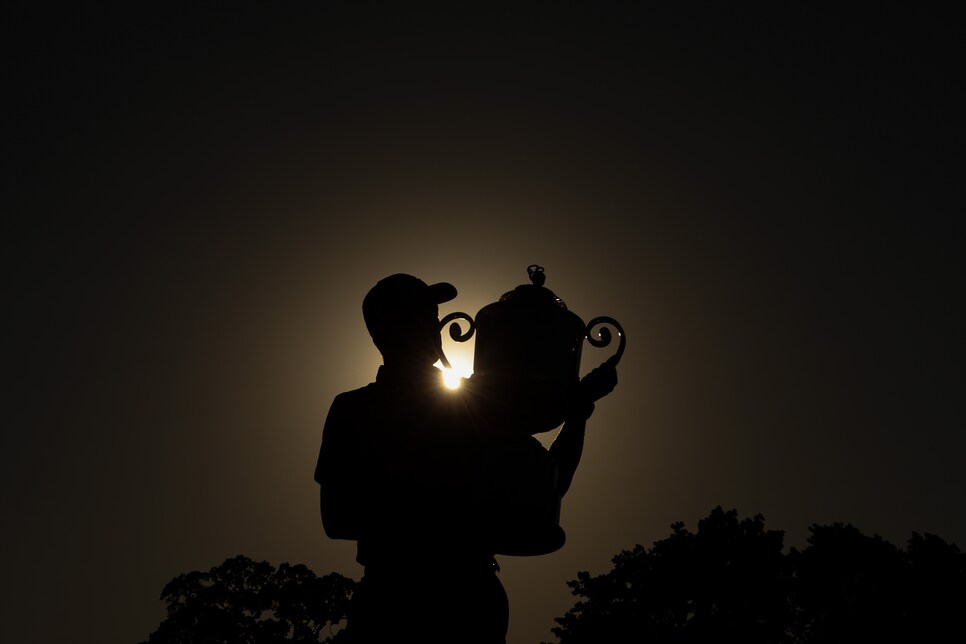 OK, so there's 1 (the Open) and 4 (the Masters), leaving 2 and 3. So why does the U.S. Open at The Country Club won by Matt Fitzpatrick get the nod over the PGA Championship at Southern Hills won by Justin Thomas? Both were outstanding. Southern Hills was always good, but from what I've seen of it over the last 25 years or so, it has never been better.
But The Country Club—it's hard to beat it. Except for maybe Merion, you never associate U.S. Open courses and U.S. Open clubs with charm. But charm is an important golfing value. Southern Hills is many things, but it is not charming. Fitzpatrick hit 18 greens in his closing round while playing in the final twosome, with his playing partner/opponent, Will Zalatoris, breathing down his neck and Scheffler spoiling for a playoff. A good golf tournament is memorable, for the course, for the winner, for the way the winner won—in this case, Fitzpatrick hit maybe the shot of the year on the 72nd hole, a towering approach from a fairway bunker to secure the winning par. The U.S. Open at the Country Club, by a nose.
Of the four golfers who won the majors this year, for my money? Thomas is the best of them. He was, he is and he will be.
This is not an easy business. In summation:
The Open, the U.S. Open, the PGA, the Masters. You can close your eyes and see them all, right? It was a good year for the majors.
Michael Bamberger welcomes your comments at Bamberger@firepitcolletive.com