Biebs Out
Madison Square Garden is going to have an all-time scheduling conflict if the Rangers-Lightning series goes to Game 7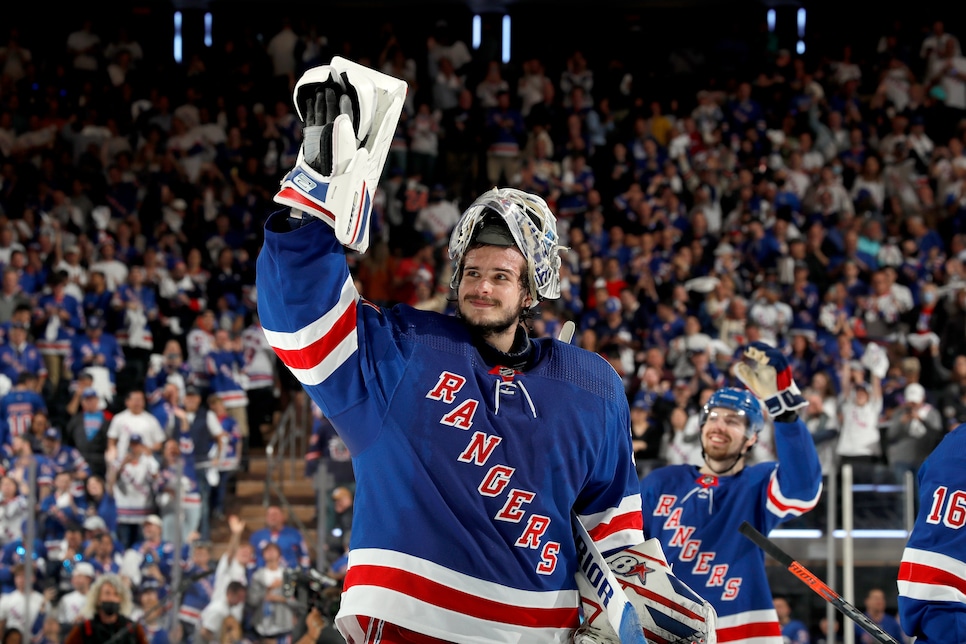 There are real problems in the world and then there are extremely high-class problems. What Madison Square Garden is facing on June 14 falls firmly in category No. 2.
But still, it could produce quite a headache for the most famous arena in the world. One of its inhabitants, the New York Rangers, are currently in the midst of an intense Eastern Conference Finals series against the two-time Stanley Cup champion Tampa Bay Lightning. After going up 2-0 on home ice, the Rangers dropped a tough one in Game 3 in Florida, and all signs point to the Bolts knotting it up at two games apiece on Tuesday night.
If that happens, it's increasingly likely that the series goes the distance, though not a guarantee. If it does reach a seventh game, though, that game is scheduled for June 14, which poses a bit of a scheduling issue according to the MSG website (shoutout to SI's Jimmy Traina for first pointing the conflict out on Twitter):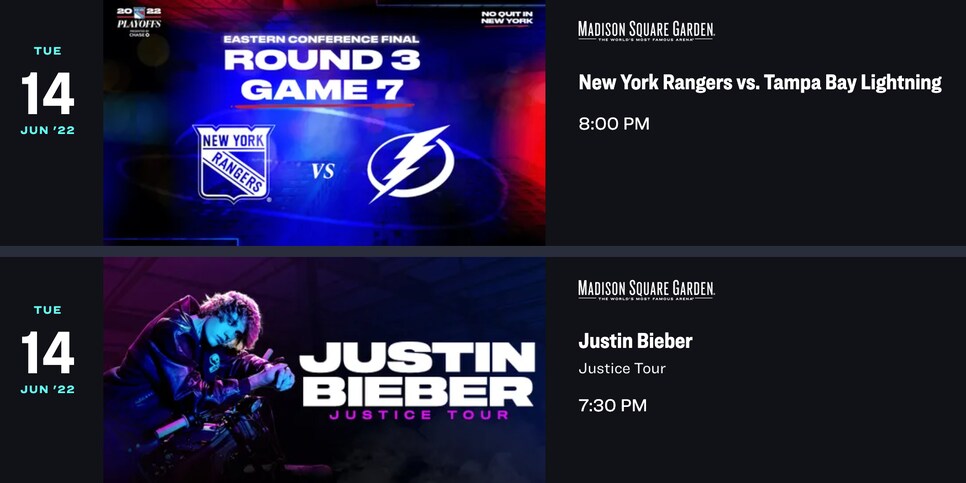 Oh dear. Something tells us the Biebs isn't going to come out right at 7:30 p.m., play a quick set and then be gone in time for puck drop. Perhaps he could do the national anthem? Maybe do some live performances during stoppages like they do in Las Vegas? Look, I'm just spitballing here.
Like we said at the top, this is a GREAT problem to have. If the Rangers are playing in a Game 7 on home ice to reach the Stanley Cup Final, that's a monster night for MSG and will lead to at least two more monster nights with the Cup on the line. The Biebs will get bumped, likely to the following night, which is an open night for MSG. Almost like they planned for something like this. Of course, it's a tough break for the people who had tickets for the 14th and can't go the 15th, but thems the breaks. It wouldn't be the first time a massive musical name has been bumped for a sports team. Back in 2014, the Houston Astros informed their fans prior to the season that if the team were to make a playoff run, Taylor Swift's concert later that year would be rescheduled. Then, in July, when it was clear the 'Stros would be making a run at the playoffs, they did in fact reschedule it well ahead of time:
If talents like T-Swift and Bieber are getting bumped around, you know your franchise is in a good spot.