The Loop
A dream week that is unfortunately approaching an end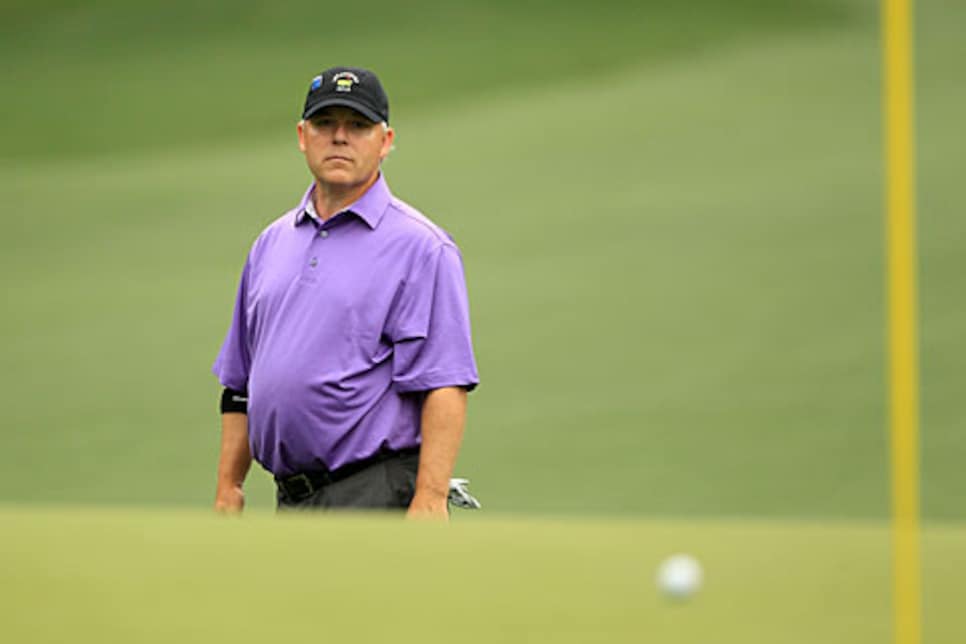 AUGUSTA, Ga. -- Eight times he entered the U.S. Mid-Amateur national tournament. Each time he thought the same thought every other player thought. "No one's ever entered the Mid-Am without thinking, 'Wow, win this, I'm in the Masters.'" Last summer, on his ninth try, at age 54, Randal Lewis did it.
The oldest amateur ever to make his first start in the Masters, Lewis would rather have shot 74 the first day than his 81. Not that he's complaining. "When you're 54," he said, and then edited himself to say, " ...or if you're 24, playing in the Masters is a dream come true. This has been so cool."
He's a little guy, 5-foot-6, 180, built along the lines of the mighty Welshman, Ian Woosnam. Monday, he played a practice round with Tom Watson, twice a winner here. Today, he played alongside Jose Maria Olazabal, another two-time winner. This is heady stuff for anyone, let alone a financial advisor from Alma, Mi., and Lewis said, "It's just gone by too fast. Way, way too fast. I gotta slow it down."
He 's not talking technique, swing tempo, or any of that CoachTalk. He's talking about life its ownself. He just wants this Masters experience to go on forever. If they let him pitch a tent on the practice range, he'd stay there. "It's unbelievable, how beautiful the range is -- the RANGE!" he said.
He heard fans in the gallery shouting, "like, 'Go, Michigan.' So cool, all of it."
As good as Lewis is -- he's in the Michigan Golf Hall of Fame -- he's still one of a few hundred million golfers not quite ready for Augusta National. On 11 of the18 holes, he hit hybrids for his second shot. He called himself "totally shocked" by a long putt at the mile-long fifth green that slowed down ever so little.. "I thought it was going off the back. Just so quick." And he now can tell you that the second shot at the third hole plays a club longer than it looks.
He also has a message for the folks in the huge gallery that assembles near the 11th green and 12th tee. Today he put his second in the pond at the left front of 11. "Tomorrow, I will NOT be in the water. I will be hitting it to the right. Tell the people in that crowd, 'If you're reading this article, cover your head tomorrow.'"
As Lewis spoke to a couple reporters, his son, Nicklaus, 19 years old, stood by.
"My wife and I both liked the name 'Nick,'" the father said. "And I thought, 'Why not?'" Here he laughed. "It's led to a lot of misspellings."
It also led, this morning, after the ceremonial tee shots, to Nicklaus Lewis approaching Jack Nicklaus.
The young Nicklaus told the old Nicklaus, "I have the two best names in the world - yours and my dad's."
One more day of playing here for Randy Lewis, unless he shoots 61 or the like. And then?
"Oh, I'll definitely stay Saturday," he said. And with a smile "Sunday, too, maybe."