The Loop
Random observations from the Open: Day 3
GULLANE, Scotland -- The leaders don't tee off until later this afternoon, but there's still plenty going on at Muirfield on Saturday. Here are some things we noticed:
-- Sergio Garcia and Padraig Harrington may not have the fuzziest of relationships, but at least they communicate on the course. Garcia flagged down Harrington's caddie and then Paddy to make sure Harrington was playing next on the par-5 ninth. Harrington gave him the thumbs up sign. It wasn't much, but that's all it would have taken to avoid that whole mess at the Players -- and everything that came after -- between Garcia and Tiger Woods.
-- After back-to-back 75s, Richard Sterne barely stuck around for the weekend, but his 68 while playing in Saturday's opening group figures to leapfrog him over about half of the field that made the cut. So what did the South African promptly do after finishing? Go to the practice green, of course. Hey, he's (sort of) in this thing now!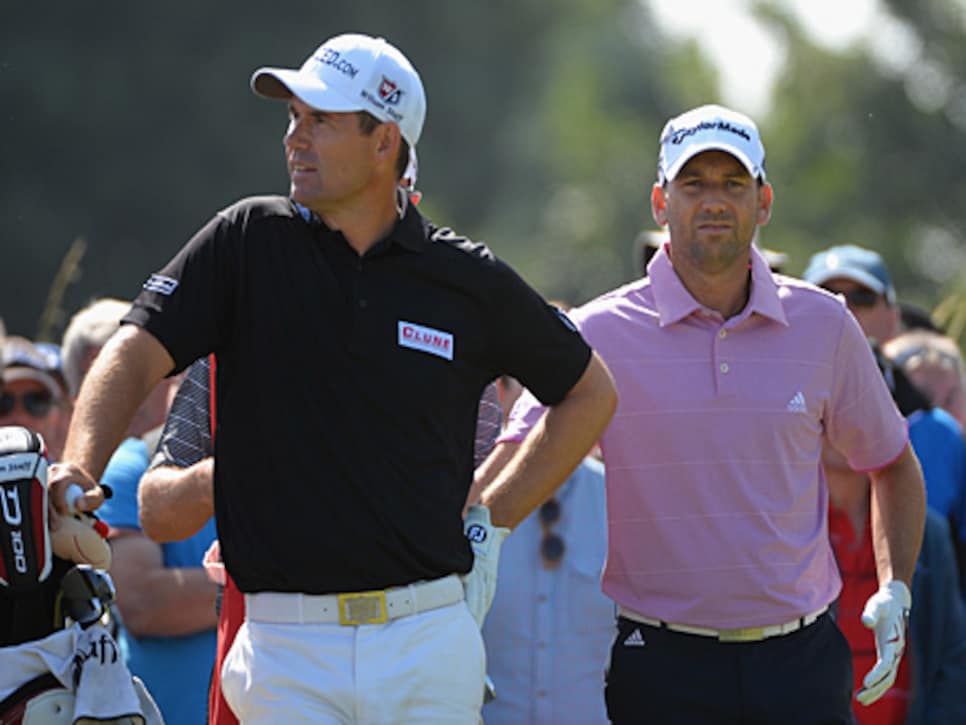 -- What do tour pros do when they get a phone call while on the practice green? Putt with one hand. Obviously. That's what Webb Simpson did for a couple minutes as he stroked long putts near the edge of the green with his right hand while holding his phone with his left. Efficient.
-- Bubba Watson has a distance advantage on just about everyone in the field every week. And his wife, Angie, has a height advantage on just about everyone in the crowd. The 6-foot-4 former WNBA player towers over her fellow tour wives. And that certainly comes in handy when trying to watch her husband putt.
-- Bo Van Pelt hit a pretty good lag on his eagle attempt on No. 9 and maybe five people in the crowd gave him a couple of golf claps. Playing partner Matthew Fitzpatrick, an 18-year-old local amateur, putted next and didn't get his ball as close, but received a hearty applause. Who says there isn't a home-field advantage in golf?