Takeaways
Rahm's heater continues, Ryder goes low and Zalatoris' rough day highlight Thursday action at Torrey Pines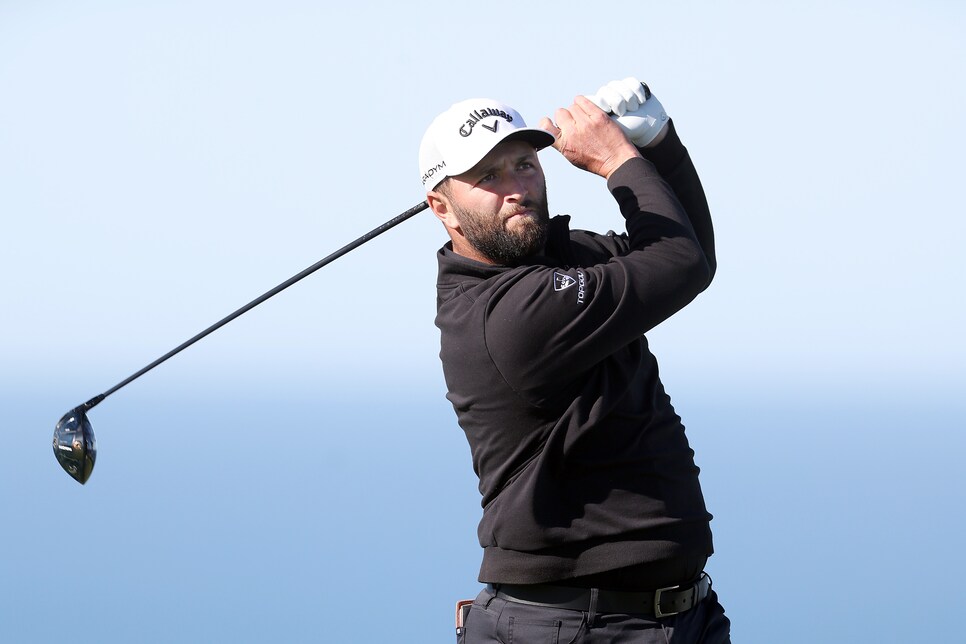 The heater was expected to continue. Jon Rahm has been that good, and this is the course where the Spaniard earned his breakthrough tour win and captured the 2021 U.S. Open. Even after an opening 73, his second-round date with the far more gettable North Course at Torrey Pines seemed to promise a turnaround. Only Thursday's conditions were tougher—the North played a whopping three shots harder than Wednesday's opening round—and after back-to-back birdies to start Round 2 Rahm played the next 11 in two over, leaving him in a position outside the cutline with just five to play.
However, it appears Rahm remembered who he was and where he was at, answering with an eagle and three straight birdies to jump off the cutline and into the mix at the Farmers Insurance Open.
"It was nothing special," Rahm said about his closing stretch, giving him a 67 on the day. "I knew that's probably in any given day the most scorable part of the golf course. Holes 5 through 9 with or without wind is where you can take advantage of the course. Luckily, I've been hitting it really good. There's no difference between those holes or any other five, four holes you can pick throughout the round, it's just kind of guessed with the wind right in all of them. I think maybe I was a little more aggressive after that second shot on 6 and got in the mentality of making birdies instead of being a little tentative, which is easy to do when it's blowing as hard as it was blowing today."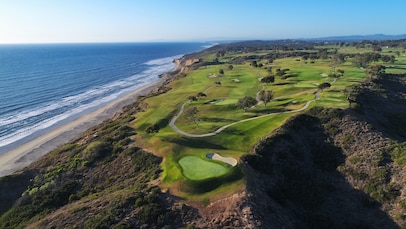 Torrey Pines sits on one of the prettiest golf course sites in America, atop coastal bluffs north of San Diego with eye-dazzling views of the Pacific. Rees Jones' remodeling of the South Course in the early 2000s not only made the course competitive for the 2008 U.S. Open (won by Tiger Woods in a playoff over Rocco Mediate), it also brought several coastal canyons into play for everyday play, especially on the par-3 third and par-4 14th. An annual PGA Tour stop, Torrey Pines hosted its second U.S. Open in 2021.
View Course
The finish meant Rahm's tour-best cuts-made streak of 21 moves to 22, but he insisted afterwards that merely reaching Round 3 was not his ambition.
"The goal is to win," Rahm said. "It would have come into mind maybe in the last few holes had I been even par. I knew, like I said, I knew going into 5 through 9 to take care of the par 5s, take care of the short par-4 7, everything would be all right. I was playing with the mindset of catching up to the leaders as much as possible, that's it."
Despite receptive greens the winds were brutally consistent through the day, and Rahm's finish ultimately gave him the low score of Round 2. He is T-14 after 36 holes and eight shots back of leader Sam Ryder, but he is in striking distance, a fate that seemed in doubt just hours before. Rahm seemed to know it, too. "Anything in the 60s would have been amazing," he noted. "What I shot today, man, I'm going to be skipping out of the golf course today because it's a great round of golf."
Meanwhile, here are three other notes from Thursday's action at the Farmers.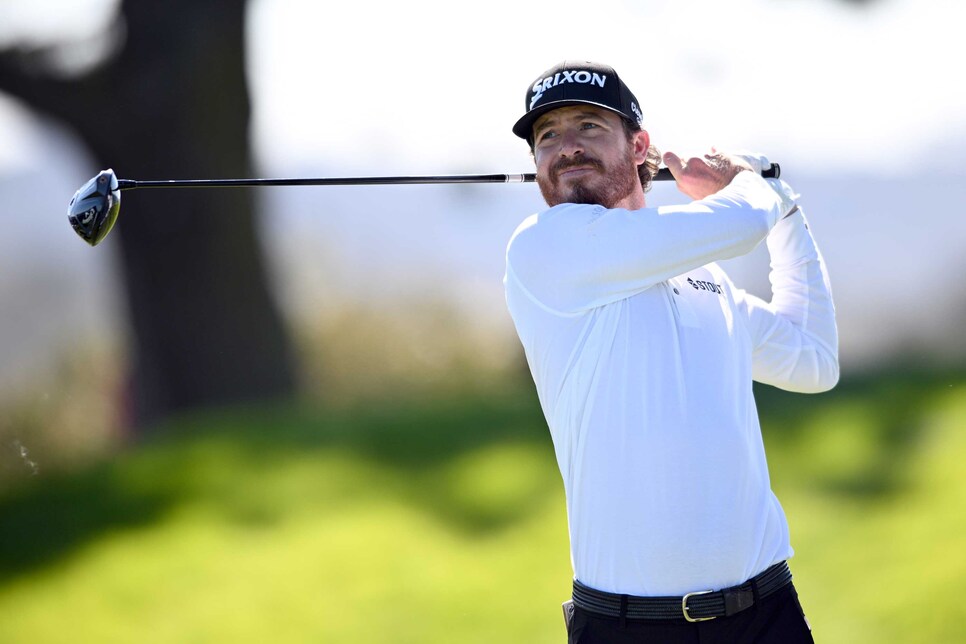 It's unfair to say Ryder's opening 64 came with an asterisk. It did come at the North, however, so reading too much into his position—or anyone's position, for that matter—was a fool's errand until both courses were played. On Thursday, the South Course lived up to its reputation as one of the hardest tracks on tour, the field a collective 3.86 strokes over par (72) during Round 2. But Ryder did not come out on the business end of things, instead delivering his own punches en route to a 68 and three-shot lead.
"It feels great. The thing I've been kind of telling myself is to just try and embrace it," Ryder said. "It's not a position that I've been in a lot, you know, so just trying to enjoy it. It's kind of why we play, so just trying to look around and enjoy the moment."
Ryder turned in the low round on the South, gaining four shots over the field through his approach game. Just as impressive was making just one bogey on the round.
"My iron play is really good, so I feel like if I put it in the fairway, I can attack," Ryder said. "And I don't think I really missed many shots today. I missed a couple fairways, but the irons have been really good."
Ryder, 33, is in his sixth year on tour, and has made the FedEx Cup Playoffs in all five of his previous seasons. However, he's never finished higher than 101st on the FEC list and in 146 starts entering the week owns just six top-three finishes with zero wins. He's 36 holes away from rectifying that. For now, Ryder would not entertain what could be in store.
"So I'm just going to, you know, all the cliche things, kind of try and take it one shot at a time," Ryder said. "I'm going to try and get some rest this afternoon and do a couple things, putt a little bit and tighten the driver up."
Through two days, Ryder has made the tough look easy. Now comes the hard part.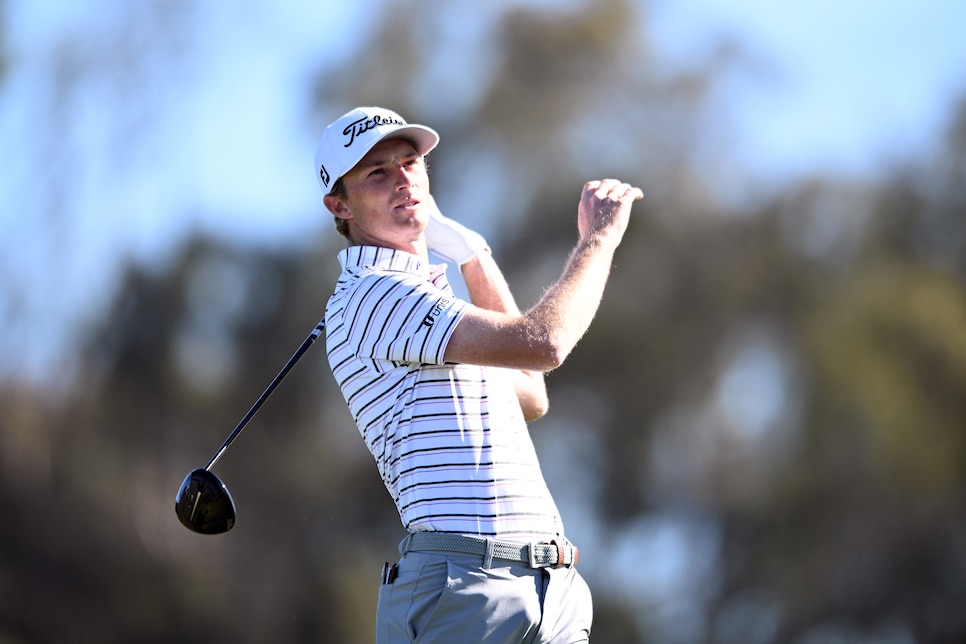 From sudden death to sudden departure
Will Zalatoris reached last in a playoff last year at Torrey Pines. This year, he's packing it in early.
In spite of an opening-round 68, Zalatoris failed to make the cut, hitting just eight greens on the South Course on Thursday to finish with a 77.
The 26-year-old was making just his second start since returning from a four-plus-month injury sabbatical. After earning his first career tour victory last August at the FedEx St Jude Championship, Zalatoris' 2022 season came to an abrupt halt a week later when he withdrew midway through the BMW Championship because of back pain. An MRI revealed that Zalatoris, who has a history of back issues, had two herniated discs. Despite the injury, Zalatoris finished the year first in SG/approach and SG/tee-to-green, third in official money and 10th in scoring average.
Other notables who will miss the cut include Patton Kizzire, Harris English, Scott Stallings and Beau Hossler. Kyle Westmoreland, who made a hole-in-one Wednesday, missed the cut by a shot.
Tano Goya is a 34-year-old rookie making just his 14th career PGA Tour start this week. Following a somewhat inauspicious start to the season, the Argentine posted a T-26 at last week's American Express and is near the top of the leaderboard through two days at Torrey Pines with a 70-67 start.
But we are not here to talk about Goya, his game or what's in store for him this weekend. We are here to talk about Goya's outfit, which is the same outfit as his caddie, Facundo Delapenna.
This is no accident, friends. Take it away, Goya.
"We started working with Full Wedge company last year on the Korn Ferry and they're great shirts," he explained Thursday afternoon. "Funky, sometimes they're quirky shirts. At the beginning, started thinking about which one we were going to wear and just not to match, but at some point we were like, why don't we just match and it can make something out of it. Then we started doing it consistently. Obviously this week it was tough because we're wearing jumpers so it's not standing out. Then whenever we don't match, people start asking, so it's kind of a thing now."
We know what you're thinking and the answer is yes, this does make Goya and Delapenna targets for ribbing from their colleagues. "Yeah, some make jokes," Goya said. "But we like it, it's a thing for us. We're really good friends and we've been pretty much staying every week together and we bond really well. For us it's a thing we're going to keep going. I think Full Wedge likes it as well. We just try to have fun out there every day in the tournament, so it's a great thing."
For the record, we agree. We also hope they take this one step further, with Goya allowing Delapenna to hit for him at some point this season to see if anyone notices.