Yin and Yang
The Rafael Nadal-Nick Kyrgios semifinal is too painful to contemplate for Rafa fans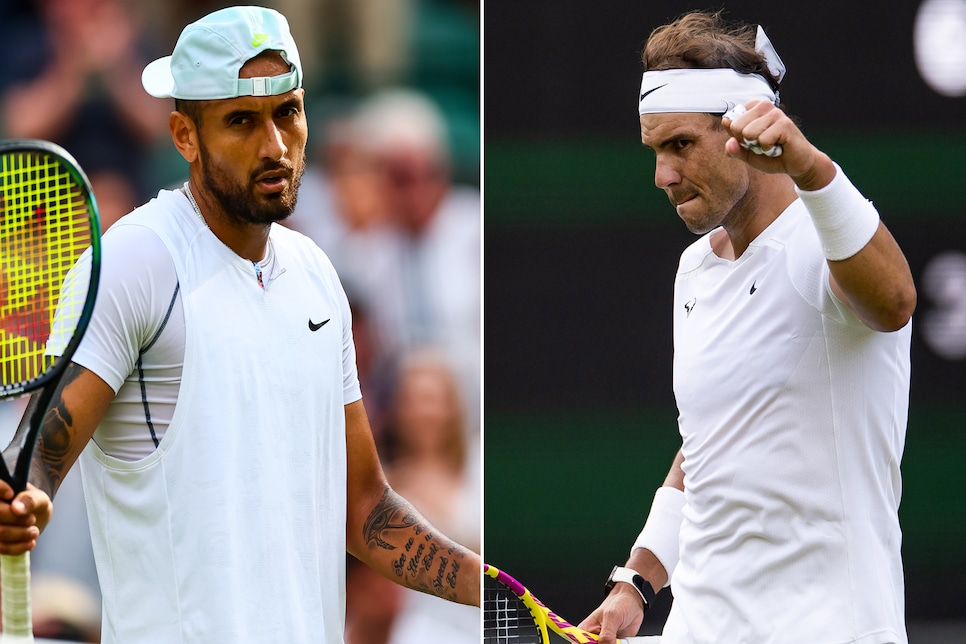 Earlier this year, the North Carolina Tar Heels won in Mike Krzyzewski's final game at Cameron Indoor Stadium, and then somehow made things even worse by beating Duke again in the Final Four in Coach K's last game ever. This ridiculous set of circumstances (prior to this, they had never even played in the NCAA tournament) was almost unimaginably painful to Duke fans...like me. The rivalry was basically balanced before then, but now it's emphatically unbalanced forever, and there's nothing any of us can do about it.
I am also a Rafael Nadal fan, to my core, and it is with great alarm that I'm watching a similar thing happening at Wimbledon: Nadal, by virtue of a ridiculous five-set quarterfinal victory over Taylor Fritz on a torn abdominal muscle, has advanced to Friday's semifinals to meet the absolute worse person he could be playing: Nick Kyrgios.
Where to even begin with Kyrgios? First, the positives: He's a phenomenally talented tennis player whose gigantic serve makes him particularly suited to Wimbledon. Sometimes—sometimes—he doesn't seem like a terrible person. He opened up earlier this year about his mental health and drug struggles. He can be wildly entertaining on the tennis court. He seemed to have a redemption thing going when he won the doubles title at the Australian Open.
He is also, plainly speaking, an enormous douche. He spends entire matches, in the best of times, grumbling to himself and/or yelling at his box ("After everything … I do expect more...Something...something. There's five of you. Five of you." were his choice remarks on Wednesday to a group that included two family members and his girlfriend), while shaking his head as if the world has never given him anything but total injustice. At the worst of times, he berates the chair umpire, the ball boys, and occasionally his opponent. Earlier in Wimbledon, he enraged Stefanos Tsitsipas to the point that the Greek player tried to hit him on multiple occasions and then called him a bully in a post-match presser. That was relatively mild compared to past incidents, like the time he was caught on camera claiming Stan Wawrinka's girlfriend slept with another player. His demeanor is surly, most of his talent has been wasted, and perhaps worst of all, he's facing a domestic violence charge back in Australia. (Details are scant on this and I don't want to convict someone in the court of public opinion without knowing the details, but it is a real thing that's happening.)
How you feel about Kyrgios on a given day probably depends on who he's playing. I don't particularly like Tsitsipas, so there was a kind of schadenfreude in watching Kyrgios burrow into his head and beat him. But Rafa? Rafa with a possible shot at the calendar slam, in a Wimbledon semifinal? While he's injured?
That's hard to take. And the vexing thing about Kyrgios is that while he's thus far blown most of his talent, he still has this uncanny ability to rise to the occasion when he's playing the best players in the world. He beat Rafa at Wimbledon in 2014, he's somehow 2-0 against Novak Djokovic, and while Federer has mostly owned him, the two have played some absolute classics. Kyrgios can't put in the kind of work to focus for the long grind, but you get him in a match with an all-time great, and it sparks his interest and brings out the best in him. In other words, despite the inconsistency wrought by an all-time nightmare attitude, he's not a choker. He's often the opposite.
And he's in tremendous form right now. Which means, all things considered, Nadal's chances don't appear particularly bright in the semifinal. Losing is one thing, but it's the kind of loss, with Kyrgios complaining, hitting underhand serves, seeming not to care one moment and then blasting out four aces the next, treating everyone on the court like dirt, and generally having to watch Rafa throw himself against that wall...well, the prospect is not fun. Add on the fact that the Rafa haters will be in full throat, and it's a hellish formula.
The price of rooting for an individual athlete is that eventually they have to get old and start losing, including to people you don't like. Rafa has been on a silly tear lately, despite the fact that his foot is all messed up and he can't stop hurting himself, and no Rafa fan can possibly feel anything but total satisfaction at his career and the surprising results so far this year. To ask for more is greedy. And yet...
Did it have to be Nick $*%ing Kyrgios?
This is one of those situations where the pain of a loss is far greater than the triumph of a win, especially because a win just means having to face Djokovic in the final. For Rafa fans, it's time to buckle down and prepare for misery. The corny thing about cheering for him is that part of the appeal is that he's just a classy, down-to-earth guy who never quits. He's aspirational. In terms of character, he's the best tennis—and maybe all of sports—has to offer, and he's about to face one of the worst. In a time in human history when the bad guys always seem to win, we need to set our expectations for pain.