The Loop
Rafa Nadal is the best tennis player to ever live
Warning: This first one feels VERY hot coming off the fingertips. I don't consider myself a world-class take merchant, but I have been nurturing this one for a while, and I want to come out guns blazing. You might say that this is the hottest take of my life, because I fervently believe in its absolute truth. It's time for the Monday Superlatives, baby.
The Best Tennis Player to Ever Live: Rafael Nadal
Rafa Nadal (disclaimer: my favorite athlete) is the best tennis player to ever play the game. He is better than Roger Federer, the only other player with an argument now that Nadal has passed Pete Sampras on the all-time grand slam list with 15 major championships. I won't waste time comparing Rafa with someone like Sampras, who never even won the career slam. As far as I'm concerned, my only duty is to prove that he's better than Roger Federer.
First, because I'm a generous person, here are the arguments for Federer:
Now, here are the arguments for the King of Clay, the greatest of all-time, Rafael Nadal Perera:
To be totally fair, there other arguments for Federer, such as the fact that he currently has more ATP titles. But does anyone consider Sam Snead better than Tiger or Jack because he won more often on the PGA Tour?
No way. And unlike Federer, Nadal has also had to fight his way back from injuries, which have resulted in fallow periods, and he's had to win all of his grand slam titles in the era of the Big Four, while Federer took a good chunk of his before Rafa, Djokovic, and Murray entered their primes. And ultimately, it is impossible to argue that Federer is the better player when his winning rate against Nadal is a paltry 38%. We could debate for hours, but that stat will always be the argument-ender.
If you're a Fed fanatic, I know you're not convinced. My argument has been, and will be, ridiculed by many tennis fans. But just wait—it's going to age beautifully, and when Rafa finally surpasses Roger's mark of 18 grand slams, there will no longer be any doubt. History shall vindicate this, the hottest of all tennis takes.
This Week's Recipient of the Human God Award: Aaron Judge
This Yankee prodigy has brought more destruction to Baltimore in one weekend than Avon Barksdale and Stringer Bell could manage in a lifetime. Seriously, look at this 495-foot blast, which is the longest of the year:
That came a day after he hit the fastest home run, by velocity, since they started measuring:
The Horse You Have Never Heard of and Will Forget Again in Two Seconds: Tapwrit
Is there anything that matters less than the Belmont Stakes in a year where there's no chance of a triple crown? Did you even know the Belmont happened this past weekend? Did you know it was won by a horse named Tapwrit?
The Belmont is unique in sports for how totally irrelevant it becomes the minute the Kentucky Derby winner fails to win the Preakness. There is nothing else like it, because even the "worst" majors in tennis and golf still matter, and most team sports culminate in a championship. The Belmont is appointment viewing when the Crown is at stake, but it gets brutally cast aside otherwise. The best comparison might be a third-place match in a soccer tournament, but at least the third-place match isn't held two weeks after the championship.
I always feel bad for the announcers who have to spend literal hours broadcasting something that nobody will watch, and pretending to care about some billionaire named Thurshall Donibald Buxby IV who is supposed to elicit sympathy because all of his horses from Tumbleweed Grandpappy Ranch have turned out to be total chokers.
Also, I hate to make fun of a horse (note: I love making fun of a horse), but "Tapwrit" is a really bad horse name. It sounds like a group of nerdy British crossword puzzle enthusiasts. It sounds like the name of a lame-as-hell bar for lawyers. It sounds like what a dude with a drawl would say if you asked for the past tense of "typewrite." It's not good.
Best Sports Dancing of the Week: Usain Bolt
The slow-motion part rules:
Still the Worst Sports Phenomenon Ever:
Unlike Usain Bolt's dancing, the Vuvuzela is somehow even worse in slow motion:
Best Display of Family Loyalty that is Going to Absolutely Screw My Fantasy Team: Phil Mickelson
On one hand, the fact that Phil Mickelson will likely skip this week's U.S. Open to attend the high school graduation of his daughter Amanda comes as heartening news. We're told ad nauseam that "sports is a business," and time and time again, we've seen important decisions come down to money, instead of what's right or wrong. The fact that Mickelson is skipping a major—the only one that has eluded him in his decorated career—shows that his true priorities transcend money and glory. In 2017, that's pretty impressive.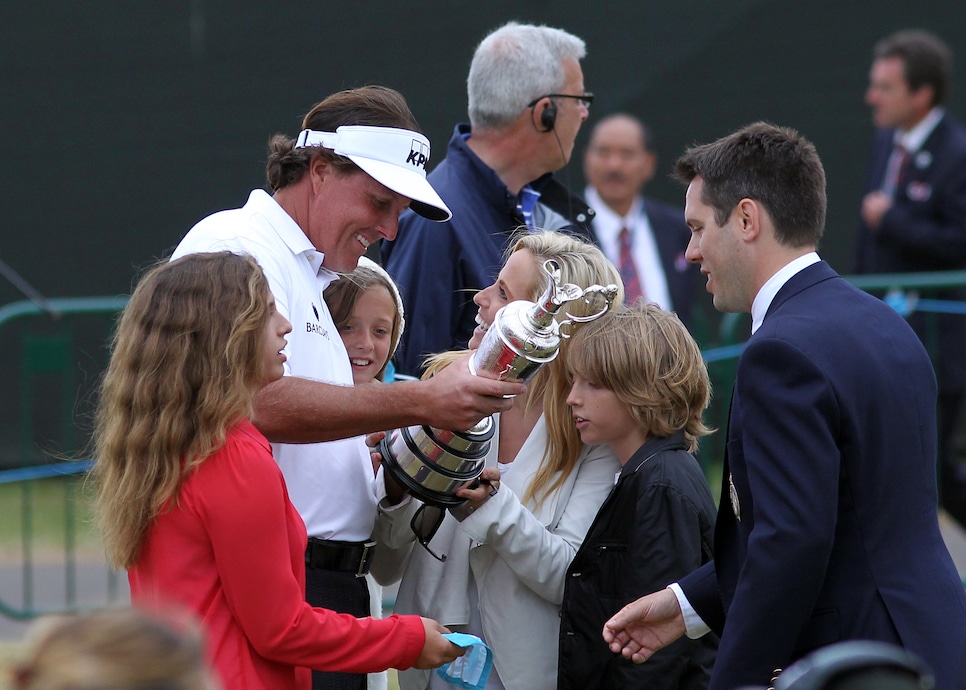 On the other hand, my golf fantasy team is struggling this year, and if we don't perform well in the U.S. Open, we're probably not going to make the playoffs. Mickelson is a major part of our team, and we're kind of screwed without him. It hardly seems fair, especially considering that we drafted him in the second round even though he's 46 and people think he's past his prime. Not us—we put our trust in Phil. But has he showed an ounce of gratitude for our belief? Does he even care?
No, and that makes his decision completely unforgivable. Sure, his daughter will only graduate high school once, but Phil has won the U.S. Open zero times, and more importantly, my team is in its fourth year of existence without a championship. For Phil to let us all down at a time like this is both extremely selfish and an enormous betrayal to me personally.
And for what? Graduations are terrible. They're hot, and long, and boring. Nobody has ever enjoyed a graduation, and with the state of today's economy, it's not even a moment to celebrate—it just means some poor kid's life is about to get way worse. If Mickelson had any integrity, he'd send his daughter a nice hand-written note, then hop the first plane to Erin Hills. They could Skype him in for the ceremony, as long as it didn't interfere with his practice round. But if he insists on actually attending this graduation, and doing irreparable damage to my team, I will be forced to take drastic action. That's right: I will either trade or release him. I hate to play hardball, but this is not an idle threat—it's about time for Phil to grow up and show some appreciation for the people in his life who really matter: Me.