News
Quicken Loans: Hurley wins first event
It was a victory that had to have been scripted, inasmuch as the real world does not unfold so neatly and wonderfully. Billy Hurley III understands this, is all too familiar with the real world and its dark sides.
A Naval Academy graduate, Hurley spent five years post-graduate in the Navy, two of them aboard a destroyer, the USS Chung-Hoon, in the Persian Gulf in a time of war. Last August, Hurley's father, Bill Hurley Jr., died of a self-inflicted gunshot wound.
Last year, Hurley lost his full PGA Tour exemption. This year, he had fallen to 607th in the World Ranking, had not finished higher than 41st in 11 previous starts.
Then on a brilliant Sunday at Congressional Country Club in Bethesda, Md., 44 miles from the Naval Academy in what is now his hometown of Annapolis, he improbably won the Quicken Loans National, a tournament designed to pay homage to those in the armed forces.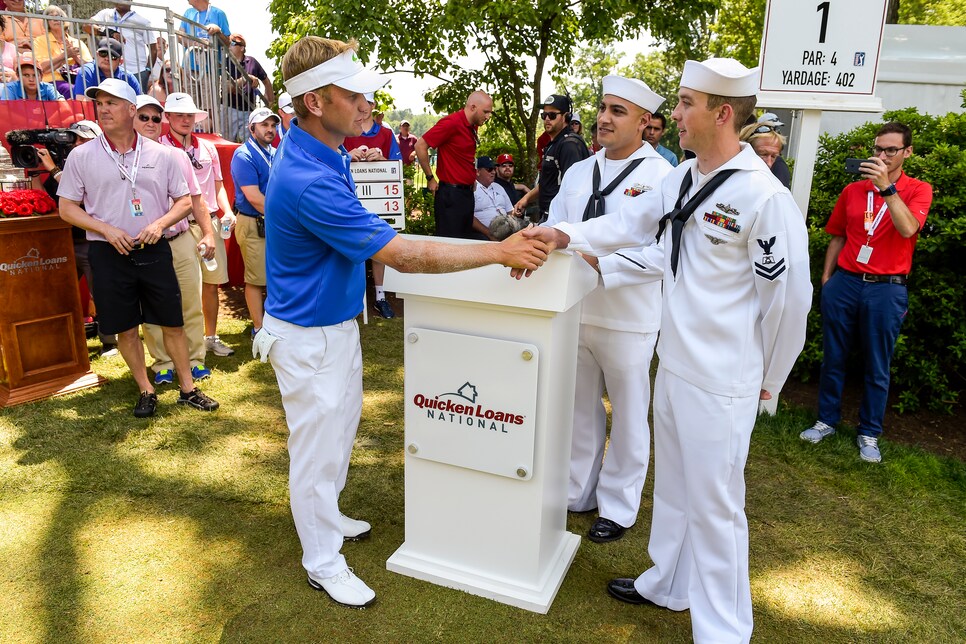 "I said it yesterday, that I couldn't think of a better tournament for my first PGA Tour win," he said. "I'm just thrilled to have gotten it done today. It's been a really hard year. So it's nice to have something go well."
Hurley, 34, was visibly emotional, understandably. The only reason he was playing the tournament was that its host Tiger Woods had given him a sponsor exemption. Woods was there to embrace him when he came off the 18th green.
"I can tell you one thing, meeting a lot of the service men and women over the years," Woods, in the CBS television booth, said. "I guarantee this golf stuff is a lot easier than what he used to do. Let's put it in perspective."
He was composed under pressure, as one might expect from a former Naval officer, but unexpectedly given the gravity of what was at stake professionally — a two-year exemption, invitations to the British Open, PGA Championship and next year's Masters.
Hurley holed a 105-foot pitch and run from the front of the 15th green for birdie and a 27-foot birdie putt at 16 to give him a three-stroke margin that he maintained with routine pars on the final two holes.
He posted a two-under par 69 to complete 72 holes in 17-under par 267. He staved off challenges from two Hall of Famers, 53-year-old Vijay Singh, who finished second, and Ernie Els, who finished fifth.
When the final putt fell, Els, his playing partner, gave him a hug. Then his wife Heather, their three children and his mother joined him in celebratory hugs, all awash with tears.
It is a given that the tournament that follows a major championship is a letdown, but not this time, not in this one, played in the shadow of the nation's capitol, with a Navy man, a war veteran, improbably prevailing.