The Loop
Quick Q&A with (underachieving) golfer Shane Battier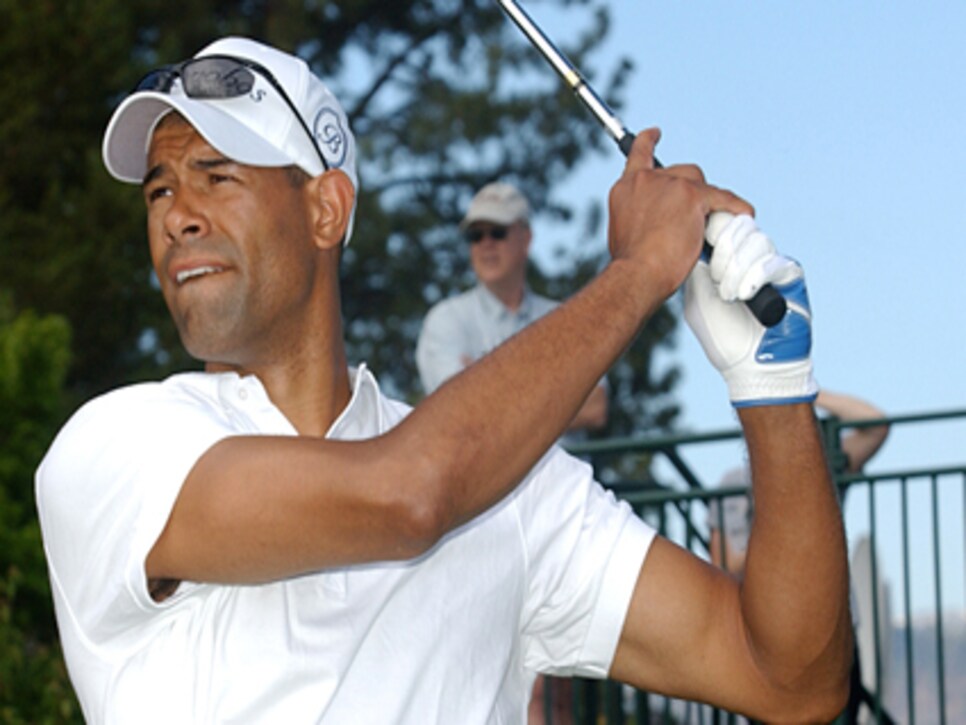 __Do you have a first memory of golf? (*Click play arrow below for his response.*)__
Your browser does not support the audio element. var audioTag = document.createElement('audio'); if (!(!!(audioTag.canPlayType) && ("no" != audioTag.canPlayType("audio/mpeg")) && ("" != audioTag.canPlayType("audio/mpeg")))) { document.getElementById('auidoplayerhtml5podbean941335977a5f2c70b28831abd2211267').parentNode.removeChild(document.getElementById('auidoplayerhtml5podbean941335977a5f2c70b28831abd2211267')); document.write('#iframe:|||'); }
__What's your handicap?__I'm a 20.__What's your best score?__I shot an 88 last summer, and I think I can beat that this summer. I really do.__You grew up around the game, you're obviously an accomplished athlete; I feel like you're underachieving when it comes to the game of golf.__There's no question I'm underachieving. I can hit the ball a long way, I have good touch around the greens, but I can't put it all together.  __I can relate.__I have done some pretty cool things in my life, but golf is in the one area that unequivocally, I'm an underachiever.__Do you work with an instructor?__This is the first year I took lessons. I went to GolfTEC in Houston. I had a great instructor, Doug Strawbridge, and he's got me swinging on the right plane for once. I feel good about my game. I'm poised to make strides.__With the current NBA lockout, will you get more time for your golf?__Unfortunately I think I'll have a lot more time to play golf. I'd rather be training to play basketball, but if I can't play basketball, I'll go play golf.__If you had to give odds on basketball happening this upcoming season, what would they be?__I would say there's a 90-percent chance that there will be basketball next year. I do not foresee us missing an entire year.__What's your best golf tip for tall people?__Get fitted for the right clubs. For many years I bought off the rack and I struggled mightily.
__What's your favorite course?__Oakland Hills is fantastic. Pinehurst No. 2 is pretty special as well. My third favorite is my little nine-hole country course called [Inverness Country Club]((http://www.inverness-mi.com/golf/). Not the one in Toledo. It's in Chelsea, Mich. That's where I hone my game. __Do you do an annual buddies trip?__As we get older, we're starting to talk about it a little more. We have a fantasy football league, Mike Dunleavy plays in it. A bunch of us get together, and on Friday we play a round of golf. Last year we were in Milwaukee -- played Brown Deer Golf Club -- I think this year the draft is in New Orleans and we're playing New Orleans Country Club. The golf buddy trip is becoming more a part of our vacation plans as we get older and start to have kids.__Who's the greatest golfer you've ever played with?__Last year I played with Steph Curry from the Golden State Warriors. That kid has the perfect golf build. He's good.__If I offered you an all-expenses paid trip to Pinehurst, Pebble Beach or Bandon Dunes, which would you choose?__I'm going to go Pebble, it's on my bucket list. [#image: /photos/55ad73cbadd713143b4252c6]|||Battier_Kobe.jpg|||__Michael Lewis figured out that statistically you're the greatest player alive; what's the most efficient part of your golf game?__The 19th hole. By far.__Memphis is more east than west, yet the Grizzlies are in the Western Conference. Do you guys have the worst travel schedule of any NBA franchise?__It's actually not bad because you're centrally located. To play another team in the east, the longest flight is a few hours. If you play in Portland, that's the worst flight schedule. Every flight's a long flight.__Are you a window or aisle guy?__Aisle. I need legroom. I'd rather have my knees banged up by the drink cart and still have those moments of legroom.__One movie for a long flight?__My favorite of all-time, "The Big Lebowski." __What's your most indispensible travel gadget?__My iPad. Game changer.Tell me a little bit about your charity and how you'__re using golf to raise money.__Four years ago my wife and I started the Take Charge Foundation. I thought it was a clever name because I take a lot of charges. We're looking for kids who want to take charge of their life through college education. We award four-year college scholarships to kids who have drive, leadership and who need a little help. We currently have six kids in colleges all over the country; going to great schools and doing fantastic. This year we're starting the Take Charge, Save Par initiative to raise money for the foundation. We wanted to raise some money and have a good time while we're at it, so for every par I make in the American Century Championship in Lake Tahoe this weekend, I'm donating $1,000 to the foundation. I haven't done great my first two years here (78th out of 83 players last year), so my upside is huge. I'm asking those who want to join, feel free to go to the website and take part. Donate $1, $5, $10, whatever you want; help raise money for some great kids and cheer on the underdog. __What's your favorite hole at Edgewood?__No. 17. There's nothing like it. The par 3 on the water. Talk about pressure. People think pressure is shooting free throws in front of 28,000 people. No. It's hitting the tee shot at the 17th at Edgewood (pictured below, which becomes quite a scene during the tournament).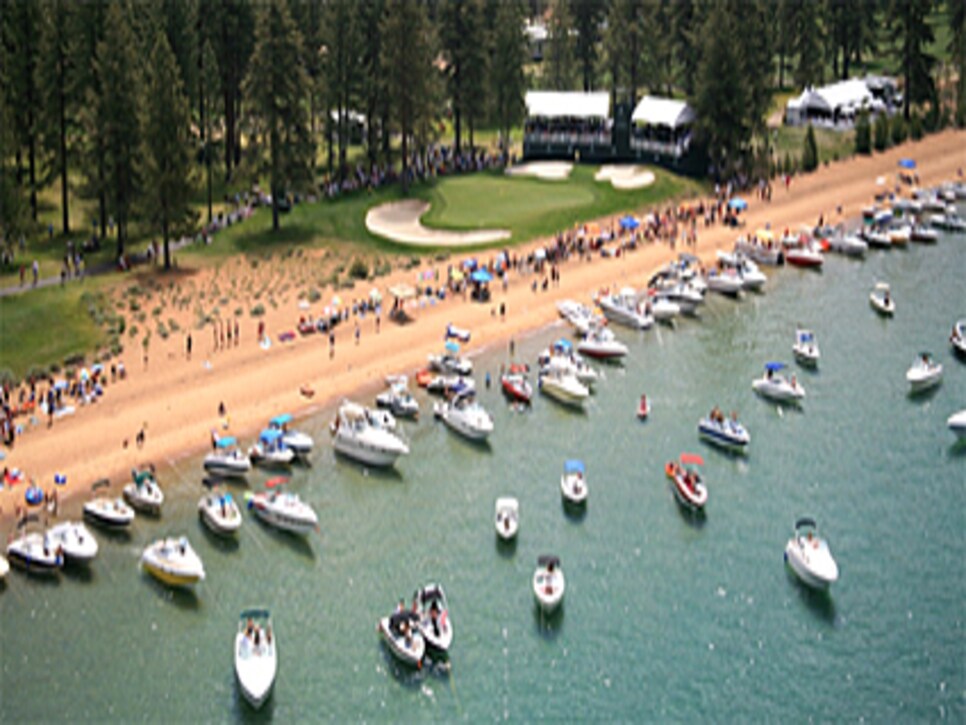 Related articles: --For my story about a trip to the American Century Celebrity Golf Championship last year,__ click here.__
--For Golf Digest's list of the top 150 Athlete Golfers, click here.