Whenever You're Near, I Hear A Symphony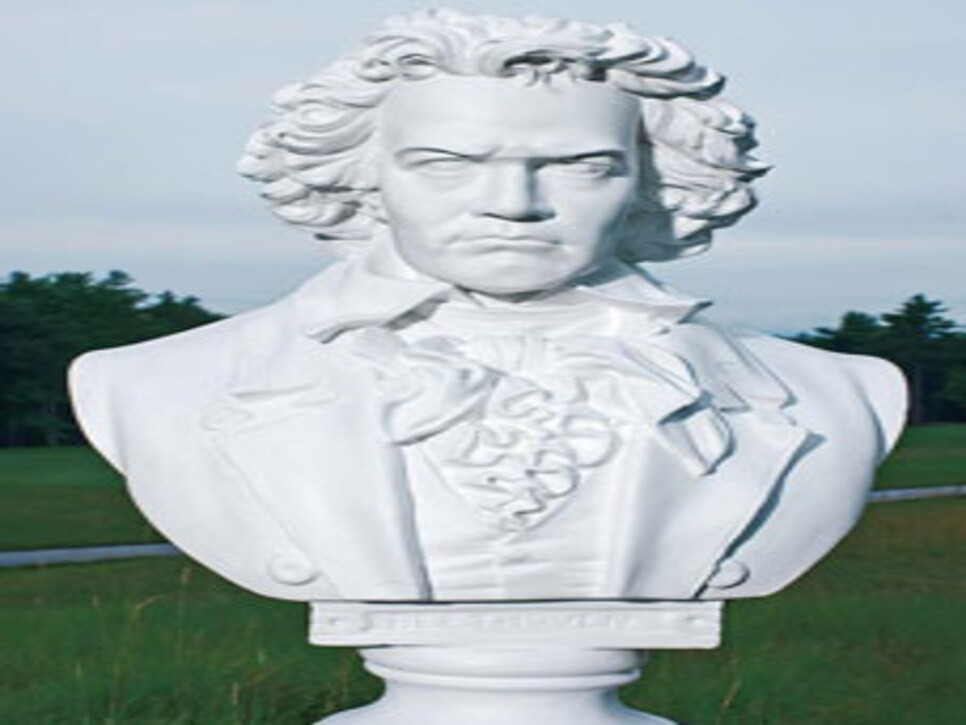 Contemporaries of Ludwig van Beethoven often found out the hard way that it was unwise to cross him. He briefly studied with Mozart and Haydn but thumbed his nose at both of them. Anyone who tried to go mano a mano on the old 88s with the barnstormer from Bonn got his head handed to him. When a group of noblemen tried to stiff him out of some cash, he took them to court -- this at a time when musicians didn't dare make waves, as noblemen could hire ruffians and cutpurses to break their legs.
Beethoven was such an arrogant man that when Napoleon Bonaparte, to whom he had dedicated his Third Symphony, declared himself Emperor, Beethoven ripped up the title page and changed the name to "Eroica." A compulsive spitter known to barrel into furniture and send the porcelain flying wherever he went, he never, ever forgot a slight. When he died at age 56, very few people were sorry to see him go. He might have been the greatest composer the world had ever known, but he wasn't much of a mixer.
Beethoven, however, was not the kind of person who could be slowed down by a mere trifle like death. And, as one group of golfers found out at the Beethoven Open, played at the Lake Winnipesaukee Golf Club in New Durham, N.H., on Bastille Day, the spirit of Beethoven lives on, even 181 years after his death. And if you cross him, you do so at your peril.
The Beethoven Open, now in its fifth year, is a fund-raising event at which the music of the master meshes with the genius of the golfers, mostly locals. It is the brainchild of Daniel Heifetz, a distant cousin of the legendary Jascha Heifetz, perhaps the greatest violinist of the 20th century. The venue is a privately owned 7,017-yard course, voted one of the Best New Courses in America in 2004-'05, that was built by a multimillionaire who fuses a passion for music with a passion for golf. As the course cost more than $12 million to build, golf might have a slight edge.
He hit a nice shot, so I guess you can say Beethoven composed him.'
Bernard Chiu made his first fortune in home appliances and his second with a firm that sells inexpensive musical instruments. His gorgeous course would surely be crawling with people were it not for the fact that it is 100 miles north of Boston, where there aren't all that many people. It is not quite in the middle of nowhere, but it's close enough.
The event raises money for the Heifetz International Music Institute, in nearby Wolfeboro, which teaches musicians how to play with emotion, not just play the notes. This is somewhat ironic, because nobody ever had to teach Beethoven how to play with emotion; quite the contrary, it was hard to get him to calm down. Music, widely reputed to soothe the savage breast, is the ostensible selling point of the Beethoven Open, where the music of the maestro is ubiquitous. When you arrive at the clubhouse, a cellist playing choice morsels by the great composer will be there to greet you. Inside, a string quartet will regale you with lilting melodies penned by the Titan. On each and every hole, music by the composer of the "Moonlight" Sonata will waft through the air, providing solace and balm for Open contestants who have just triple-bogeyed a par 3. And anyone sinking a hole-in-one will be rewarded with a Yamaha baby grand piano.
Well, that's what the press release led me to believe. The reality was slightly different. As I made my way up the steps to the clubhouse, I spotted a cellist playing a solo suite. The piece was a tad funereal, which was bad, and it wasn't by Beethoven, which was worse. The musician explained that Beethoven hadn't written any music for unaccompanied cello, so she substituted Bach. The assumption was that Beethoven wouldn't mind, and the golfers wouldn't notice. I wasn't so sure. I'd noticed. And mindful of Beethoven's prickly temperament, I'll bet he would have been pretty miffed.
Inside, as disinterested golfers milled about, a quartet made up of young musicians from Russia, Israel and Chicago played one of Beethoven's sprightlier pieces. Sprightly pieces are hard to come by in the Beethoven canon, as he, like Bach, was known to wax a bit morbid on occasion, especially after he lost his hearing and supposedly caught syphilis, which would take the bounce out of anyone's step. But at least they were playing Beethoven. Out on the course as the Open got underway, there was no Beethoven, no Bach, no Brahms, no nothing. All that could be heard were the sounds of silence.
"Dave and I were supposed to put boom boxes out on every green," a young man monitoring the fifth hole explained. "But then it rained."
"It's not raining now," I noted.
"That's true," he said. "We didn't put them out because we thought the rain would ruin them."
"If you don't put them out, the tournament's ruined," I reminded him. "If you don't have Beethoven's music, you can't really call it the Beethoven Open, can you?"
He agreed that one could not. But it seemed like a misfortune he was prepared to live with.
I asked a few of the golfers if they'd noticed the absence of music. One was Chiu, who mixed a passion for music with a passion for golf. He hadn't noticed. But then again, with a 16-handicap, he had other things on his mind.
I next asked a man playing the fourth if he'd noticed the absence of Beethoven's Fifth.
"This is the deaf hole," he said. "We're supposed to play one of the holes in silence in honor of Beethoven's deafness."
"They're all deaf holes," I observed. "And you're not playing silently."
I reported the absence of music to Dr. Gary Wiren, the congenial golf pro who helped arrange the event. He repeated the explanation about the rain. That wouldn't have stopped Beethoven; his rage from beyond the grave was probably responsible for the rain stopping an hour earlier. I shared his rage. I'd driven 350 miles to the Beethoven Open, part of it through the driving rain, and I wanted to hear some damn Beethoven. So I commandeered a golf cart and headed toward the tool shed, intent on heisting 18 boom boxes and planting one of them on each hole. But by this time somebody had told the elusive Dave to get on the stick. An hour after the Beethoven Open began, the strains of Beethoven could finally be heard all around the course.
Well, sort of. The sound emanating from the boom boxes, mostly planted beside the men's tees, didn't carry very far. I thought it would have made a lot more sense to position the boom boxes out in the trees, where disconsolate golfers could really use some of the maestro's foot-tapping inspiration.
"Is the music helping?" I asked a man on the 14th.
"Is it helping?" he mused. "Well, I'm five under, so I guess it is."
I asked the same question of a man who had just watched his partner tee off on the 11th.
"He hit a nice shot," he said, "so I guess you can say Beethoven composed him."
It is not being unfair to say that most participants in the Beethoven Open didn't care much about the all-but-inaudible music one way or the other. It is also not unfair to say that a lot of them looked like they would have felt a whole lot more comfortable at the Jimmy Buffett Open. Because it cost only $250 to play, and this included a practice round the day before, and because the course is a thing of beauty, they seemed to look at the whole outing as a real bargain, with Ludwig van more of a throw-in than the main attraction. An exception was Jerry O'Grady, a one-time member of the board of the Philadelphia Orchestra, a peerless ensemble I grew up listening to back in the Quaker City. O'Grady knows his golf, and he knows his Beethoven. Apprising me that David Kim, the concertmaster of the orchestra is an "avid golfer," O'Grady reasoned: "We all get a little rattled out there, and the music calms us down. It's rhythm and technique, whether it's golf or music."
Boy, is it ever. For a few holes, I tracked a group of four young men who seemed to take the event pretty seriously. They were having fun, occasionally taking the mickey out of one another, but there was no doubt that they wanted to win. They were nine under when they reached 11. This was the Silent Hole, where Beethoven's 11th String Quartet was supposed to be playing. But Dave must have gotten confused, because it was the 12th Quartet that was playing on the 11th.
Right next to the boom box hung a sign reading: "In honor of Beethoven, a composer who lost his hearing, we invite you to play this hole in silence."
One of the foursome, a very tall fellow who didn't look like he could tell you on first hearing whether it was Jascha Heifetz or Yehudi Menuhin or Anne-Sophie Mutter or Charlie Daniels on fiddle on that particular hole, took this invitation a bit too literally. He looked down at the sign, looked over at the boom box, then turned it off. The quartet had silenced the quartet.
In the distance, I thought I heard thunder rumbling.
Back in the clubhouse, as the day approached its end, Heifetz was rallying the troops for a big send-off. Once a world-class violinist, who snagged honors in the coveted International Tchaikovsky Competition in 1978, Heifetz was forced to the sidelines in the 1990s by a genetically misshapen funny bone. Heifetz can still play, but only part time.
Mustering the same indomitable spirit that inspired Beethoven to continue playing piano and conducting long after he had gone deaf, Heifetz decided to open a music school that would teach students from all over the world how to play with their hearts. Musicians, he said, can easily play the notes they read on the printed page, but unless they can communicate their inner emotions to audiences, the whole process is pointless.
"We call it the sacred fire," he explained. "We bring in a movement teacher and a blues artist to work with the students. They take lessons in dance, in public speaking. We want to answer the questions: Can you learn to communicate what is inside you? Can you bring it to the surface?"
I asked Heifetz how all this tied in with golf. "The piano or the violin is an extension of your hand," he replied. "So is the golf club. Both activities require the same skills: Focus, discipline, proper breathing, making the right physical movements. And in both cases, you're trying to bring the charisma that lies hidden inside to the surface."
Here, I believe he might have been referring to Phil Mickelson.
The most surreal movement of this very enjoyable but somewhat goofy day occurred around 5 p.m. when Heifetz gathered everyone in the lounge to watch an eight-minute video extolling his school. This was a little like being back in high school, when everyone got trouped into the auditorium to watch "Your United States Department of Agriculture -- Full of Vim and On the Move!" One of the dance experts Heifetz had brought in was Patrick Swayze, and everyone kind of enjoyed seeing the star of "Dirty Dancing" and "Point Break" up there on the TV screen. Then Heifetz joined his four proteges in a performance of the "Summer" movement from Vivaldi's The Four Seasons. It was only three minutes long, but by this point, some of us might have preferred "Walk Like a Man" by The Four Seasons. I was just a little peeved that the incomparable Beethoven, previously upstaged by Bach, was now playing second fiddle to the frothy, superficial Vivaldi. After all, this wasn't The Vivaldi Open or the Peter Ilyich Tchaikovsky Invitational or the Dietrich Buxtehude Pro-Am. So what gave? Still, most folks seemed to enjoy the change of pace; I think they'd had their fill of Beethoven's tortured genius by this juncture. After that, an auction was held, and then Heifetz gave out the prizes.
Two vignettes stand out from that day. Chiu, who came late to the sport and is a bit on the spindly side, didn't wear out the course. But in the three-shot putting contest, he shocked everyone by sinking his second shot. Everyone was thrilled, not least of all Chiu, who almost knocked over the bust of Beethoven poised just to his right.
"He must have practiced that shot a thousand times" one golfer said.
"It really helps if you own the course," said another.
But neither remark was made in a spirit of pique or malice. The golfers seemed to enjoy Mr. Chiu and his golf club and were happy to pitch in for a worthy cause.
Less happy were the four golfers I'd been bird-dogging earlier in the day. When I last saw them on 11, I had them penciled in as a lock to win the tournament. Alas, to my amazement -- and theirs -- they finished out of the money.
"We got to nine under pretty quick, but that was it," one of them explained. "Those last six holes, we just couldn't get it done."
And why was that? Is it any surprise that the foursome started melting down after capriciously turning off the boom box and silencing the Master? Next time, presumably, they will know better. Next time they will know not to mix it up with a man whose Fifth Symphony begins with four famous notes that are believed to announce the hand of Fate knocking at the door. Next time, they'll remember what folks used to tell each other in Beethoven's home town of Bonn: If you mess with Ludwig Van the Man, he's going to mess with you.
Somewhere, the tragic, dour, perpetually frowning Beethoven is fighting back a chuckle.