The Loop
Qualifier Varner looks to stand out for more than his race
ARDMORE, Pa. -- Watching Harold Varner III compete in the U.S. Open at Merion GC Thursday, it was hard not to think about another talented black golfer from North Carolina and how the sport has -- or hasn't -- changed in three decades. In 1981, the last time the U.S. Open was on Merion's venerable East Course, Jim Thorpe led after the first round with a 66 en route to a T-11. His fellow African Americans, Calvin Peete (T-14) and Lee Elder (T-33), also completed 72 holes.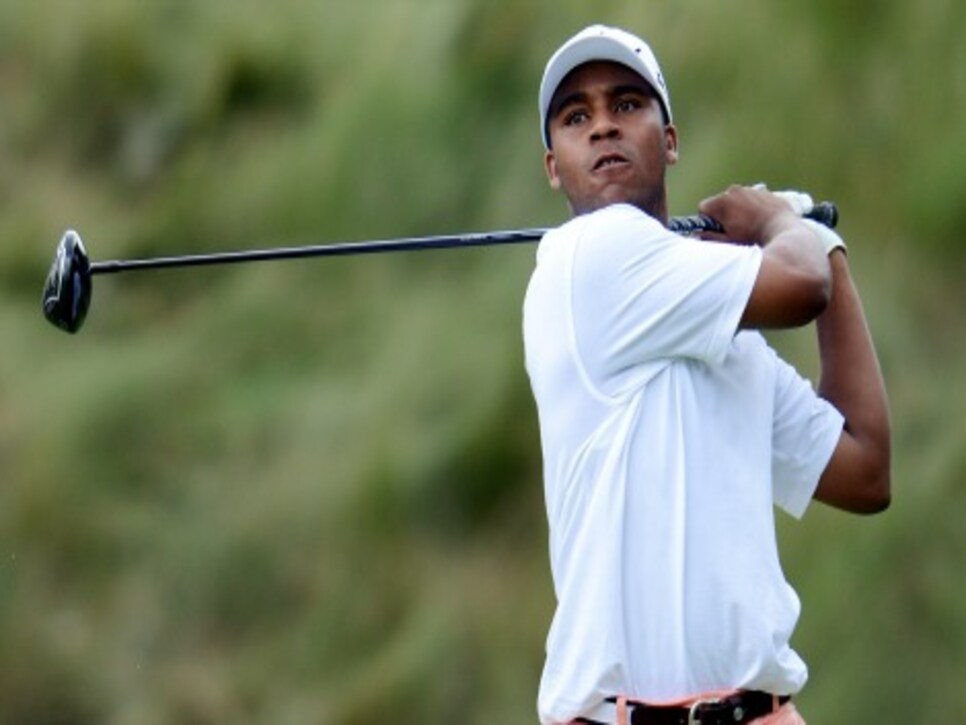 Related: Who will be this year's breakthrough amateur? "I love those guys," Varner said of his developmental tour peers, who are playing the Spring Creek Classic in Gordonsville, Va., this week. "They've taught me a lot -- they've beaten me [a lot]. I'm learning. I hope I can keep learning. That's the goal, to just keep getting better. What better way to get better than learn how to play a U.S. Open golf course." Varner's first round at Merion was a mixed bag: He had seven bogeys, a double bogey, three birdies and seven pars after the storm-delayed start. "I was a little shaky at the start," said Varner, who found out Sunday evening while driving north toward Philadelphia that he had gotten into the field after being an alternate out of the Rockville, Md., sectional qualifier. "I've never experienced anything like this. You have to learn to focus really well. I didn't do a real good job of that at the start. I was really nervous. I collected myself, and I think I'll be fine come tomorrow." Varner made history in his native state when he won the 2011 North Carolina Amateur, the first black golfer to win the title. Until more minorities are populating the top levels of competitive golf, something that has been very slow to happen, there will be some attention on him because of his ethnicity. But Varner doesn't think a lot about it.
Related: Teen Gavin Hall is ready for the U.S. Open "I am proud," he said of his heritage, "but my Dad, he didn't teach me to see color, and I still don't. I'm blessed that they [previous African American golfers] paved a way where I'm capable of playing. I thank them. [But] I don't see that too much. I don't walk up to somebody and see color and think they owe me something or I owe them something.  I play golf, and I'm privileged to know all types of races and people and treat them all the same." One person who noticed Varner in the field this week is Morris Hatalsky, the Champions Tour pro who partnered with Varner to win the pro-junior division of The First Tee Open at Pebble Beach in 2007 and was impressed with the then-17 year-old's poise and talent. "There were some things that stood out," Hatlasky said Thursday afternoon by phone. "He was a very mature young man, very respectful not only to me but to the game. He drove the ball very well. That was his strongest asset. And he was a very good putter. The two most important clubs, were his strong suits. He did well in college and amateur golf and now he's on one of golf's biggest stages. He's a fine young man, and I'm very proud of him."
Related: Jordan Spieth: Betting On Himself There were more East Carolina Pirates fans in the Philly suburbs than Varner thought possible. He got so many "Go Pirates" from the gallery that it distracted him at times. "There were way more people than I thought. It was kind of bizarre," he said. "I'm used to going 'Go Pirates' [too], but you've just got to keep your mouth shut and go focus. But it's hard for me to do that." Sometime late Friday afternoon, when Varner begins the second round of the biggest tournament of his life, his education will continue. He'll hope to see pars and birdies on his card, standing out for his score.