News
Retief And Bubba Pass Tiger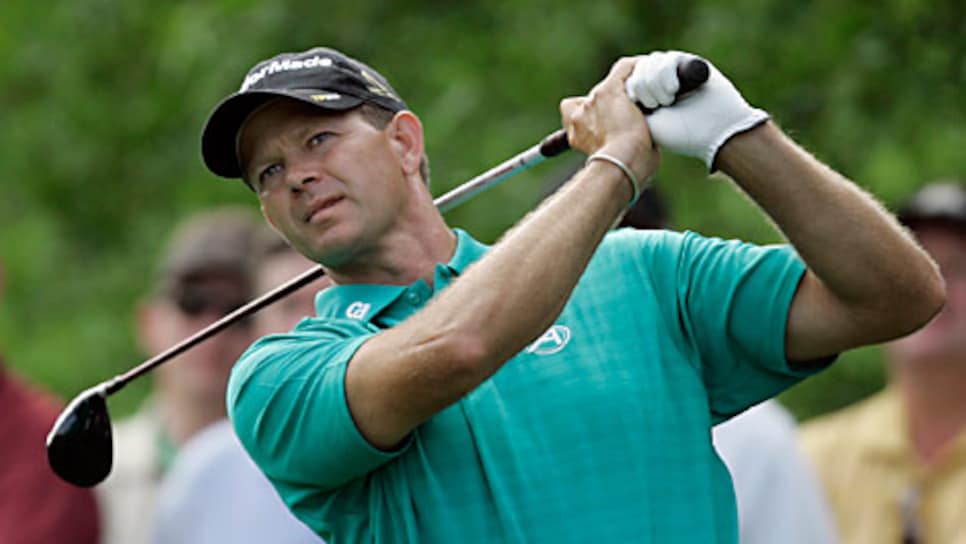 After only two bogeys in 35 holes, Goosen bogeyed 18 to lose a solo lead.
CHARLOTTE, N.C. (AP) -- Bubba Watson overpowered Quail Hollow and wound up with a perfect day -- he tied a course record with a 30 on the front nine, shot 7-under 65 to share the lead, and doesn't have to play with Tiger Woods.
Woods seized control with a 55-foot birdie putt on the ninth hole and had a two-shot lead for most of the back nine until a sloppy finish, making bogeys on two of the last three holes for a 72 that left him one shot behind.
Still, it was shaping up for an entertaining weekend packed with star power. Ten players were separated by two shots going into the weekend on a course that proved it doesn't need rough to be frightening, not with firm, slick greens that made it difficult to get close to the hole.
Former Masters champion Zach Johnson, one of eight players who had at least a share of the lead at one point, was the only player to reach 10-under par until he bogeyed the last three holes for a 67 and joined the group at 7-under 137 that included Woods, Jim Furyk (66) and George McNeill (68).
Another shot back was Phil Mickelson, whose 71 was anything but routine. Lefty was finding his groove until he four-putted from 40 feet for double bogey on the 17th hole. He also had a two--putt par that featured two clubs -- a 64-degree sand wedge on the fourth green to get over a steep slope and a putter for the remaining 5 feet.
He will play with Camilo Villegas, who had a 67.
Watson has never won a tournament and doesn't get much attention except the freak show he puts on with his outrageous length, such as the 380-yard drive at No. 5 that left him a 9-iron into the green on the 569-yard par 5. He plays practice rounds with Woods when he can, but he expected a pairing with Woods in a tournament might be vastly different.
And he says he doesn't like attention, especially when the cameras come around. "It's just because I play golf because I love the golf courses, I love to play, and now I've got all these strangers staring at me," Watson said. "I get nervous around people." Woods and Goosen made sure that wouldn't be the case.
Goosen, who won at Innisbrook on greens that were crusty and slick, holed a 20--foot birdie putt on his final hole to join the leaders. A few minutes later, Woods completed his mini-meltdown.
From just off the par-5 15th green in two, his eagle chip was too hard and he missed the 5-foot birdie. Then came a tee shot into the trees on the 16th, leading to bogey. And on the 18th, his approach went to the back of the green -- the pin was in the front -- and from 90 feet away, he three-putted for bogey to fall out of the lead.
"I didn't drive the ball particularly well today, didn't hit my irons as well as I'd like," Woods said. "I was hanging in there. If I could have posted 9 (under), I would have probably gotten the most out of that round I could have. It just didn't work out that way."
Irons are particularly key, especially with the green so firm that they rarely held shots in the afternoon as the temperatures became steamy and the wind swirled.
Woods was even for his round when he got a big break at the turn, hammering a 55-foot putt that slammed into the back of the cup, went a few inches airborne and dropped into the cup. The fist pump was exchanged for an apologetic smile.
"It would have been in the grandstands if it didn't hit the hole," Woods said. "It was nice to have a train wreck and have it go in."
It was another example of trying to get the ball in the vicinity of the hole. "With the greens being this fast and this hard, you'd better have a short iron in your hand," he said.
That was no problem for Watson.
Along with his 9-iron into the par 5 (he had two 5-irons and a 6-iron on the others), Watson hit a sand wedge on the 489-yard 16th hole, a lob wedge on the 459-yard third, and a sand wedge on the 444-yard fourth hole.
His 30 on the front nine matched the course record last set by Woods the day before. Furyk was at 2 over with five holes left in his opening round when he began to turn it around, and he kept right on going while playing with Woods and David Toms, a trio of past champions at Quail Hollow.
Mickelson played in the morning, and like Woods, he managed to post a decent score despite some adventures off the tee.
"My round was a bit more exciting than I wanted it to be," Mickelson said.