News
Woods Seizes First-Round Lead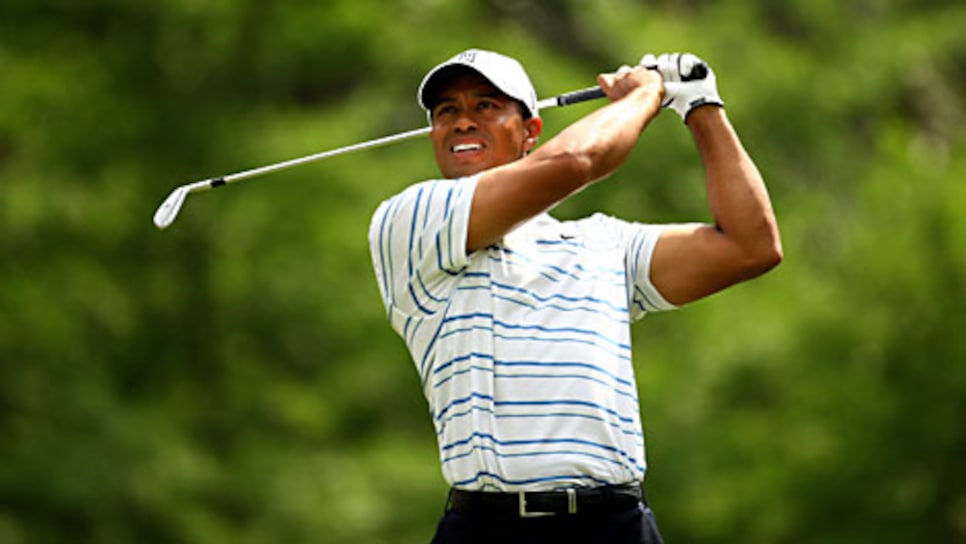 Tiger Woods' round, which started on No. 10, included six birdies on his back nine.
CHARLOTTE, N.C. (AP) -- The Masters is over. The Tiger & Phil show might just be getting started.
Tiger Woods matched the course record with a 30 on the front nine, where he closed with three straight birdies Thursday morning to finish off a 7-under 65 at the Quail Hollow Championship. Phil Mickelson followed in the afternoon by chipping in for eagle and making a remarkable par save from under a video board for a 5-under 67 that put him in a tie for second.
They did not play together, as was the case three weeks ago in an electric final-round pairing at Augusta National. But on a warm and breezy afternoon in Carolina, it seemed as though they were never far apart.
A few fans taunted Woods early in his round, calling out, "Let's go, Phil!" as he walked by.
Mickelson couldn't escape a familiar name even as he lumbered to the finish, as fans called out, "You're only two shots behind Tiger!"
"It's only one round," Mickelson said. "There's a lot of golf left."
Even so, the Quail Hollow Championship served up quite an appetizer on a course that even was reminiscent of Augusta with virtually no rough and slick greens. The emphasis was not accuracy off the tee as much as wizardry with the short game, and both players were up to the task.
Woods was plodding along the back nine, failing to birdie either of the par 5s, until he ran off six birdies and two splendid par saves on the front nine. After twice putting himself in tough positions, he hit a low pitch out of a swale on the second hole to a foot, then hit another wedge that stopped a few inches next to the cup on the fourth.
"I hit a couple of loose shots here and there, but I really putted well," Woods said. "I had a couple of key saves — made a nice little up-and-down at 2 and just a really good save at 4 that kept the round going. It's always nice when you birdie the last three."
For Mickelson, it was sweet to finish with a par.
From a fairway bunker on the par-4 18th, he wanted to lay up short of the green but pulled his shot while trying to avoid a creek that runs down the left side. The ball went under a large video board, and Mickelson took his free drop on a slope of grass above the cart path.
Then came a wedge that spun just enough to stop 2 feet away.
"It's nice to finish with a par," he said. "I ended up playing a good round."
Steve Marino, who gave himself a chance at winning last week in New Orleans, and Robert Allenby also opened with a 67. The group another shot back included two-time U.S. Open champion Retief Goosen, Hunter Mahan, Jeff Maggert and Lucas Glover.
Masters champion Angel Cabrera opened with a 70, along with defending champion Anthony Kim.
More than half of the 156-man field shot par or better at Quail Hollow, a course given a new look for this tournament. Instead of deep rough, there's a uniform cut of 2 inches that allowed players a chance to attack the greens.
Trouble was, the greens were firm and fast, making it difficult and at times dangerous to get it close to the hole.
"It's playable," Woods said. "The only thing is, it'll bait you into being more aggressive into some of these flags. You've just got to be careful on that."
Mickelson called it the best setup he has ever seen, no surprise coming from a guy who tends who spend a lot of time off the fairway.
"I think the fans are enjoying the recovery shot, which is the most exciting shot in golf," Mickelson said. "We're having a bunch of recovery shots — at least I am -- from the trees and so forth. I think that makes for exciting golf."
Mickelson picked up a routine two-putt birdie on the fifth, then a deft chip from just short of the seventh green fell for eagle. But his momentum slowed, and he finished with seven straight pars.
Woods, who finished one shot behind Mickelson at Augusta, became the fifth player to shoot 30 on the front nine at Quail Hollow. He'd not been leading after a round since Saturday at the U.S. Open last summer, and while he got off to a bogey-free start, his record is not all that daunting when leading after the first round — 13-10 on the PGA Tour.
But it got at least one player's attention.
"If you want to win, you've got to be on top when it's done," Glover said. "And it just got a lot harder since he decided to play good on a Thursday."