The Loop
Q&A: Smylie Kaufman on PGA Tour life, quick success, and why he emulates Keegan Bradley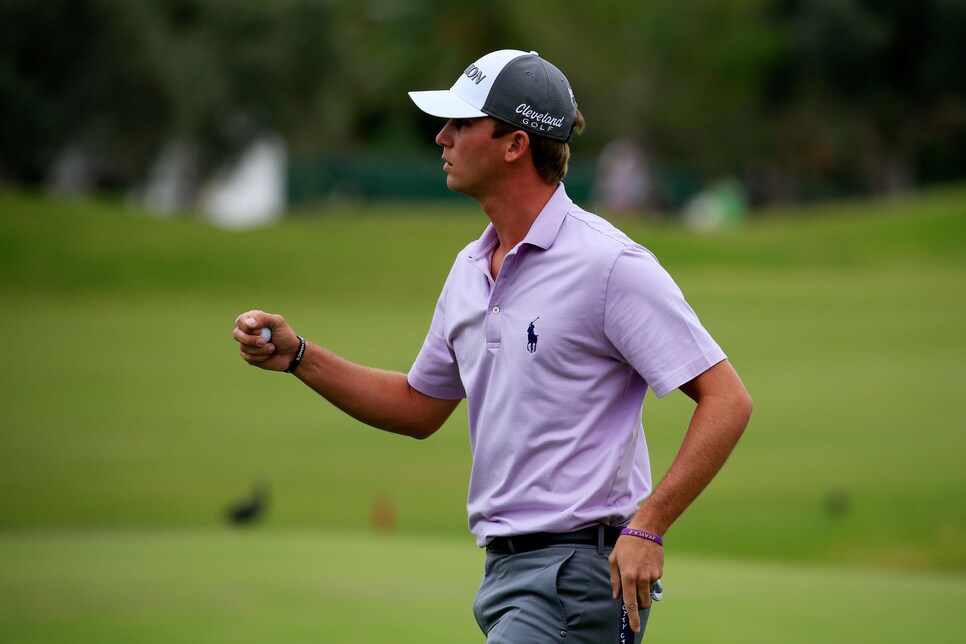 At 23 years old, Smylie Kaufman is one of the rising stars on the PGA Tour. Kaufman, a product of LSU, is off to an auspicious start in his debut campaign, finishing T-10 at the Frys.com Open and capturing the Shriners Hospitals for Children Open, just his second tournament as an official member of the tour.
We caught up with Kaufman last week to get his thoughts on life as a rookie and his season outlook:
There's a group of young players like Daniel Berger, Justin Thomas, we can add Emiliano Grillo after his win, who are making immediate impacts on tour. Do you feel any external pressure to compete in your first year?
Smylie Kaufman: Ideally, it's doesn't put pressure on me. I can't control what they do, I can only control what I do. It is promising to see guys like that, guys I played junior and college golf against, it makes me feel like I can do what they've done.
But pressure, I don't think it adds another level of pressure.
You were there for a limited amount of time, but what what did you learn on the Web.com Tour that will help you at the next level?
SK: The main thing was trying to figure out a routine. Monday through Wednesday, managing your body. Practice rounds and travel. Things you wouldn't know as a rookie on the PGA Tour unless you have an entire year of travel under your belt. For me, that's exactly what the Web.com Tour did for me.
So far on tour, I'm not doing anything different than what I did last year. I'm trying to keep the same routine, that way I can continue the success I had last year.
Speaking of success, are there any fellow players whose game, performance, perhaps even their demeanor or disposition that you try to emulate?
SK: I've always liked the way Keegan Bradley plays. I love his intensity, the way he competes. I've got to meet him a few times, as he's friends with my agent. I've enjoyed playing with him, and I'm always amazed by the way he played.
Have you talked to older players that have been in your position about what to anticipate as an obstacle or potential hurdle, if any, in your transition onto the PGA Tour?
SK: Well, you have to accept that you're going to miss some cuts. Things are going to happen throughout the year. Hopefully you stay injury free. The main thing, though, is you need to keep a positive mindset when these things happen. And, for me, one of the biggest things is trying to stay patient.
That's what I learned on the Web.com circuit. I think I missed four or five cuts in a row. And never having gone through that before, it's hard to know how to react. Trying to find an answer to, "How do I get this going in the opposite way?" So I have experience dealing with these hurdles, and I know there are going to be others that come my way, but I'm looking forward to the opportunity.
Finally, growing up, you gained national prominence, along with your brother, in raising awareness for Kids vs. Cancer in your hometown of Birmingham, Alabama, raising donations for a marathon round you two played. (The boys played a total of 100 holes.) What has been the biggest takeaway from your work with that organization?
SK: It was a really cool experience, especially at a young age (14-15) with my brother, I really didn't know how much money we raised at the time. We ended up getting $60,000, which is more than I could ever imagine. Just the impact on the community, as well as the relationships we formed. We also got a lot of other junior golfers involved in the event.
I met some of the people involved in Kids vs. Cancer who were affected by this, and forming relationships with them, getting to know them, it gives perspective. It makes me very thankful, not only what I do for a living, but for life in general.