The Loop
Q and A: Jim Justice, owner of the Greenbrier
*As we tour some of the best golf resorts in the country, this is Pete Finch's recent conversation with Jim Justice, owner of the Greenbrier in White Sulphur Springs, West Virginia. *
Until 2009, James C. Justice III was little known outside the industries where he made his fortune -- coal and farming. But the 61-year-old multimillionaire jumped straight into the golf spotlight with his purchase of the foundering Greenbrier Resort & Spa, which had fallen into bankruptcy. On the three-year anniversary of that bold move, we caught up with Jim Justice to see how things have changed for both him and the West Virginia resort__Golf Digest calls the 5th best in North America__.
__So how is 2012 going for you so far?__
It's good. It's good. It's probably just slightly ahead of our pro formas, but you know, we're looking for an awfully big year. We're just coming out of our winter season, and that's our slowest time. But 2012 is stacking up really good.
We've surely done a lot of new and innovative things at the Greenbrier. It's not like, "Well, the economy's getting a little better and maybe we're seeing an uptick in business." This has been honestly a rebirth of a national treasure. We've added a wonderful casino that's underground (and) that doesn't resemble any casino in the world. It's elegantly done, it's underground, jackets-only at night, dances, Champagne toasts. It's very laid back, not snooty. Smoke-free. It's an entertainment venue rather than a casino, per se, and it ties very nicely with the tradition and elegance of the hotel.
Everybody says, "Who's your competition?" Well, there is no competition to the Greenbrier. Our competition is ourselves. And just making sure we perform at the highest levels for all the guests. And we're making waves on that. Our spa just got named by Forbes as five-star. The hotel is five-diamond. We've upgraded it in a lot of different ways. We added the casino and restaurants and the [Greenbrier Classic] golf tournament is wonderful, the spa, great, all great.
And now, right across the street, we're building a think tank, the Greenbrier Medical Institute. It's going to be one of the cutting-edge research and think-tanks in medicine. People will come here for treatment. Docs will come here to do research and recertification issues, and there'll be surgeries done there. There'll be a sports performance enhancement center there where people can come and train to run faster and throw harder. There are a lot of different tentacles to this medical institute. We're under construction and we're probably 12 months away.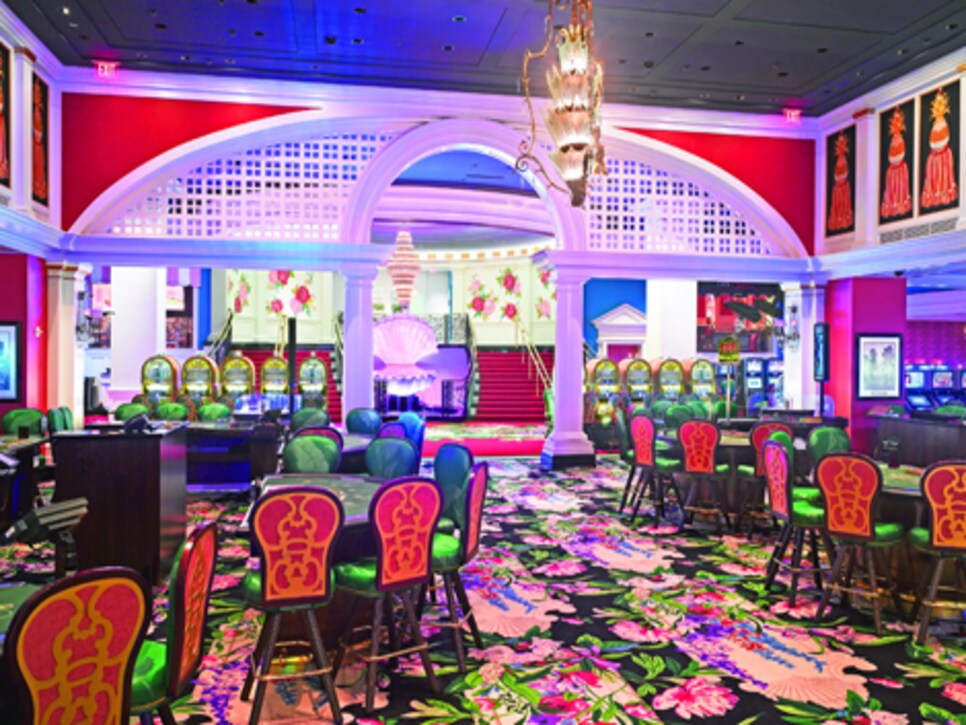 Would you consider the casino a success?
It's extremely successful, depending on how you want to judge success. Is it profitable on a monthly basis? No. Is it the driver that turns the resort into profitability? Absolutely not. In fact, just running on plain operating costs, it really struggles to break even. But that's why I say it's not your typical casino. This is an entertainment venue. If you're me and you look at, "Well, what do we have to do with the Greenbrier?" The Greenbrier had become, in my opinion, asleep. We had to put energy back into it. And excitement. Enthusiasm. This is just another wonderful amenity for guests to enjoy.
__ Is golf the main reason people come to the Greenbrier?__
I don't know…Our chef just won a competition [the Bocuse d'Or] as best chef in the U.S. and now he's going to the international competition. And the spa and all that.
But golf is huge. We have four courses. One is our private course, the Sporting Club, and it's for its members, and then we have three courses for our guests. We have really made some headway on improving the quality of courses. The Old White has just really come into its own. Kelly Shumate is the superintendent and has done a marvelous job.
Golf is surely exploding at the Greenbrier. Last year was an all-time record at the Greenbrier -- in revenue and every way. At a time when golf is surely not on the incline, you know, across the nation, golf at the Greenbrier is setting all-time new records.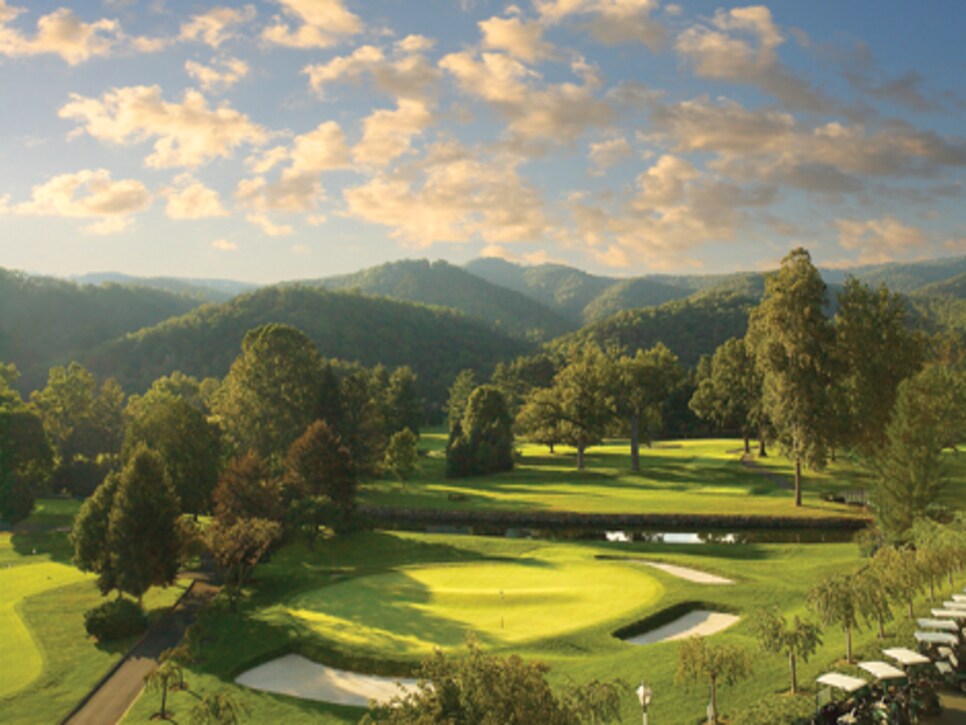 What's new with the courses?
The biggest thing is just the quality. The courses are in pristine condition and they just continue to get better.
At the Old White (pictured above) we added some irrigation in the rough. People could irrigate our rough through our fairway irrigation system, but at the same time we were irrigating the fairways too. So in the time of an event, when you want your fairways firm, you want to continue to keep the rough real lush. That was difficult to do. So we added another band of irrigation that will just serve the rough. The rough will be tougher. The greens themselves are now a year older after being reseeded and redone. The greens were great last year, with their trueness and their speed, but they'll just be better.
There are some neat plans on the horizon. There may be some changes to the Meadows and the Greenbrier courses. There's been some dialogue with the Nicklaus Group and we've done work with Jack on that. We're not in full swing as of yet, but that's sure on the horizon.
It's terrific for us. I know for AT&T, it wasn't working real great with them. But for us…the Greenbrier's trade name is "The Greenbrier: America's Resort." Now you've got America's Resort celebrating America's Holiday. We'll have Toby Keith here performing on the 4th of July, with Lionel Richie. We'll have the cannons and all the fireworks, which will be unbelievable. The next night we have the Fray and Rod Stewart and the next night it's Bon Jovi.
The Classic last year was voted by the tour as, I guess, the No. 1 event. It was attended last year by just over 350,000 people if you count the concerts in the total attendance. But it's just going to be even better. I mean, it's the perfect venue for the players to bring their families. You got 6,700 acres of playhouse where they can go and feel safe and enjoy all the different amenities without ever leaving the grounds. You don't have to get in your car and drive across town. It's all right here. It'll be a really nice family 4th of July.
__ When I met you, right after you bought the resort, I thought, "Here's a guy who has spent his whole career outside the hospitality business and may not have any idea what he's getting into." Anything that really stands out as a major lesson or major surprise since then?__
I don't really know. I surely don't say this egotistically because I'm a humble kind of guy, but I knew I could do this. I'm a people person. I'm a marketing guy. I was raised to be appreciative of others and to be thankful for people who, you know, came and opened a door for you or spent money at your place or whatever. So it's just become so natural for me to be absolutely thankful of these people that come as our guests. There haven't been any big surprises.
Not to say that it hasn't been a big job. It needed an awful lot. It's so different. It's not like you're bringing in a temporary workforce to do a job and then they just leave. That's what distinguishes the Greenbrier. You've got all kinds of people here, people who've worked 53 years and 38 years and on and on. When the guests come, for them, first of all they know them -- they know a lot of the guests -- and second of all, they have such a vested interest. They really know their livelihood depends on the guests and they appreciate it and they love the guests to come here so much. It's a special experience for the guest.
When I was real little, I couldn't afford to come here. Golf really got me here. My dad was a great athlete. He started golf at a late age. He started me off real young and all of a sudden both of us got to where we were pretty good players. I was this 12-year-old thinking he was going to be the next Tiger Woods and all of a sudden, before you know it, I'm playing in the State Amateur. And our State Amateur is at the Greenbrier. That's what brought me to the Greenbrier.
Living 50 miles away, I knew what it was, how it important it was, what a treasure it is for West Virginia and the nation. I knew the culture and I just knew I could do it. But it's been a lot of work. I can tell you that.
__ Are you still coaching the girls' basketball team at Greenbrier East High School?__
Oh yeah. I coach the high school boys and the high school girls' team both. That's really never been done at the AAA level in West Virginia. And Pete, I gotta report that my boys made it to the Sweet 16 last year but my girls won the State Championship.
__ Wow, that's great. So the boys are a new addition for you?__
Yeah, they are. Last year their long-time coach stepped down. He's a great guy and our athletic director and been doing a wonderful job. But they boys had struggled. They'd had only one winning record in the last 10 years. I just wanted to try to do it. I just felt like I could do it and we pulled it off. It really worked pretty good.
They play in the Mountain State Athletic Conference. The most wins they'd ever had was five. They were 10-6 this year in that, so that was pretty good. The girls finished the state championship 27-1. They did really good.
__ All right, well I've enjoyed catching up with you, Mr. Justice.__
Pete, you've gotta call me Jim. And don't forget our train that we're doing. We're going through the regulatory bodies now. We're probably five or six months from full completion. This is going to be like the Orient Express, but all Greenbrier-style. It'll run from D.C. down here. We think it'll take 5 hours and 15 minutes. It'll come right to the resort. We have our own train station and we'll come down and pick everybody up with horses and carriages. It'll be a wonderful train ride, I promise you that.