The Loop
Q&A: Herb Kohler on trying to buy near Bandon, Hamilton Grand and his latest victory.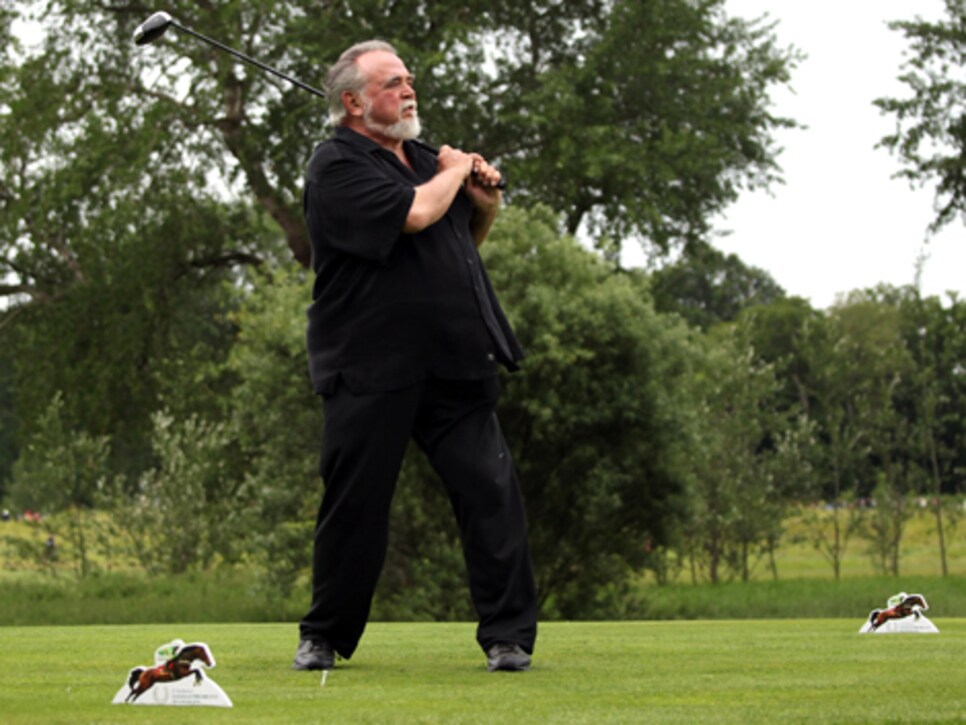 The last time I did a formal Q&A with Herb Kohler, the prince of porcelain and owner of 90 holes of golf, was in 2008. He told me about saving dogs, landing planes and taking buddies trips. His group is called the Gnarly Balls Gang, and the winner gets two softball-size cast-iron balls attached to a piece of driftwood.
In our latest conversation, the man who made the Midwest an award-winning golf destination discusses his ongoing search for property to build another golf resort, what he has done with Hamilton Hall—the building behind the 18th green of the Old Course in St. Andrews—and why he's content if he never gets a men's U.S. Open.
__How's life at The American Club?__
With Wisconsin weather, it's hard to be sour.
Have you had a good spring?
It's been wonderful, and we're off to a great summer.
In Asia, business is quite good. In the United States, we're still slogging around, but business is slightly improving.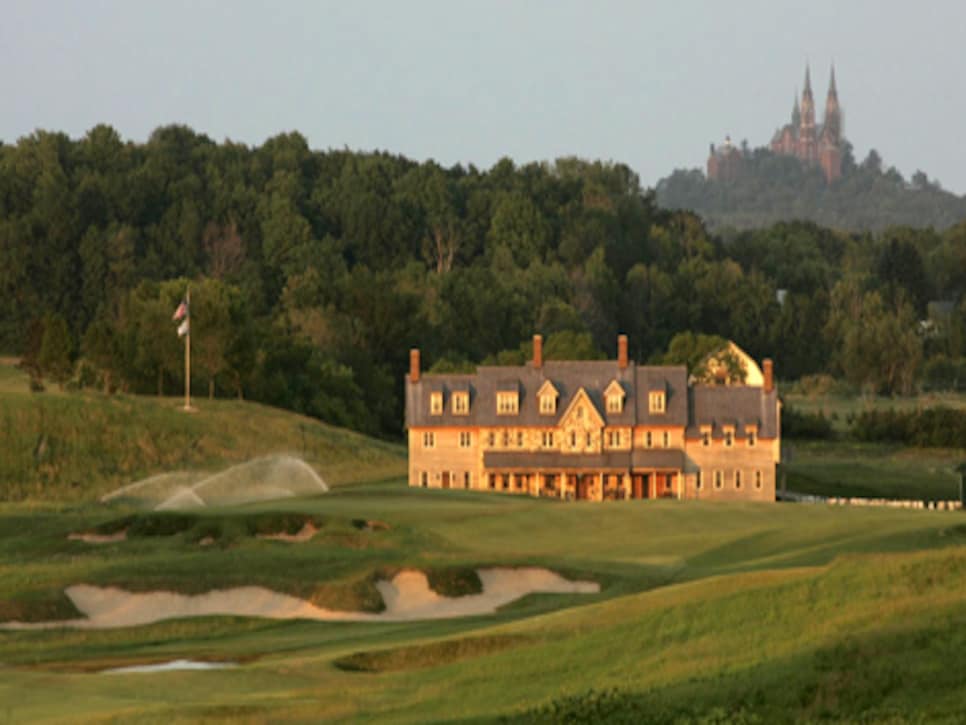 *Erin Hills was built in 2006, it's 90 minutes from Kohler, Wis.,
**and it will host the U.S. Open in 2017.*__ __
How has Erin Hills affected your business at The American Club?__
No effect. They really haven't developed a substantial clientele at this point. We've had players stop by after they've been here, but it hasn't affected our business.
My sources on the southwest coast of Oregon told me you were seen poking around for property near Bandon Dunes. Pete Dye even told me he was sent out there to take a look around. Can you clear this up for me?
The county invited us. This is a real poor county. Remarkably poor. I was told that, on weekends, they feed 2,000 kids their only meal of substance. Makes you shutter. But they also have one of the most glorious coastlines in the United States, very rugged, very dramatic. And this piece of property, 20 miles south of Bandon Dunes, even had an inland lake. And to find a piece of property like this, that was not developed, it was extraordinary. And we talked to the county at some length, made two or three visits out there, but in the end, when it was all said and done, the environmentalists stirred up people and they just decided they didn't want any development of any kind. It was hard to believe.
Down in the little community of Bandon, you don't see an impoverished environment. But you go south of that and things get a little rugged. One would've thought that they would've welcomed a high-class, high-end resort, but I guess people have tried to fool them too many times, and they just didn't want to go in that direction.
Did you ever talk to Mike Keiser, owner of Bandon Dunes, about it?__
I was on the verge of going over and talking to Mike about it, but the environmentalists were just too determined. We'd be messing with them for five to seven years minimum before we'd have anything. And it was just unfortunate because ultimately it would've been a great relationship with Mike, and good for him, actually. Not that he needs any help, but if we would've been a very different environment. This is about 60 to 70 feet above the ocean, where Mike is down closer to the ocean. And it had deeper ravines and things like that.
A little more conducive to Pete Dye's eye.
Pete would've had a lot of fun out there. [Laughs.] Pete was really taken by the property, but people didn't want to change their lifestyle, so that was that.
At what point did you move on?
That was probably a year ago.
I also heard you were poking around Napa. Is that true?
We looked at some property out there, but it was too complicated. I put a good piece together, on the eastern side of Napa. All the best wine country is on the west, but this was on the east, and you know, Matt, most often the human being manages to screw up a great piece of land. We have an amazing knack to mess up nature. And this piece of property, in its original state, was quite wonderful, but it had been messed with a little too much, and so we said no thank you.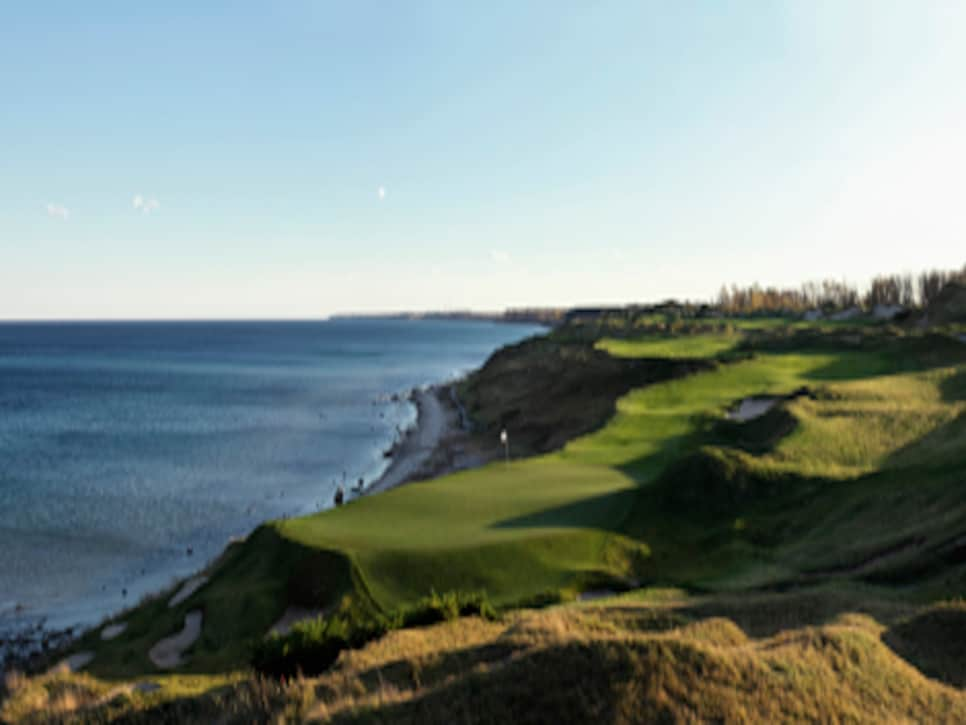 *From behind the 506-yard eighth hole at Whistling Straits,
host of the 2004, 2010 and 2015 PGA Championships.
*It will also host the 2020 Ryder Cup.
Keiser's chasing Bandon Muni, a possible second course at Cabot Links, he told me he's looking at two pieces of property in Ireland this summer, and Trump just bought Doral, he's opening Trump International in Scotland, Bob Dedman is having Bill Coore design a possible Pinehurst No. 9 where there once was the Pit—are you feeling left out? Are you feeling anxious to make a move?
[Laughs.] Chasing Donald? No. We have been blessed with some really top-notch golf courses. And we have created two venues in Wisconsin that have attracted the majors of two golf organizations, the USGA and the PGA of America, [Whistling Straits and Blackwolf Run] so we have a series of tournaments you just can't beat. And it's hard to do something unless it matches that level of quality. It's got to be sort of iconic. And if you start doing things less than that, well, down comes your reputation. If and when we find something, we'll do it, but we haven't found it.
So where are you looking now?
Around the world, sir. Literally.
You have your people checking stuff out?
And me. I do a lot of traveling around the world. We have 51 plants across the world, so we travel to China, parts of India, Morocco, Brazil.
Brazil would be interesting because of the Olympics.
Sure would, wouldn't it? Mind you, they're not golfers today, but they will be. So I think Brazil is a very interesting opportunity if you do it right.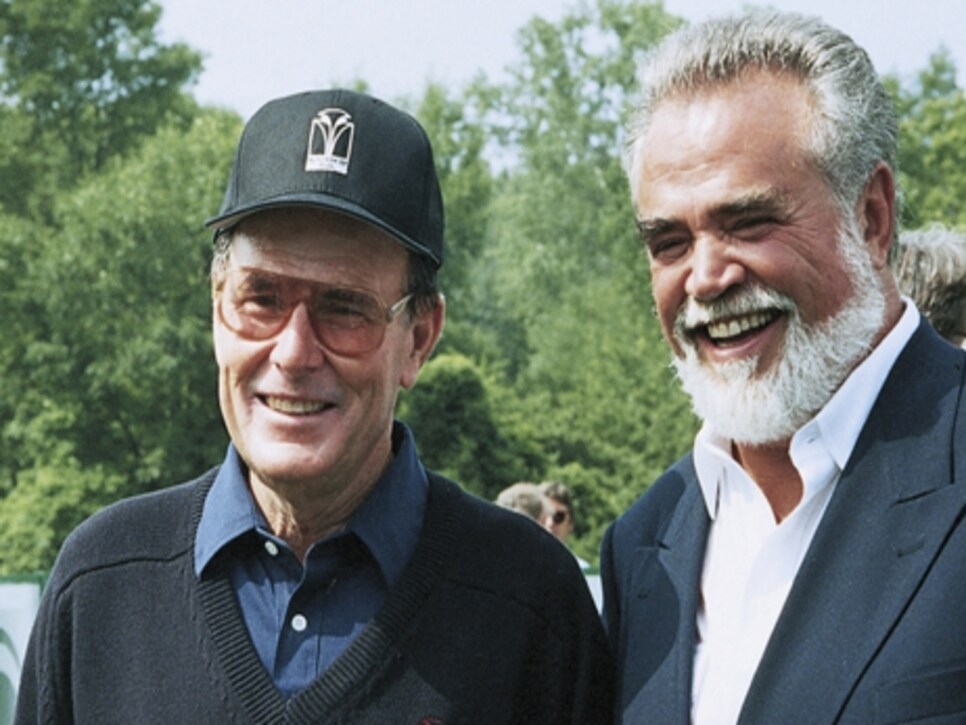 (Pete Dye built all four of Kohler's courses in the U.S.)
You hooked your course trailer to Pete Dye. You've never worked with another architect. I happen to adore the man, but the fact is, he builds hard courses. And hard courses are being blamed for some of the decline in the interest in golf. Do you ever regret not giving at least one of your courses to a guy like Bill Coore, or do you stand by your man?__
That's exactly what we do. I never had the slightest second thought. We have five tees on every hole on every course. While Pete Dye can build the toughest son-of-a-gun hole from the back tee or near back tee, his forward tees are very considerate, and very accommodating for the inexperienced player. And that's what I love about the man. He can play with the mind of the professional, drive them darn-near crazy, and at the same time it's very playable for the common golfer just because of the way he positions these tees. And that's the attribute that gives an organization like the USGA flexibility in setting up a tournament. Pete Dye and his tees have a lot of advantages.
Let's say you find a piece of property, you call Pete, and he says, "Herb, I'm not in a place I can build a golf course any more. I'm going to have to say no." Who do you call next?
[Laughs.] Mind you, Pete has never said anything like that. But that fella who built Pacific Dunes is one of his proteges and an awfully good designer, and I have a very high regard for Tom Doak. But I do a number of others also. The chap who's going to design the Brazilian course for the Olympics, Gil Hanse, worked for Tom Doak, so Mr. Dye has a long tail.
Tell me about the progression of Hamilton Hall, and what we can expect from that property in St. Andrews in the near future?
The name is now the Hamilton Grand. And hopefully we can live up to that name. It started out in life as the Grand Hotel in 1895, and then, at the beginning of the second World War, the Royal Air Force sort of acquired it and used it for a training facility for their officers, and after the war was over, the government passed it on to the university, and they used it as a dormitory. It was a sad decline, because when it started out in life, it served the royalty of Europe. It was the first hotel in Europe to have an elevator, and the first to have indoor plumbing within the rooms instead of down the hall.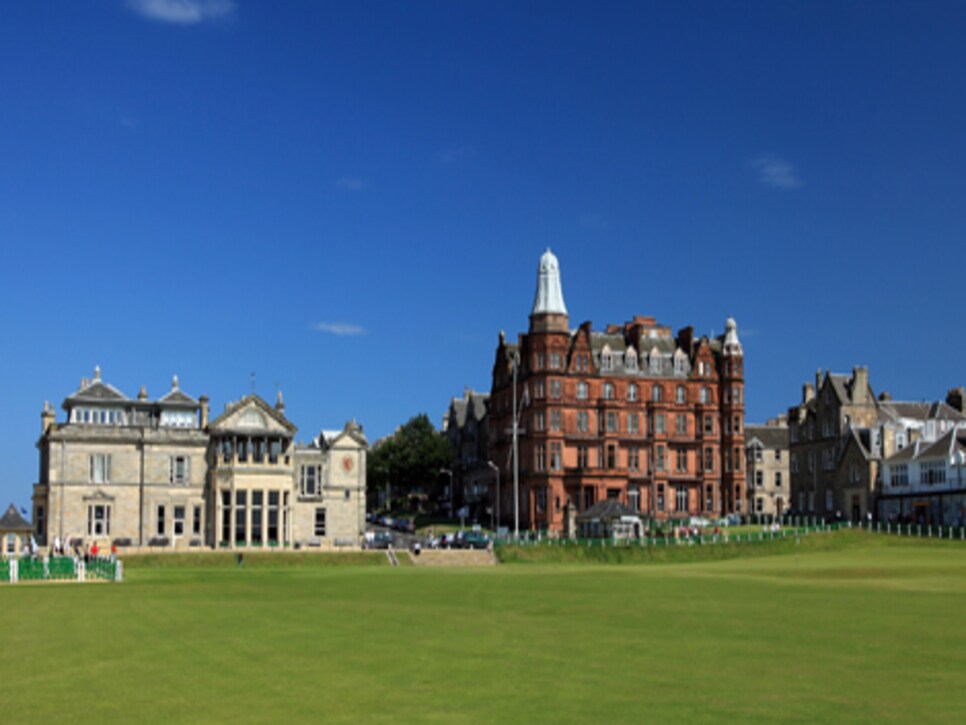 *(The Royal and Ancient Clubhouse, left,
and what Kohler's calling Hamilton Grand.)*
Then this was a perfect fit for you.
Yes. It attracted much of the royalty of Europe to witness the experience. But anyway, after the students of the university got through with it, there wasn't much left. Then a developer from California bought it, and he had a notion that he could sell time-shares. And it didn't work for him. It was too expensive. So it was put up for auction. We were fortunate to buy it at a moderate price, and we've given it some real time and attention, upgrading 26 apartments. There are 22 two-bedroom, one three-bedroom, and three four-bedroom apartments.
These are going to be for sale?
No. We're just opening up.
Who's in line to get these apartments, and how much are they going to go for?
There's a fair range. The way the sell property in the U.K. is that they put out a fair price. And then they'll say, "Bids over." And that means, that if you really want to put in a bid, you have to bid something over the price you're looking at. In America, we bid under.
That should work out well for you.
Sometimes it does, and sometimes you don't get any bids. But if you've got a reasonably good property, and you haven't stacked an enormous price on it, you'll get bids. So a few of our apartments will be presented that way. Others will just have a flat price, and that's that. We expect interest from around the world: China, Japan, Korea, Russia, Argentina, a fair amount from Europe, Scandinavia, United States, of course.
I imagine there will be some big names involved. I know you thought about it being a hotel at one point but ultimately settled on apartments. Are you going to keep one for yourself?
No. I get the Old Course Hotel. I get daily service. [Laughs.] I don't want to take one of those apartments out of circulation; now mind you, some of these apartments can be put into a rental pool. And that should create some additional interest from a different sector. Some of them will be leased for five years to parents of university students, and I'm sure the son or daughter will use it as well.
Do you have to make that deal with the town?
No. This is our own doing. On the first floor we have a wonderful parlor, library. On the rooftop we have an entertainment area. Owners of these apartments can reserve it for their use. Can you imagine, having a party for 50 on top of the roof looking over the Old Course and the North Sea?
That would be quite a scene during the next British Open.
It's going to be amazing. Spectacular. Right now we have one show apartment finished, and we'll have another one finished in September, and we'll probably have a grand opening in December. And then we'll all move in.
If I had $5 million, would I be in the ballpark of getting one of these apartments?
Yes, sir. You'd have a pretty damn-good apartment. I'd be knocking on your door for a guest room.
Oh, and one of the best parts is a pub and public restaurant in the basement, called Ham's Hole, and its symbol is a picture of a running hog. His right foot is up, running, and an argyle scarf is streaming off his backside, and his foot is above the flag with a 19 on it. It's a cute little picture. And it's going to be a great little restaurant and pub.
The Women's U.S. Open comes back to Blackwolf Run in July.
We really look forward to it. I think it's going to be another remarkable championship.
Beyond the women's Opens, what's your relationship with the USGA? Is there a men's Open in your future?
It's hard to beat the relationship we have with the PGA of America. We have had a great run of PGA Championships. We have another one coming up in 2015, followed up by the Ryder Cup in 2020, both at Whistling Straits, and it's hard to beat that, so, am I looking at going outside that? No. Not necessarily. The USGA has sort of made their choice with Erin Hills and I'm sure they'll have a fine experience with Erin Hills. It's quite a landscape, but we really enjoy where we are.
What's the relationship you have with Mike Davis [executive director of the USGA] compared to the one you had with David Fay [former executive director of the USGA]?
I had a good relationship with David Fay, lesser so with Mike Davis. But that could change after the Women's Open, depending on how much time he spends out here.
Where have the Gnarly Balls Gang congregated recently?
Eight of us went to Pine Valley.
How did your game hold up to the challenges of Pine Valley?
You're getting way too personal. [Laughs.] My game, unfortunately, requires a fair number of strokes. And it's a couple more every year.
But I have to tell you something. I'm a recent member of the R&A, and I went over for the spring meeting. And lo and behold, they had a mini tournament for seniors, folks 70 and above, on the Strathtyrum course, one of the seven course of the Links Trust, and it was built maybe 10 or 12 years ago. And they built it flat, a few bunkers, very low first cut of rough, has some high spindly rough and some gorse, and that's where they had this tournament. Nine holes. And immediately following the tournament, they had a lunch, blue blazers and ties, and I had to rustle around to get me a tie. Boy, are they traditionalists. So we had a nice lunch, and then they announced the prizes, and they had only two, one was for the best Stableford score by the person 80 years and older, and the second one was for the best overall Stableford score, including the 70-year-olds. Would you believe I won the latter? I'm still saying, Really?
The tournament is called the Brazil Nut Cup. [Laughs.] And it's the smallest darned trophy you've ever seen. It's a little piece of silver. You can easily hold it in the cup of two hands.
That's funny. A member of the Gnarly Balls Gang won the Nut Cup.
__[Related: My recent story about a trip to stay and play at The American Club.
](http://www.golfdigest.com/golf-courses/golf-travel/buddies/2010-06/away-game-whistling-straits) ____[
](http://www.golfdigest.com/golf-courses/golf-travel/buddies/2010-06/away-game-whistling-straits)__Follow @Matt_Ginella