Putting the heckling of Keegan Bradley at the Tiger Woods Challenge in perspective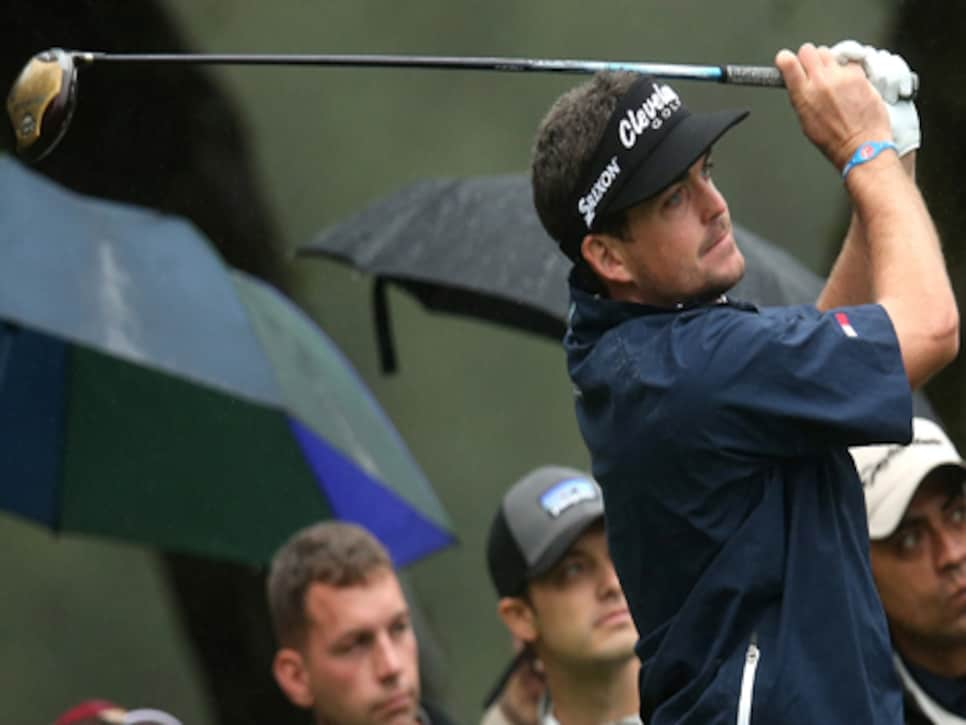 Photo: Keegan Bradley was on the receiving end of some heckling from fans this week at Sherwood C.C. Courtesy of Stephen Dunn/Getty Images.
It seems like we've entered another era of golf.
No, this isn't a post about the young generation of champion golfers, but the increase in popularity of fans letting their voices continually be heard at PGA Tour events.
Unlike other professional sports where loud noise is commonplace, our game is associated with an etiquette and tradition. Yet there still appears to be a divide amongst golf fans whether heckling and random bursts of yelling should be tolerated or not.
Keegan Bradley was on the receiving end of some heckling last weekend at the Tiger Woods Challenge at Sherwood C.C. A report describes a member of the gallery yelling at Bradley on the final hole, calling him a "cheater" in light of the recent news of golf's ruling bodies banning anchoring.
Bradley dismissed it, but Graeme McDowell, who won the tournament and played in the same group as Bradley, took the opportunity to comment on the growing fan participation on tour these days.
From McDowell's post-round comments: "I'm kind of fed up with all this 'mashed potatoes"' and all this rubbish that the crowd are kind of enjoying shouting right now.
"Keegan had a guy out there who was after every shot he was, 'Yabba- Dabba Doing,' and it was just stupid. It's something, for the players, it's not a lot of fun and it's kind of becoming a little bit of a cool thing to do for the spectators. It kind of gives them their two or three seconds of fame."
The pulse on our social channels seems to be somewhat divided, but there's little debate when it comes to explaining such behavior. In many eyes, the main culprit is alcohol.
From Gordon Peters on Twitter (@GPeteLaw), as he replied to__@GolfDigestMag:__  "Entitlement issues that come with ticket purchase and alcohol."
From FourPutter in a comment on GeoffShackelford.com: "Of course it's all to do with the excess of alcohol which is so freely available all round the courses these days. But the TV announcers call the drunken behaviour atmosphere and character. I call itloutish rudeness, and I didn't invite a bunch of drunks into my living room when I want to watch golf. The worst of all is that tournament in Arizona (Phoenix?) where everyone appears to be completely sloshed. If I were a player I'd just pass on it."
With the price of alcohol as high as it is at pro events, beer sales fund a lot of operations, so we don't see this stopping any time soon. And actual heckling in golf doesn't seem to be popular, aside from the annual PGA Tour stop at TPC Scottsdale, where a healthy and hearty fan scene has developed. There's a dynamic between the crowd and the golfer: Fans enjoy giving golfers a tough time, and the pros seem to embrace it. That's one particular hole, and it seems that one isolated hole, for a particular event on tour where the players expect a raucous atmosphere, is a fun escape for golfers from the usually quiet galleries.
One could argue Ryder Cup galleries were out of hand at Medinah this year (which could have been fueled by alcohol), but the raw emotion brought out the best out of both sides, too. Look at how Ian Poulter reacted to the crowds all week, and how Bradley seemed to be fueled by the loud galleries.
So should golfers just "suck it up" and take the obnoxious behavior from fans?
As Scott from Delaware eloquently puts on GeoffShackelford.com: "Let's just call this a "minor occupational annoyance" for men whose jobs involve playing a game which 99.9 percent of the golfing population pay large amounts of money to play.
"I am confident these professionals can handle these idiots who choose to yell at tournaments just like I can handle the guy who craps so loud in my office bathroom that I can hear him from 50 feet away while I'm working in my office."
We could've done without the last part, Scott. But we hear ya.
Booing and heckling at team sporting events are common. Fans pay a lot of money to their favorite team to attend games. If they feel the team isn't living up to their end of the bargain, and performing to an inferior standard, they're going to let the team know it.
In a team competition like the Ryder Cup, some see the crowd involvement as a rare emotional element lacking in golf. But when it comes to individual stroke play, if you're yelling for the sake of attention (or throwing a hot dog at a golfer), there seems to be a consensus that there's no place for that in golf.
Just ask Kevin Na, who was heckled at this year's Players Championship. Na struggled to pull the trigger off the tee, which resulted in some fans mocking him in song.
"I deserved it," Na said in May. "I mean, I'm being honest."
"No," Na continued, "Put an average guy in between those ropes, trust me, they won't pull back [the club]."