The Loop
Trending: Putting Ben Curtis' win in perspective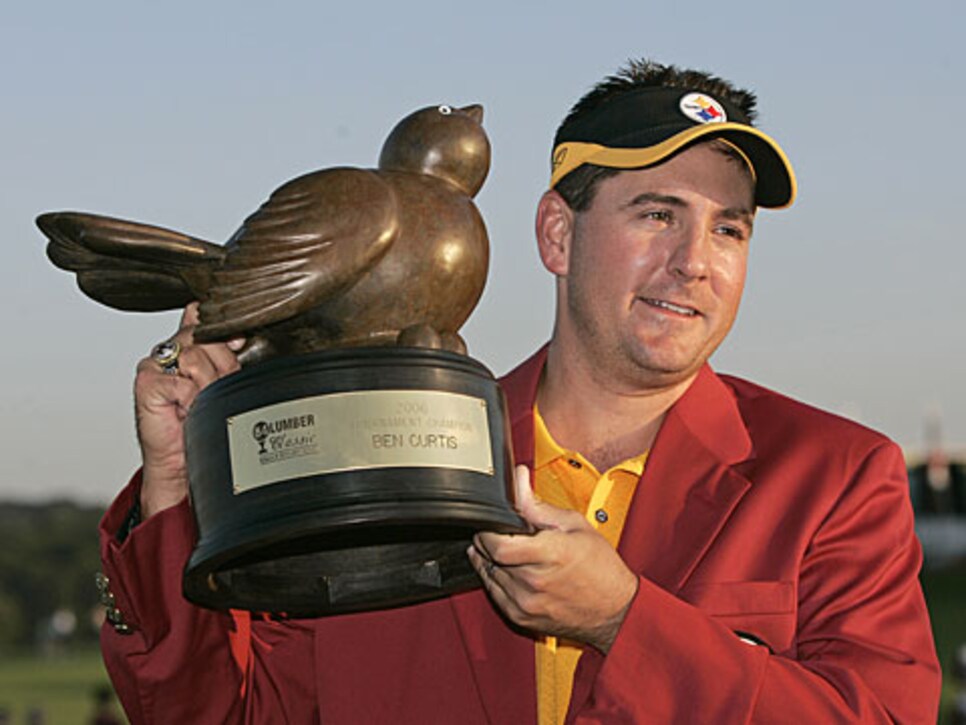 (Ben Curtis' last victory on the PGA Tour came at the 2006 84 Lumber Classic. Photo: Getty Images.)
Ben Curtis' win at the Valero Texas Open ended a nearly six-year drought that saw the former British Open winner relegated to a journeyman who lost his tour exemption and hadn't finished in the top-10 in any of his last 44 starts. As unlikely as Curtis' victory was, this is not the first time we've seen some lengthy win droughts come to an end in 2012. Remember that guy Tiger Woods?
Roughly a month ago, when Tiger won the Arnold Palmer Invitational, we compared his two and half year winless streak to the longest stretches between wins ever on the PGA Tour. And while the nearly 1000 days between wins might have seemed like an eternity to Woods, it wasn't even close to making the top-5 longest. Luckily for Curtis, his dubious accomplishment (if winning can ever be considered dubious) doesn't scratch the surface either. The record 15 years and six months Robert Gamez went in between wins is safe -- for now.
Still, six years can seem like an eternity. In fact, it's been nearly that long since 84 Lumber last hosted a golf tournament -- September 17, 2006 to be exact -- which just happens to be Ben Curtis previous Tour victory. To put that in perspective, here is a quick look back at some other notables from that week in history.
Notables From The Week Of September 17, 2006
Top Five Television Shows
Headlines from September 17, 2006*
__--__Hosts Germany wins the World Cup, fighting back from 3-1 down to beat Olympic champions Australia 4-3 to retain their title.
__--__Fourpeaked Mountain in Alaska erupts, marking the first eruption for the long-dormant volcano in at least 10,000 years.
__--__Five basketball players at Duquesne University in Pittsburgh, Pennsylvania are shot on campus after they tried to calm a disturbed man at a dance in the Student Union. Three of the five are hospitalized, with one in critical condition.
__--__Recent expeditions by Conservation International and the government of Indonesia revealed a "Lost World" of nearly 60 new species near Bird's Head Seascape of the Coral Triangle. The species include a "walking shark", 20 new corals, 8 shrimp species, and 24 new fish species including one that can "flash" colors.
__--__The Associated Press claims that Bilal Hussein, an AP photographer and Iraqi citizen, has been held for five months in a United States military prison without charges against him. AP claims they tried to have Hussein released quietly, but when that failed, they went public.
__--__Pope Benedict XVI states that he is "deeply sorry" about the angry reaction from his comments regarding Muslims and says that his remarks came from a text that didn't reflect his personal opinion.
__--__A Roman Catholic nun, who worked as a nurse for SOS Children's Villages, and her bodyguard are shot dead by gunmen in Mogadishu.
__--__At least 21 people have been killed after a truck bomb went off in the northern Iraqi city of Kirkuk, according to local police. Reports indicate that the bomb exploded near the offices of the Patriotic Union of Kurdistan of Jalal Talabani, the President of Iraq.
__--__Four people are dead and 62 are wounded when five bomb blasts go off in the southern Thailand city of Hat Yai.
__--__A global day of action, dubbed the 'International Day for Darfur' by Amnesty International, takes place with prayer vigils and demonstrations in 30 of the world's cities to highlight the plight of refugees and victims of genocide in the region.
__--__Sweden's center-right opposition alliance Alliance for Sweden declares victory after nearly complete official election results showed it narrowly defeating the governing Swedish Social Democratic Party. The Prime Minister of Sweden, Goran Persson, conceded defeat.
__--__Eva Avila wins the 4th season of Canadian Idol.
__--__After 11 years of broadcasting, the WB and UPN networks close down permanently. The WB had a Night of Farewells while UPN went quietly.