The Loop
When it comes to putters, club designers don't always agree on skid versus roll
The greens were a big story during the Wells Fargo Championship, as the putting surfaces at Quail Hollow Club had some players withdrawing and others talking.
"I mean, you can't lie about it," said Rickie Fowler. "The greens are shaky."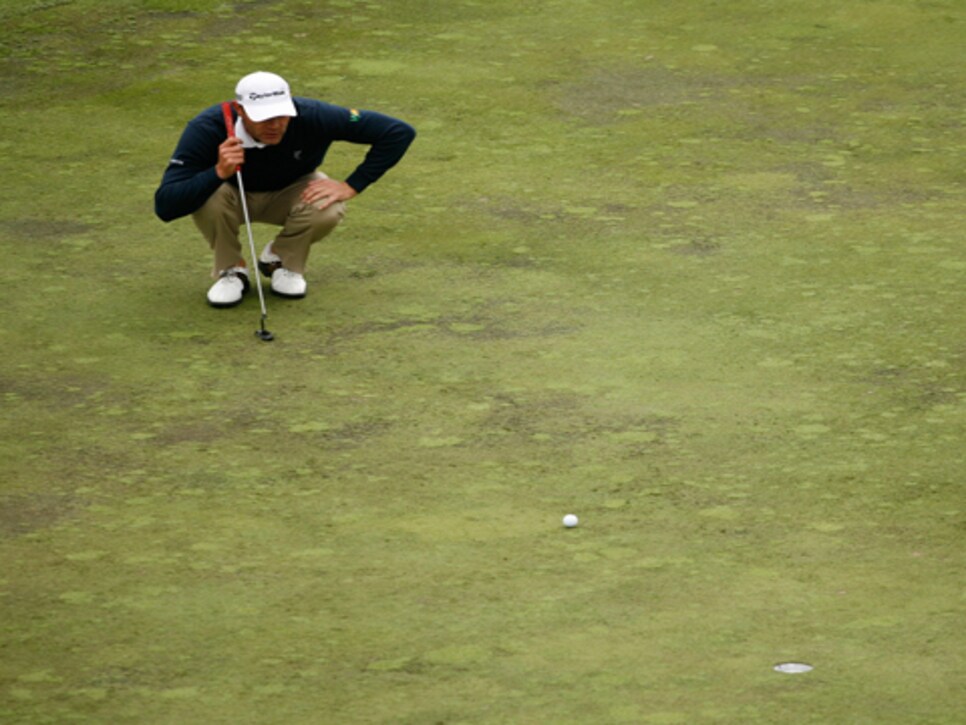 The greens at Quail Hollow left a lot to be desired. Photo: Stephen Szurlej
Whether the greens are shaky or not or you're a wizard on the greens or a yip waiting to happen, you're in a hole before every single putt you hit. Literally. That's because each time your ball comes to rest on the green it settles in a depression of some kind. And you have to get it out before you can start the ball on a true roll.
That's where skid comes in. Ask most recreational players if a putt begins rolling forward from the moment it is struck, and you're likely to get an affirmative answer. But that's incorrect. Just as with other clubs, putters have loft -- between 2 and 4 degrees in most standard-length versions, a little less in most long putters. The loft helps lift the ball out of its hole and sets it on a path that includes backspin and skid before it settles into its roll.
Over the last decade some putt- ermakers have taken a different approach, raising the center of gravity to produce more immediate roll. One of those was California-based Aserta. The company said its putters had a high center of gravity because those with a low CG created backspin that made the ball skid and hop before it started rolling, resulting in off-line putts.
That, however, was a minority opinion. According to several members of Golf Digest's Hot List academic panel, a high CG promotes skidding and offsets all the advantages of gear effect. "You don't need a 'greater transfer of energy,' as some of the companies claim," said Martin Brouillete, professor of mechanical engineering at the University of Sherbrooke in Quebec. "Everybody can get the ball to the hole."
In fact, some contend that skid isn't bad at all. It's when you get too much backspin that there's a problem. But a ball has to have some skid because you have to get it out of that hole. In other words, a putt that begins rolling from the start can sometimes change direction more than a putt with skid can.
Instead of trying to achieve a true roll from the start of a putt, ideally you'd realize true skid -- a parallel line where the ball has neither backspin, nor topspin. That would require striking the ball at around a 2.5- to 3-degree launch angle.
And therein may be the next step in clubfitting for everyday players -- putter fitting. Just as a launch monitor can help a player find the right driver loft, the same can be done for putters. Most top manufacturers have the ability to determine the path and launch angle of a putt in their studios, and as that technology is increasingly being made available, it has brought more comprehensive putter fitting to the masses.
Or you can simply adopt Fowler's mindset at Quail Hollow: "Compared to the greens I grew up on around home and played when I was a kid and through high school golf, these are pretty good."
That kind of attitude along with some technology will get you out of the hole a little easier.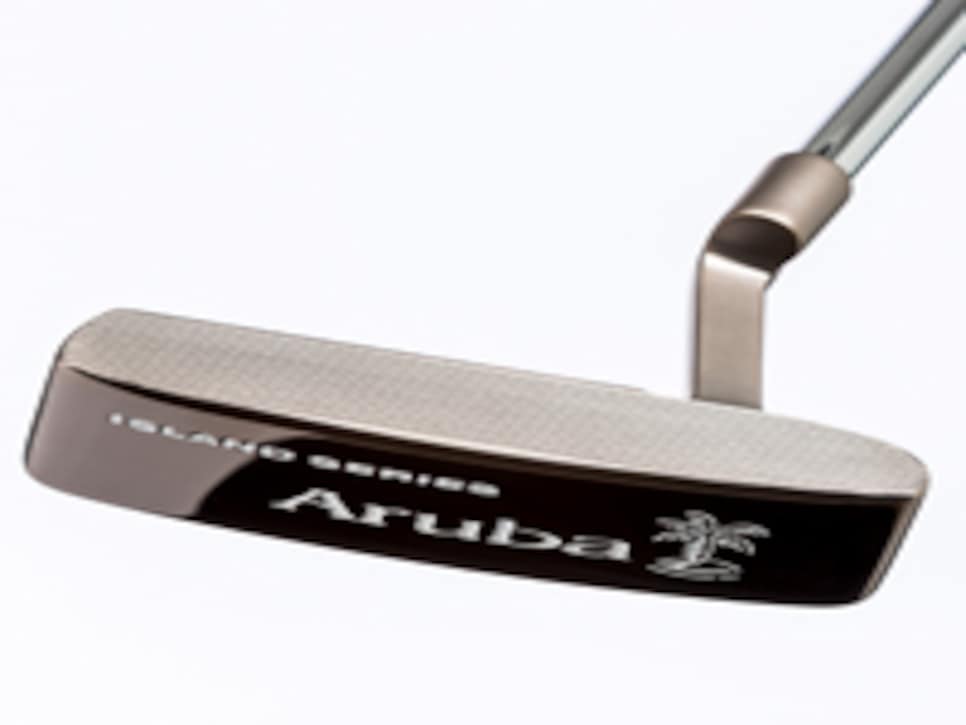 PRICE:$175 (Lengths: 34, 35 inches; others custom order)
Rife's Aruba model features the company's patented RollGroove face technology designed to produce a more immediate forward roll.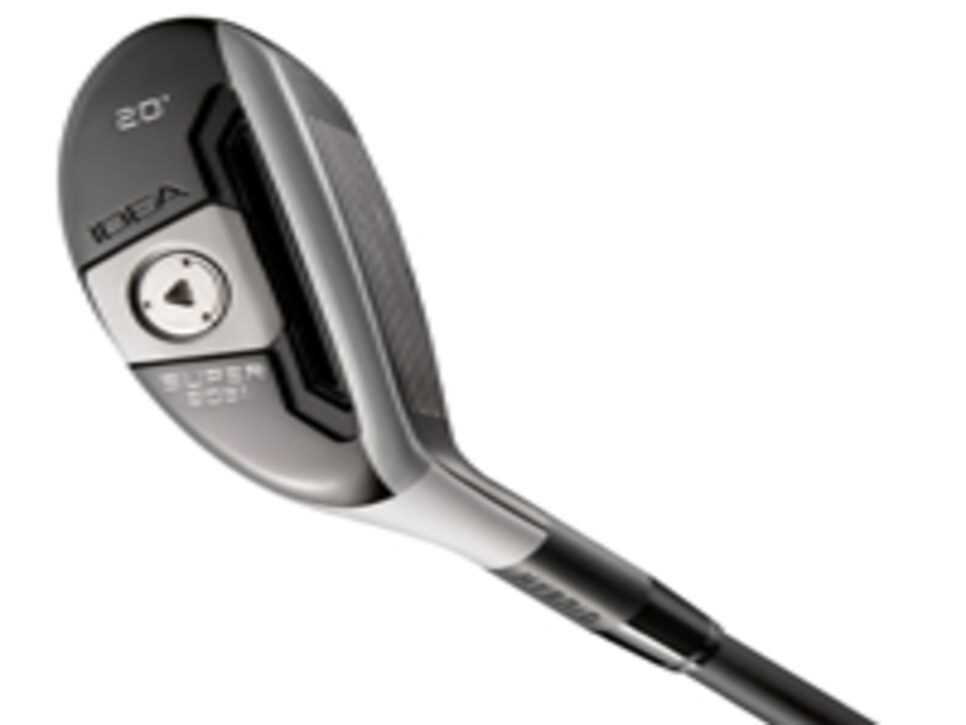 PRICE: $200 (Lofts: 16, 18, 20 and 23 degrees; 18 and 20 degrees for lefties)
Although many hybrids now have clubheads so large they often are confused for fairway woods, Adams is bucking that trend with the introduction of its Idea Super 9031 hybrid -- a club with a head that is just 80cc. The white-headed 9031 has a Cut-Thru sole slot as well as a crown slot to promote fast ball speeds. Also aiding distance is a springy 455 Carpenter steel face. The club comes stock with a Mitsubishi Diamana D+ 82-gram shaft.
Phil Mickelson continued using his 8.5-degree Callaway X Hot Phrankenwood off the tee at the Wells Fargo Championship, but the club had a new shaft -- Mitsubishi's Diamana Kai'li 60xx. ... For his win in New Orleans, Billy Horschel will receive a gold-plated replica of his Ping Scottsdale TR Piper putter and one will go in the company's putter vault. However, due to the custom weld on the hosel, Ping made three additional copies: two gold-plated (in case Horschel wins again) and one to duplicate Horschel's gamer specs to serve as a backup. ... Padraig Harrington has been an advocate of banning anchored putters, making his decision to use a TaylorMade Ghost Spider S belly putter (and anchor it) at the Wells Fargo Championship somewhat curious. The results for the three-time major winner, however, show anchoring is not an easy stroke to perfect: Harrington used 66 putts over 36 holes in missing the cut.