Arnold Palmer-inspired
A look at the latest Puma x Arnold Palmer Collaboration ahead of the AP Invitational
*All products featured on Golf Digest are independently selected by our editors. However, when you buy something through our retail links, we may earn an affiliate commission.*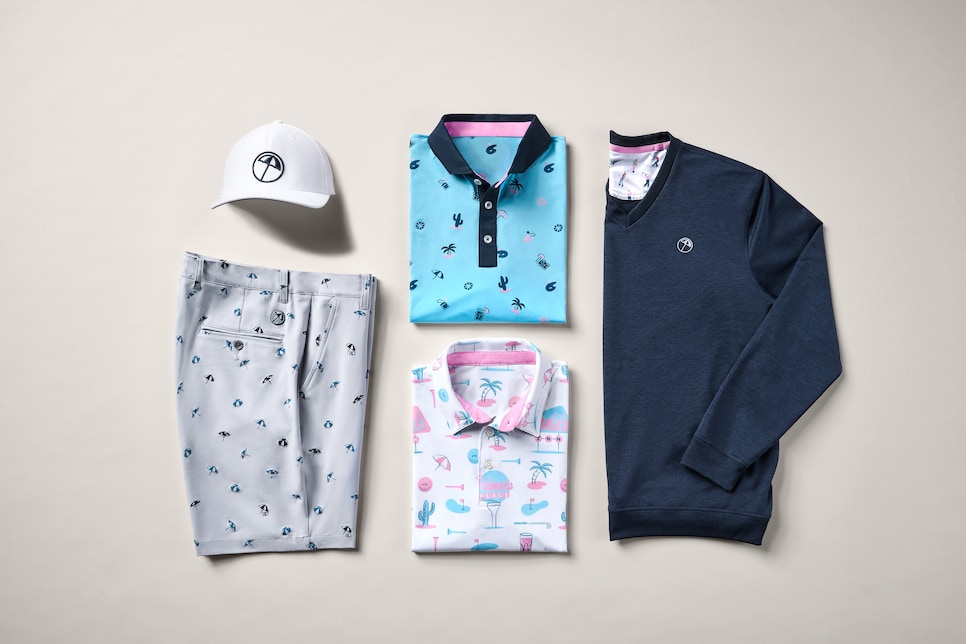 Ahead of the Arnold Palmer Invitational this week at Bay Hill in Orlando, Puma recently launched its latest collection inspired by the effortlessly upscale looks of The King himself. The new collaboration, which includes an entire suite of golf layering pieces, basicsaand accessories, pays tribute to Palmer's joyful, rigorousaand omnipresent legacy, and is bold and bouncy—perfect for spring plays as the days get longer.
It's a playful collection keeping to a limited, beachy color scheme of navy, white baby blues and pinks—the kind of sunny shades that make you long for a cold iced tea and a round with friends. Prices range from $35 to $150, with most items remaining budget friendly, coming in well under $100. Here's a look at some of our favorite pieces in the line.
The menswear capsule includes six cool polos, one tee shirt, two shorts, one pair of shoes, three headwear options and two layering pieces ideal for spring plays that can include its share of drizzly weather and dewy mornings. Every piece references Palmer in some way, often through Arnie's signature bright umbrella logo. For example, the Palmer P Cap is a classic, made modern by the sans serif Puma "P" with a Palmer-inspired umbrella holding on to the side like a cocktail garnish. For an even more contemporary feel, the designers also stripped down the umbrella into a modernized, contoured logo that can be seen decorating the other cap designs, sweater and shorts.
"The goal was to create pieces that captured the essence of Mr. Palmer's life, both on and off the golf course," Puma Golf's Chris MacNeill said. "[We aimed] to do so with a color palette and premium quality materials that would appeal to all the fans who admired his style and zest for living."
Keeping with the Palmer theme, another motif seen in the collection is that of his namesake's mixed drink, illustrated through lemons, tea bags and filled-up glasses. A fun example of this lies in the Cloudspun Citrus Polo, which is soft, has moisture-wicking properties and comes in three cheerful colors.
The final motif that nods to Palmer, a regular at Palm Springs, is cactus imagery. The desert flora can be seen running along the sides of the AP MATTR Dunes Golf Polo, along with palm trees, sandy flagsticks and—because you should never leave home without it—a good ole' umbrella.