Tiger Woods can still draw a crowd and a television audience, that much he's proved this week. Now it's about reminding them how he warranted so much attention in the first place.
For the first time in two years, Woods has a chance on Sunday to win a tournament. He will enter the final round of the Wyndham Championship tied for second, two shots behind leader Jason Gore.
Woods no longer is head of the class, but he passed another test on Saturday, by not playing himself out of contention. He shot a two-under par 68 that included an 18th-hole bogey, his first in 28 holes.
Even considering that the course, Sedgefield Country Club in Greensboro, N.C., largely removed a nemesis from his hands, taking driver out of play, this turnaround has been staggering and is certain to have people paying attention to golf at a time they'd already moved on to football.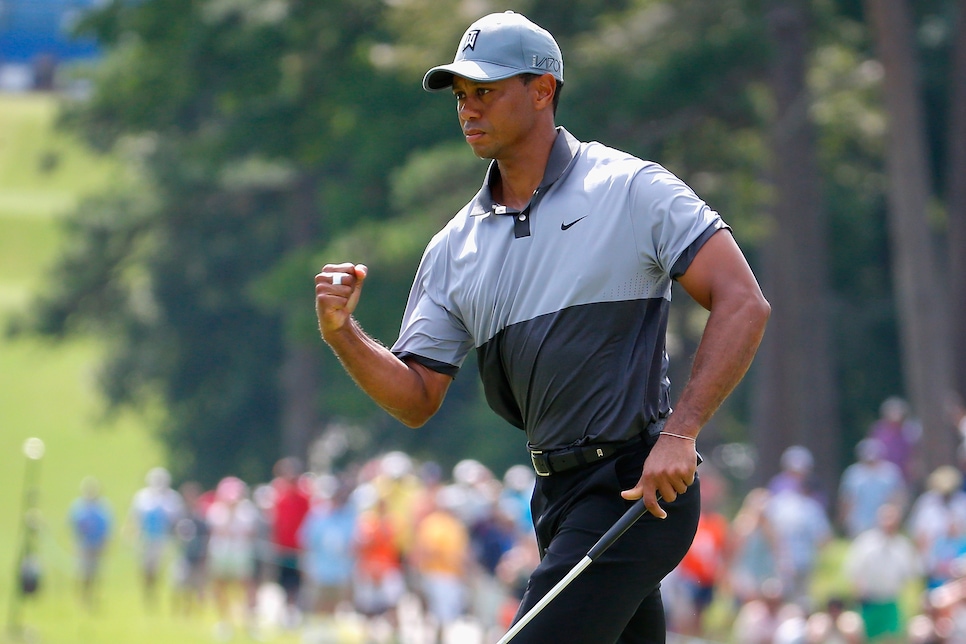 Only the week before, Woods' career had been left for dead. He missed the cut at the PGA Championship, his third straight missed cut in a major.
The Wyndham Championship is not a major in any sense other than the boost it could provide to Woods in his bid to resurrect his career. And though a victory won't do much to allay the notion that Nicklaus is still a target, it would bring Snead back into focus.
Woods is seeking his 80th PGA Tour victory, which would bring him within two of Snead, the all-time record holder. Moreover, he has a chance to do so on a course on which Snead won eight times, including his 80th.
"I think this golf course has a lot do with Tiger being in a good way this week," CBS' Peter Kostis said. "It's a golf course that doesn't require power, only drive it maybe five times. It allows him to keep his tension and rhythm under control."
Yet when Woods pulled driver on Saturday, he quickly collected his tee, a sure sign that he was in control. "I feel like I'm swinging well enough right now that I want to hit driver more often, ironically enough," he had said on Friday.
Another sign that the "process" to which he frequently alludes has progressed to the point that he at least has a chance to win again was that the par save seems to have returned to his arsenal, notwithstanding a lip-out bogey at 18.
Woods holed a number of dicey, short downhill par putts to keep his round alive. Then there was a 24-foot par putt he made with authority at the 10th hole that warranted his patented fist pump.
"Yep, he's close," Golf Channel's Arron Oberholser immediately Tweeted.
Closer than he's certainly been in a long, long time.