News
Pro puts PGA Tour hopes on hold to be with wife at Solheim Cup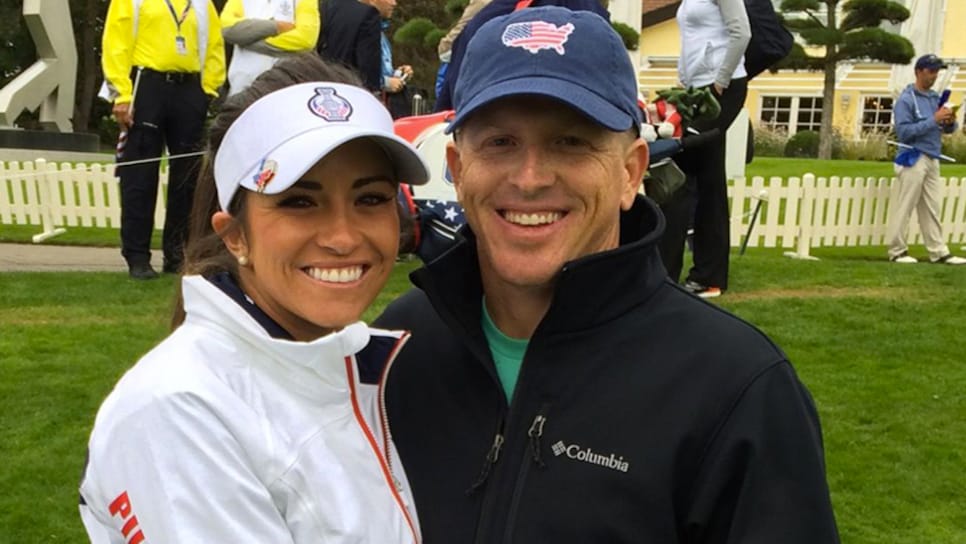 It's been a rough few years inside the ropes for Martin Piller. In his second career go-around on the PGA Tour in 2016, Piller failed to produce consistent results. He finished 162nd in the FedEx Cup, and was unable to do anything of merit at the Web.com Tour Finals, sealing the unsavory fate of another season in the minors. Most of this campaign was of similar tenor, missing the cut in 11 of 15 events.
However, the 31-year-old hit pay dirt at the Ellie Mae Classic at TPC Stonebrae in early August, shooting a final-round 64 for a one-shot victory. The W vaulted Piller up the season money list; with just two weeks left in the regular season, he sits 26th in earnings. If that standing caught your eye, it should: the top 25 earn their PGA Tour card for 2018. Given this plight, Piller must be sweating it out at this week's News Sentinel Open, right?
Not quite. While his aspiring brethren battle it out at Fox Den CC in Knoxville -- an event Piller's won in the past -- Martin is outside the ropes this week in Des Moines at the Solheim Cup. And with good reason: he's cheering on his wife.
Gerina Piller is one of the top-ranked Americans in the sport, making her third appearance in the team event. Though she hasn't found the winner's circle, she's been playing well in 2017, racking up four top 10s. If the U.S. hopes to retain the cup, a solid performance from Gerina is imperative. A sentiment, perhaps, that explains why Martin is in the gallery.
To say work is involved in maintaining a relationship between two pros is an understatement. Dealing with travel schedules can be problematic, yes, but there's the uneasy notion of not just dealing with your own game, but your significant other's. Easier said than done, especially when the other is struggling, a sentiment noted by Martin in a 2015 interview with Bill Fields.
"We approach it well, but just because we have a faith and feel like golf isn't the end of the world, there are still difficult times," Martin said. "When you're playing great golf, you try to relish those moments. But it's not so much if you're going to play bad, but when. It's part of the game. We have a lot of joy in our lives, but there are days when it's tough and you roll up your sleeves and try to power through it."
Martin certainly isn't the first man to sacrifice his game for the sake of a marriage, and despite his absence this week, remains in the running for one of the precious few tour spots. Here's hoping the golf gods reward his act of love.