Courses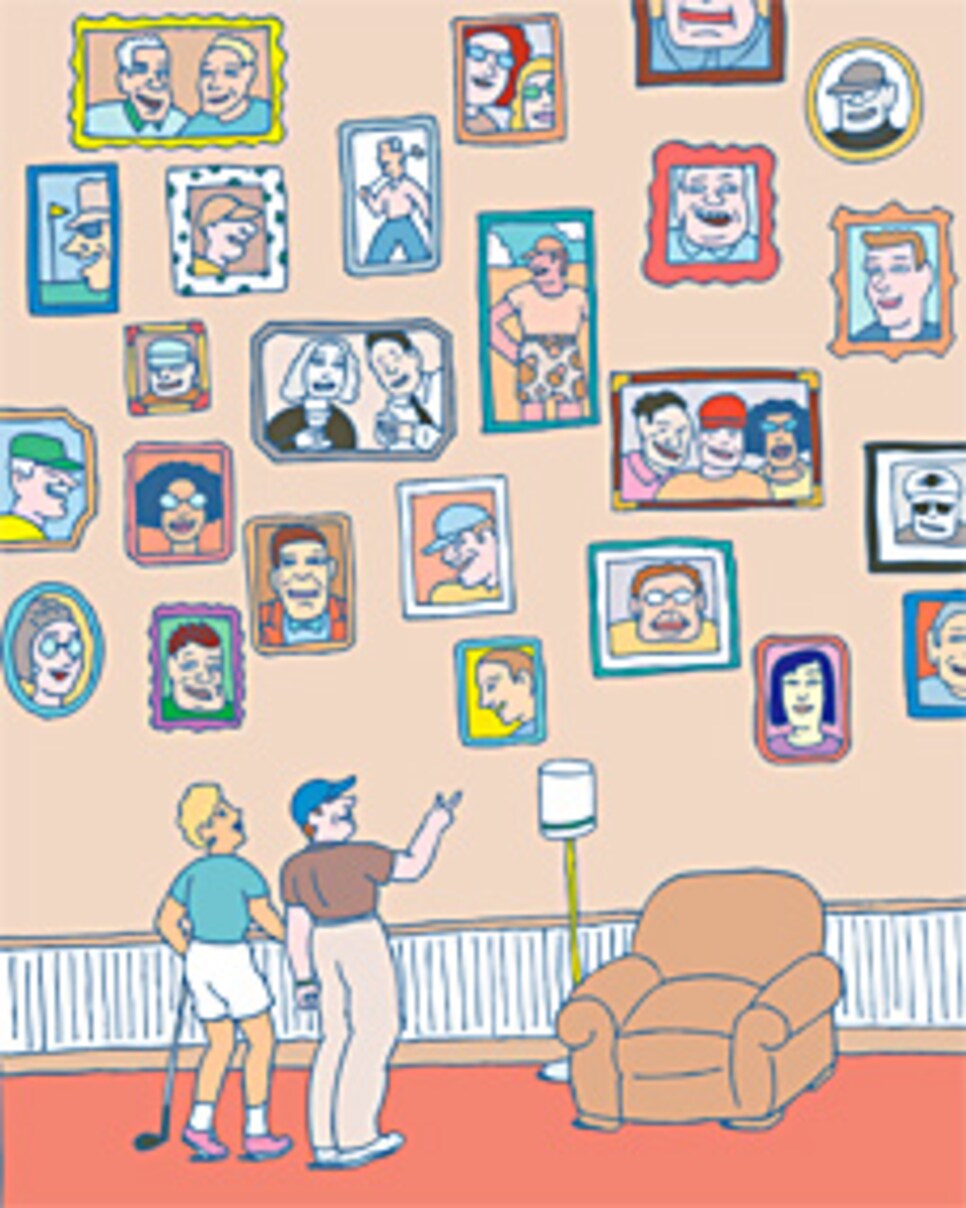 At the first private club I ever met, caddies played on Mondays from in front of the tees, the fear being we would gouge the pristine bent grass and destroy the entire character of the course. So it was a thrill to play public golf, where our money got us a place on top of the tees. My brother, two other caddie buddies and I would pull out a Rand McNally map of "greater" Detroit, search for a golf-flag icon, and drive the '66 Mercury to Livonia, River Rouge, Canton and Inkster to "hit the links." The suggestion that we'd one day belong to private clubs would have left the four of us howling. We were no cake-eaters.
I love public golf, and I completely get it if you think private clubs are stuffy, governed by idiots, slaves to petty restrictions or too expensive. My friend Allan recently announced that he'd quit his club because his annual dues translated to, in his words, "a round at Pebble Beach every time I tee it up." Allan spends his free time driving 13-year-old twins to track and cello competitions. When he can spring himself, paying for the occasional "country club for a day" works fine. He'll play good golf courses that way; some better than private ones.
Fifteen years ago, though, I went the other way and joined a club not far from my house. It's a 100-year-old, sensible A.W. Tillinghast course alongside tennis courts and near a big swimming pool, which I could locate if pressed. The clubhouse is large, white, creaky and full of artifacts that mark the club's history. Wandering around, you feel like you're part of something bigger than yourself.
So here's the kicker: I'd recommend you do the same; join a private club, especially now when bargains abound.
Reason No. 1 is not how good it will be for your business. I don't know what your business is, and maybe you'd be better off in the office, or at your kids' track meet like Allan. For me, business is not what makes it worthwhile, though it's nice to show a client a golf course you love, or to meet members and their guests who know a whole lot about something you have no clue about -- internal medicine, for example. It's nice to know the right person to go to.
It's also not the fact that I still get excited to think that they let me in. You know the old joke about clubs. The first guy says, "Do you belong here?" and the second replies, "No, but I'm a member." Don't believe it. Belonging is a big deal, especially for an old front-of-the-tee caddie. Each time I walk into the shop and Brad the pro says, "Hi, Mr. Carney, playing today?" it tickles the hell out of me. I love the idea that someone caddies for me (and I might be able to help him out the way those Michigan members helped me). I love the idea that no matter what my son, a beginner, does to the perfect teeing ground, as long as I pour some seed in there, we're OK. I love the fact that we mostly play fast and the membership cares for the course and we can all sit and settle our bets under a champions board that dates to before my dad was born. And of course that the bar under it serves Guinness.
Bernard Darwin wrote that if the pleasure of belonging to a club is made up partly of vanity, "it is rather a humble vanity that is pleased at being elected to any body of our fellows."
Being accepted is part of it, but it's the people you're accepted with who make it worthwhile.
A guy like Red, for example. Red's my mortgage broker. Father of four boys. One of the first guys I met at the club. Big, tall guy with thinning red hair, broad smile. Plays every day he can, 7 a.m. on weekends, often with one of his boys. The world is Red's client. One- or 2-handicap. Little League coach. Always a smile, except maybe the year they disqualified him from the club championship for playing the course after the qualifying round with his wife.
Red was a good guy long before being a good guy helped him build a business. He's a guy you want your kids to meet, a guy who loves to talk golf and reads everything about it, a mainstay on the golf committee. The odd thing is, Red's from another town, and our families rarely spend time together at home. We don't have to. We've got the club.
Red and a lot of other guys at the club take me back to those days with the Mercury and the map. They love golf, can't get enough of it, but know it's not all about them. They make a point of learning the club's history, the course's evolution, the older members who've shaped the place. They resist change for its own sake but happily dispense with handed-down silliness. They own the place.
I'm not suggesting that you can't meet such guys at a public course. Of course you can. But you can't meet Red and his kids and wife, Chris, have your son meet his sons and play a few holes together or, God forbid, hang out by the pool.
Of all the countless PowerPoints I've endured over the years on why people like/don't like, take up/don't take up, stay with/abandon the game of golf, one stands out. A researcher named Madelyn Hochstein gave five reasons all of us have less time for golf -- and anything else. Three I've forgotten, but these two stick:
On first pass, belonging to a private club would seem to live on the wrong side of both those tracks. But for me the club is the escape from that technology -- from using it, from keeping up on it, from letting it run my life. The Board says no gadgets on the golf course. Long live the Board.
You know the old joke about clubs. The first guy says, 'Do you belong here?' and the second replies, 'No, but I'm a member.' Don't believe it. Belonging is a big deal.'
And where else can you and your kids, on a sunny weekend afternoon at 5 o'clock, decide on the spur of the moment to play five or six or seven holes and then have dinner? "I'm sorry, sir," I can remember a local public-course operator telling me, "we don't allow carts out after 5 because they won't be in before 7, and the staff gets off at 6:30." Oh, and they have no nine-hole fee on weekends. But at the club you can run into Roger and Ruth Ann, your husband-wife partners, and play the last two holes with them, and if you catch up to Murph and find out how his two boys at Leadbetter are doing, that's even sweeter.
If this sounds way too perfect, don't worry. Play with (I'll call him) Chad, and while he's shooting 69 he'll give you a talk show on slow play, slow greens, "inappropriate" fescue, or the "odd" color of shingles we've chosen for the clubhouse roof. One of the pitfalls of a club is that you might be sucked into the management and maintenance of a second household -- or worse, a discussion of how it ought to be done. Avoid this. But don't pass up a chance to volunteer for the tournament committee when your club hosts one. Giving back is part of being a member, and you'll never meet so many people you wished you'd met earlier.
My wife, Julie, just walked by and asked me what I was writing. When I told her, she said: "Tell them it's about family," which is where I was meandering when I was interrupted.
It's about family: My old family, my new family -- Matt and Jules -- and all those other families we've adopted over the years, swapping stories in white rockers on the clubhouse porch.
Simply put, it's sharing the game you live for with people you live for. Good clubs can make that happen.