Courses
How To Join A Private Club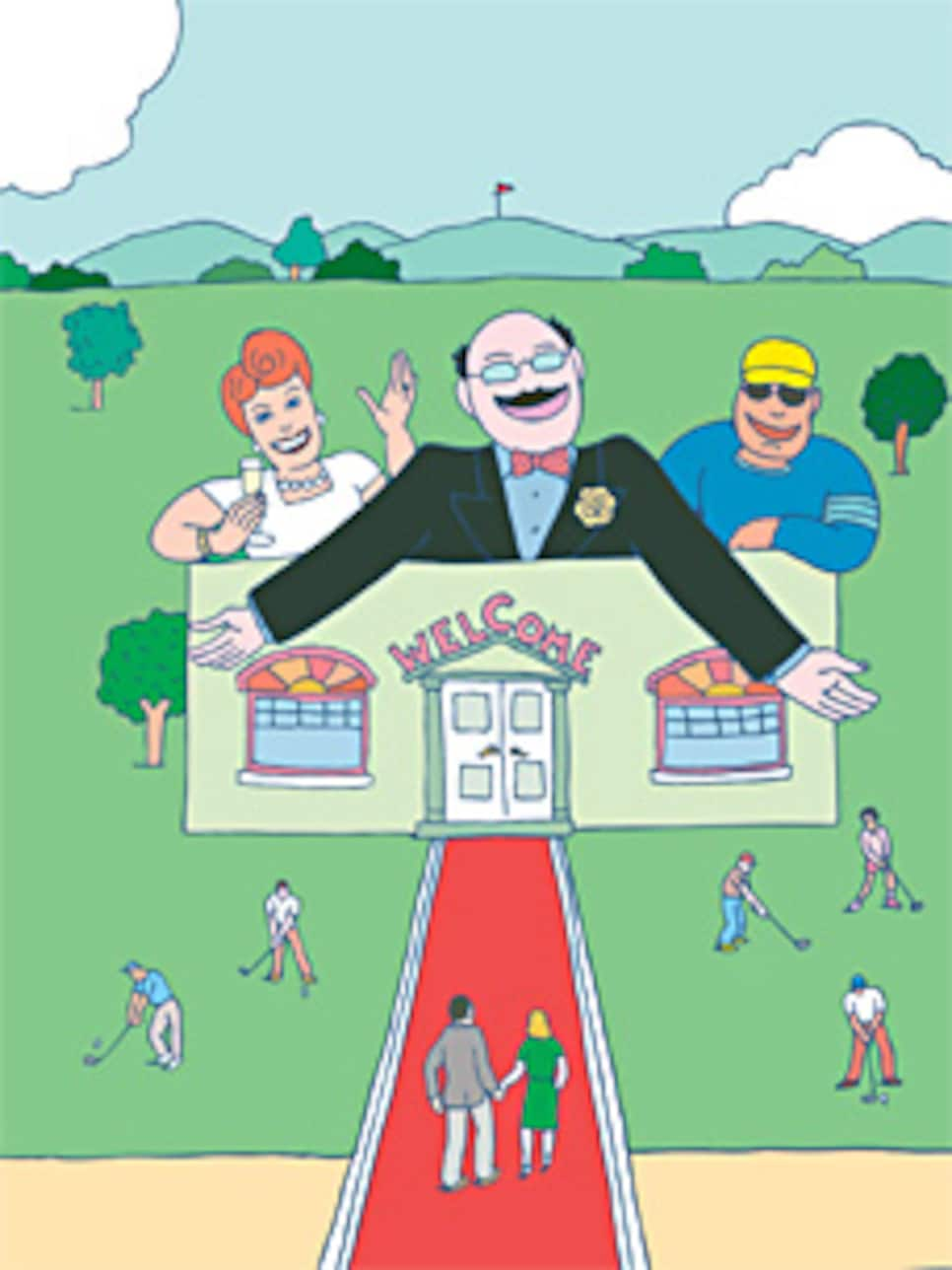 Joining a private golf club can require an amalgam of skills: the observational talents of a detective, tact of a diplomat, patience of a saint and insight of a forensic accountant. Few of us possess that combination, but fear not: This guide will help you understand what it takes to join a club, answer your most pressing questions and give insight into what longtime members wish they had known when they applied. Comments were supplied by more than 200 club members across the country at every-thing from America's 100 Greatest Courses, as ranked by Golf Digest, to small facilities that are the only game in town.
Q: I'm happy with the daily-fee and municipal courses in my area. Why should I consider joining a private club?
Because for the first time in your life the economics might work in your favor. The growing profile of high-end, daily-fee courses that began flourishing in the 1990s has created competition. That has left most clubs scrambling for revenue and offering attractive membership opportunities.
Q: It's a buyer's market?
Definitely. At least that's the case in many parts of the country. If you're in Detroit, where the auto business is struggling, there are plenty of opportunities. Ditto if you're near a city where a lot of daily-fee courses have been built in the past decade. Chances are a club within an easy drive of your home is ready to deal. But if you're in Dallas or Houston, where the oil business has kept private clubs booming, you won't have as much luck. Likewise, the largest and most prestigious of the country's 4,000-plus private clubs aren't feeling the financial pressure the way your local club might be. Despite the economic downturn, some elite clubs are still getting $250,000 to $500,000 in initiation fees, maybe more than that in some cases, but research tells us there are low-cost alternative clubs within 25 miles of almost every one of the private clubs among America's 100 Greatest Golf Courses.
Q: So what's this going to cost me?
A lot depends on the initiation fee, which is actually the best reason to be looking right now. Some clubs have eliminated initiation fees or lowered them to a few thousand dollars. Some will even allow you to finance them over several years. According to a study of private clubs done for Golf Digest by Longitudes Group, 30 percent of responding clubs had a list price for initiation of $7,500 or less. We heard about many clubs undercutting those list prices, and the study showed that the least-expensive clubs are the ones that need new members the most.
Q: What are the costs beyond the initiation fee?
The average annual cost for dues at the clubs responding to the survey was $6,245, which is about $520 a month. With some daily-fee courses charging $100 or more for a round, you might already be spending that much. Private clubs will typically provide applicants with a complete list of costs, but we can't emphasize enough how much costs vary from one club to the next. We found small and remote clubs that charge little more than $200 to $300 a month. And we're aware of clubs that charge much more and tack on fees for the locker room, bag-room storage, range, hole-in-one insurance, tournaments, holiday gifts. These might add up to an additional $1,000 a year.
Q: Am I required to spend money elsewhere at the club?
Most clubs require members to spend a minimum on food and beverage each month ($50-$100 at some, more at others). Even if you never have a soda or a sandwich, you'll be required to pay that monthly minimum. Each club has rules on what counts toward your minimum. At some, favorite spots such as the halfway house, pool snack bar or grillroom aren't included. At some clubs, beverages might be excluded from minimums.

Q: Any other hidden fees to expect?
Members shudder at the word, but "assessments" generate crucial funds. These additional costs typically cover major projects such as a course renovation, but they also might be used for emergencies. At many clubs, capital expenditures above a certain amount, typically $1 million to $2 million, require membership approval. Let's say the board wants to spend $1 million to remodel the locker rooms. It might have open meetings to discuss a proposal that each member pay an extra $100 or $200 above the dues for 24 months. Or it might send invoices for $5,000 and expect full payment in 60 days.
Q: Are club costs the same for everyone?
No. Each club has membership categories with slightly different fees depending on enrollment, access to facilities and revenue needs. Learning the membership limit in each category, and present totals, is one gauge of financial health. Most active golfers are regular or full members with unrestricted use of all facilities. These members pay the highest fees. Nearly every club supplements its membership with house or social members who have limited access to the course but might have full access to the pool, restaurant, card rooms and, perhaps, fitness center. A nonresident might pay less because they use the course less than a local member.
Q: I recently graduated from college and don't have a lot of extra cash. Is there anything for me?
Many clubs offer deals for juniors into their 30s, meaning you can get a much better price than anyone else on initiation and monthly costs. It's a way of attracting prospects who might become lifelong members. Juniors graduate to full status upon paying the difference in initiation or entrance fees.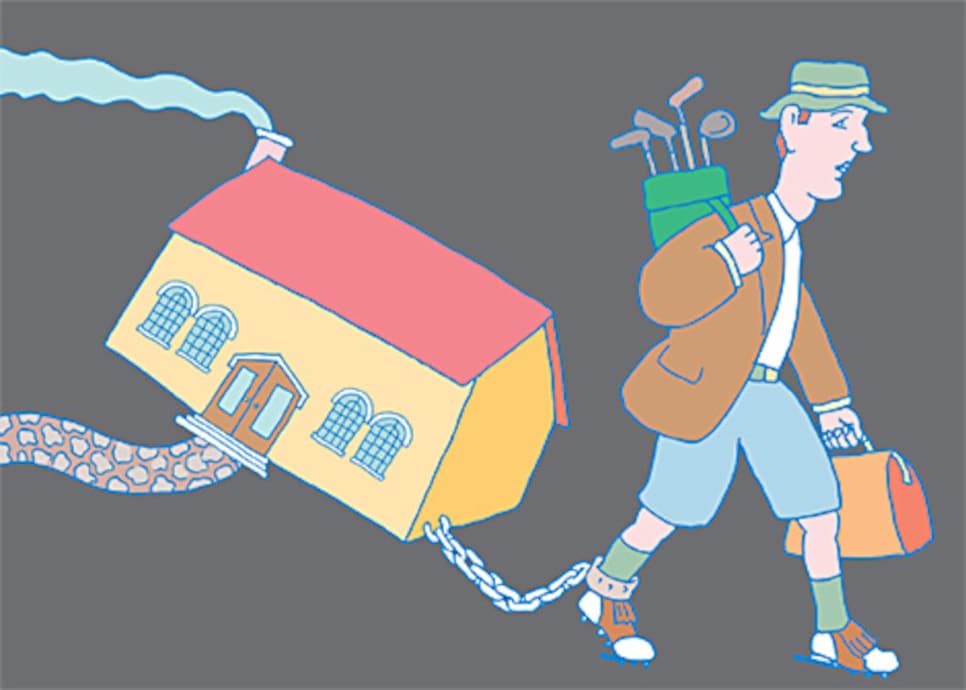 Q: Any other money concerns?
One word: debt. Nearly every club has some, whether it's a line of credit tapped for emergencies or a loan for big renovations. In most cases anything six figures or below is considered routine, but a debt of more than $1 million should get your attention. It might be worth looking into how the debt was accumulated, how much is retired annually and when it will be paid off. Even if the club has a plan to handle debt, interest charges bloat a budget. As a member you become responsible for it, and liable for lump payments if the board decides to wipe out the balance.
Q: So joining a club these days can be as easy as writing a check?
In some cases -- especially at the more desperate clubs -- if you can pay a few months' worth of dues upfront, there's a good chance you can get in right away. But even if you can become a member immediately, take a little time to fully evaluate a club and make sure you're ready for a long-term commitment.
Q: So how do I start the process?
If you know a member, there isn't a better place to start. If you don't know anyone at a particular club, then ask friends, co-workers, business contacts and others whether they know anyone who's a member. If you can't find a member, don't be afraid to call the club and ask to speak with the general manager or head professional. You might be surprised by their excitement at hearing from a prospective member.
of survey respondents were optomistic about membership prospects in today's economy.
were pessimistic about membership prospects'
Q: Is there a difference between a golf club and a country club?
Often there's little difference, but if a member tells you his club is a "golf club," he probably means the club focuses on golf above all else. If a place calls itself a country club, it probably indicates a more rounded environment, where your spouse and children can enjoy swimming pools, tennis courts and much more than golf. Some clubs cater to families, but others view spouses or significant others, and sometimes even kids, as guests. The best type of club for you -- pure golf club or country club -- depends on how you expect to use it.
Q: There's a club about 15 minutes from my house, but I really prefer the course at a club almost 40 minutes from home. How far is too far?
Distance from home should definitely factor in your club selection. Convenience is huge, according to almost every club member we spoke with. If there's a big-name club 40 minutes away, you might happily make that drive once or twice a week. Then again, if your family is going to use the pool and tennis courts and you want to play or practice three or four times a week, 30 minutes might become too far. Here's a test: Drive to the club, then drive home as if you'd forgotten something. Then turn around and drive back to the club. This will give you a good idea whether it's too far.
Q: I've just received my first invitation to play golf and visit a club I'm considering joining. What should I expect?
Here's where knowing a member and learning about the club as a guest is ideal. Nothing beats playing the course, eating a meal and touring the facility without anyone else knowing you might be interested in joining. If you're there as a guest of the manager or golf professional, your host will probably remind you of a salesperson, full of positive information about their club. Factor that in, and don't hesitate to ask questions.
Q: How many times should I play the course before joining the club?
A surprising number of prospects don't determine whether they like the course until late in the process. Make it a point to play a few rounds, ideally at different times of the year, to see how the condition of the course changes. A course that seems spectacular and fun to play the first time might look a lot different by your third or fourth round.
Q: Do private clubs require tee times, or do most of them allow members to show up and play whenever they want?
Some of the busier clubs require tee times almost every day, especially on weekends, but we're aware of many golf clubs whose courses are often empty, even during peak playing times, including weekends. Many members told us one of the best perks at private clubs is the ability to play golf whenever you want, and often on whichever holes you want. Some clubs let you walk to the first tee unannounced or even jump to an unoccupied hole and begin play there. Maybe you want to hit balls and play five or six holes after work. Mini-rounds can make the cost of a private-club membership worthwhile for golfers who love the game but can spare only an hour or two early or late in the day. Ask about the club's policy.
Q: What other rules might surprise me?
We hear a lot of complaints from golfers about mandatory carts at daily-fee courses, but it happens at private clubs, too. Some require golfers to use (and pay for) a caddie or a cart during peak playing times. Depending on when you play most of your golf, your opportunities to walk and carry your bag might be limited by such policies. It's worth asking about these rules so you aren't surprised later.
Q: Any restrictions on when my kids can play? And what about guests?
Again, policies vary from club to club, but it's common that juniors' access to the golf course includes restrictions. Guests are usually a welcome source of revenue for clubs -- no, your buddies don't play for free -- but there might be limits to how many, how often and what times they're permitted.
Q: So who determines all these policies?
If you're a lifelong public-course player, you might know the head pro at your favorite course, along with a few other shop workers, the starters, rangers and beverage and snack-bar servers. At a private club you'll have more dealings with those who determine how the place is run. The elected board, its officers and president oversee all aspects of the club. Various committees (green, membership, social, etc.) offer assistance and identify potential leaders. The board's main responsibility is to establish short- and long-range direction and policy.
"My club has reduced its initiation from $15,000 to $3,000 to attract members, who will not have equity in the club. The club was trying to build up monthly dues income, and it has helped bring in about 50 new members."
Q: Once I'm a member, what happens when I decide to leave the club? Can I just walk away?
A clear understanding of this process protects your interests. You might be able to walk away whenever you want, but in some cases clubs might require members to pay dues until a new member joins.
Q: What's the difference between equity and non-equity clubs?
An equity club is how most golfers envision a private club: Each member holds a fractional share and a vote in its governance. Those ownership rights might be sold or cashed in upon resignation, often at a higher value. Members of non-equity clubs, like apartment renters, hold no ownership but can belong to the club. In a way these terms are outdated because of the increasing percentage of clubs that have eliminated initiation fees or the eventual return of equity dollars. The club members we contacted for this story referred frequently to for-profit clubs. They often are owned and operated by a management firm.
Q: How hard is it to become a member of one of the top clubs in the country?
It depends on the club. Some attract very good players. Win the U.S. Mid-Amateur, and you've increased your chances dramatically. Other top clubs reward civic leadership or golf contributions. The key is to know members, and have them know you.