Presidents Cup
Davis Love III is perfect choice to captain 2022 U.S. Presidents Cup team in his home state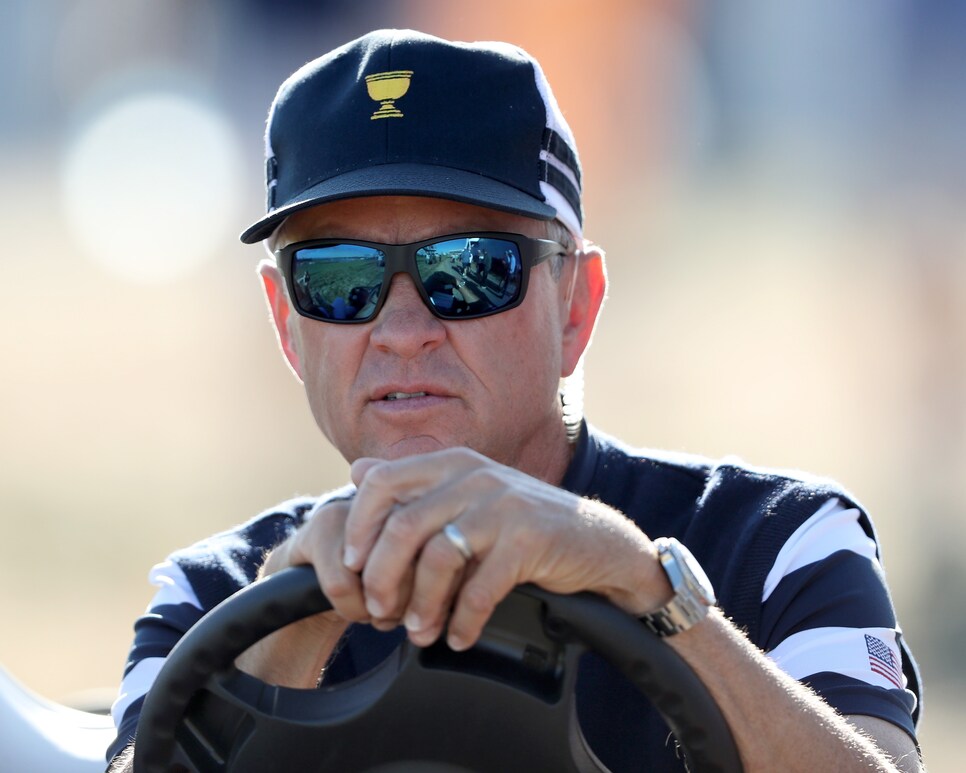 As an assistant captain, Davis Love III watches the final-day singles matches in the 2017 Presidents Cup at the Liberty National Golf Club.
David Cannon
Davis Love III, who as a Charlotte native was the logical choice to lead the United States team in next year's Presidents Cup at Quail Hollow Club, has enjoyed longer ties to the biennial competition than any other player in PGA Tour history.
Love played in the inaugural Presidents Cup in 1994 in Virginia, but he actually learned that previous fall that the tour was creating its own event fashioned after the Ryder Cup. A player rep on the tour's board, Love was sharing an airplane with Tim Finchem as they headed to a board meeting. Finchem at the time was the tour's deputy commissioner under Deane Beman, and he definitely knew his audience.
Weeks earlier, Love had emerged as one of the heroes in what remains America's last Ryder Cup victory in Europe, winning the last two holes against Costantino Rocca to score the clinching point for Team USA at The Belfry.
"I've kind of been involved going back to Tim bringing it up, saying, 'Hey, I've got this idea. We're going to have another one of these matches,' " Love recalled. "I said, 'But I'm supposed to go hunting in Africa next fall.' He laughed at me and said, 'Yeah, like you need to go to Africa.' The Presidents Cup popped up in less than a year from that conversation. He decided we were going to do it, then we did it. I had to cancel a hunting trip. But it's really cool that I've been involved since the very, very beginning of it and sort of come full circle."
Love, 56, was officially named on Tuesday the ninth U.S. captain, succeeding Tiger Woods, who as playing captain led the Yanks to the first Sunday singles rally in Presidents Cup history in late 2019 in Melbourne, Australia. The 16-14 victory at Royal Melbourne extended America's winning streak to eight against the International Team and increased its leads in the series to 11-1-1.
Interestingly, it was Woods who informed Love just before Christmas that he would be the next U.S. captain after the 1997 PGA Championship winner served as an assistant captain for three straight matches, beginning in 2013 under Fred Couples at Muirfield Village Golf Club. Love wasn't exactly surprised. Since Quail Hollow was announced as site of the 2021 matches—pushed to 2022 because of the coronavirus pandemic forcing postponement of the 2020 Ryder Cup—it was thought that Love, a two-time Ryder Cup captain, would lead the U.S. squad in the state where he was born and where he attended college and became a three-time All-American at the University of North Carolina.
"It was really cool that Tiger called me and said, 'Hey, um, we have decided that you're going to be Presidents Cup captain in Charlotte," said Love, whose initial reaction to Woods was to ask in reply, "Who's we?"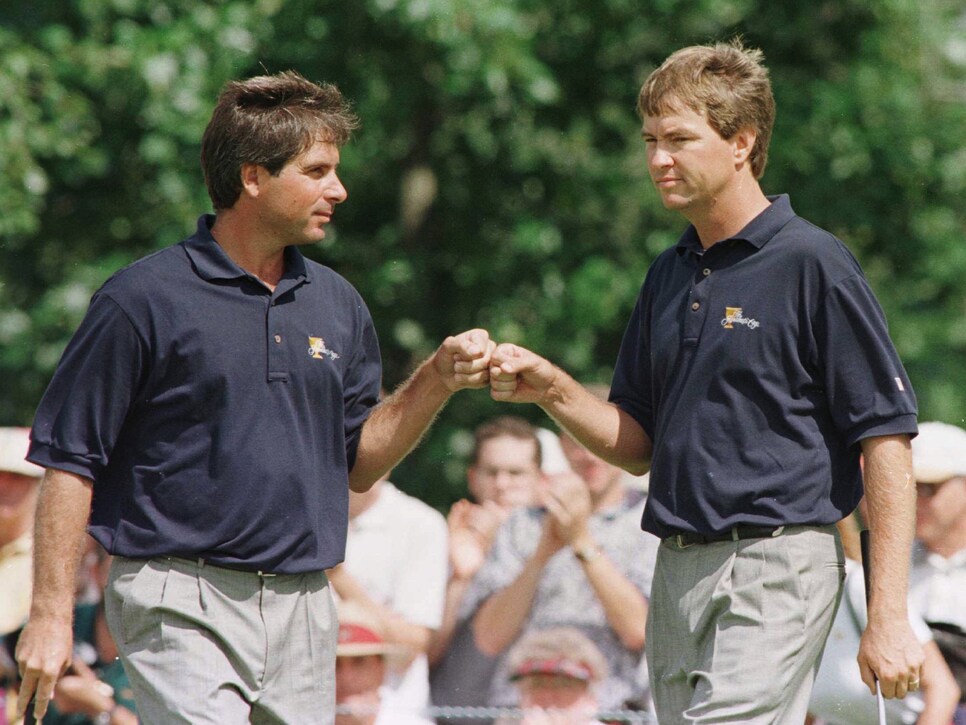 Davis Love III (right) and Fred Couples teamed up during fourball the 1996 Presidents Cup.
J.D. Cuban
After all, Love was part of the group that recruited Woods to be captain in Australia. "We weren't ready to play in 1998 when we went to Australia, and that was one of the reasons we wanted Tiger to be the captain [in 2019], to get guys excited about playing there in December," Love said. "I thought it would be great if Tiger kept doing it, but, naturally, I'm excited to lead another team.
"You know, the tour's been great to me, and I've spent a lot of time with a lot of the tour staff over the last 30 years being on the board, and I've been playing out here for a long time. So I'm thrilled to do it. Everyone knows what they are going to get with me."
Love competed in six Presidents Cups and compiled an 18-6-4 record. Twice he went undefeated, going 4-0-1 in the inaugural match for playing captain Hale Irwin and 4-0-0 for captain Ken Venturi in 2000.
Patrick Reed might have earned the nickname "Captain America" with his passionate competitiveness in biennial events, but Love somehow has become America's captain. He is 1-1 as a Ryder Cup skipper, avenging a 2012 upset loss to Europe at Medinah with a 2016 victory at Hazeltine National. In addition to his three turns as an assistant captain in the Presidents Cup, Love has been a vice captain in the Ryder Cup in 2010 and 2018 and will serve again as an assistant under Steve Stricker in the 43rd Ryder Cup this fall in Wisconsin.
"Arnold and Jack, you know they were older when they did it, and now all of a sudden I've gotten to be an elder statesman, so I appreciate it more having a role, probably like they did," the World Golf Hall of Fame member said. "I played in Hawaii [at the Sony Open] and Brandt Snedeker was there, and every time I saw him, he was like, 'Hey captain, how's it going?' I have a lot of guys out here that just have seen me in that role so much that it's how they see me. It's very nice."
A bonus for Love is the location, Quail Hollow Club, which hosted the 2017 PGA Championship and has served as a stop on the PGA Tour since 2003. Love hinted that the difficult final three holes of the back nine will be moved up to constitute holes 13-15 for the Presidents Cup to add a further element of excitement. Because of his Tar Heel ties, he called it, "the ultimate home game.
"I talked to my son, Dru, about it. He's like, 'Dad, that's going to be out of control.' And it really is," added Love, whose 21 tour titles include three at the Wyndham Championship in Greensboro, N.C., and, in fact, that was the site of his last win in 2015 at the age of 51, making him the third-oldest winner tour history. "I don't know if this will be the last time I do anything like this, but it's going to be a special week no matter what happens."