The Loop
Presidents Cup underscores Jason Day's growth
Jason Day was so loose on the range at Muirfield Village GC during one of the many rain delays at the Presidents Cup that putting on a trick-shot exhibition seemed like a good way to break the tension. While teammates were grinding on their games, Day was skipping shots off a curb 15 yards in front of him that were ricocheting back in the direction of a startled Angel Cabrera.
Day tried to pretend it wasn't him, but the laughter gave it away.
This is something Day learned hitting balls as a member at MVGC. Around the club, they're still talking about Day's closest-to-the-pin contest with Derek Dorsett, a former member of the Columbus Blue Jackets now playing with the New York Rangers. Dorsett used his hockey stick while Day used his wedge.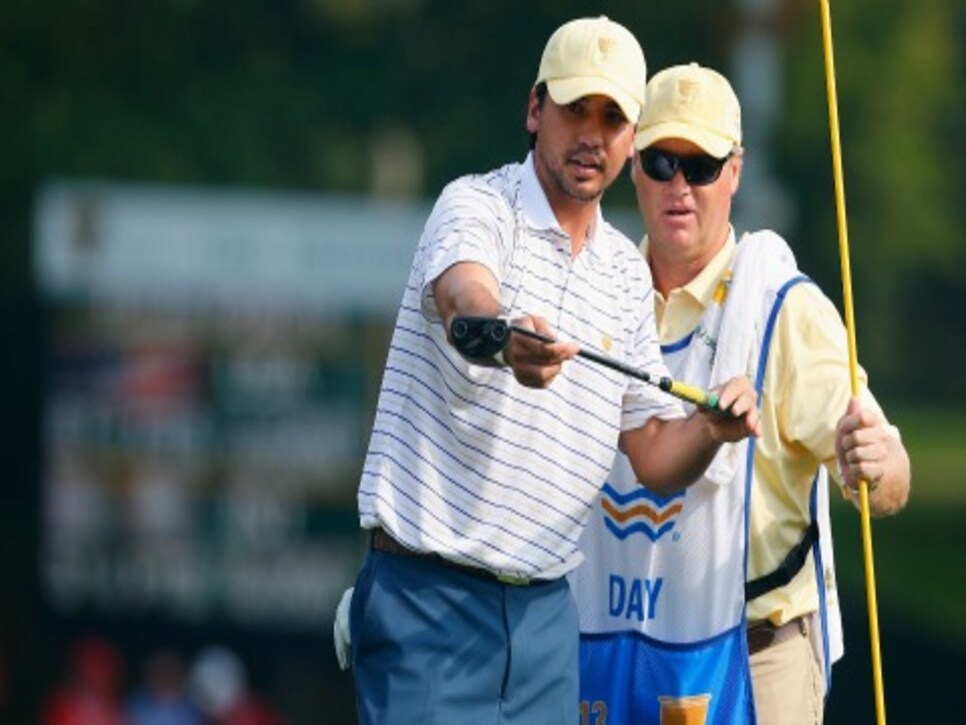 "[2011] was probably the most stressful week I've had in a good long while, just the amount of pressure you put on yourself,'' Day told me before the tournament. "By Sunday, I was absolutely fried."
Day's home away from home is Ohio, in the northern suburbs of Columbus, where he and wife Ellie live with their 1¿-year-old son, Dash. His in-laws were pulling for him even though they were rooting for team USA, but it wasn't like an entire continent rested on his shoulders.
Day's 3-1-1 week represented not only a reversal of his 1-3-1 line in Melbourne, but also the type of results that have not yet materialized in stroke-play events on the PGA Tour -- where he has one win in 136 starts. Put it this way: If Day closed majors like he did matches in his second Presidents Cup, he would have turned those close calls at the Masters and U.S. Open into wins.
And it may not be a stretch to say that Day represents a brighter future for the International side in Presidents Cup competition. With seven rookies on this team, Day has the energy, talent and looseness necessary to turn the tide. As Day said, "It feels like we're a family now."
This was clearly a new day for Jason Day, and his words reflected it. Two years ago, he lost in the singles, 5-and-3, to Hunter Mahan. this time he beat Brandt Snedeker, 6-and-4, in the singles. "It's good to finish off with a bang like that," he said after going five under for 14 holes. "I've been playing great golf the whole week. I just wish it was a little bit closer."
That's for another day. this was the dawn of a new Jason Day.