News
Presidents Cup 2017: Watch Daniel Berger hit one of the most incredible recovery shots you'll see
JERSEY CITY, N.J.—Daniel Berger just hit one of the most remarkable recovery shots you'll see -- even in a Presidents Cup where there has been ample highlights from the U.S. team, this is one of the most impressive.
The fact that Berger nearly holed this shot is amazing, but hitting this shot as close as he did, from a lie with his back foot barely on the ground, gives you an idea of just how good these guys are.
First Berger took off one shoe, then decided he'd do his best to stay level and hit the shot. It was a good decision:
Think that's any good? Look at this lie! C'mon...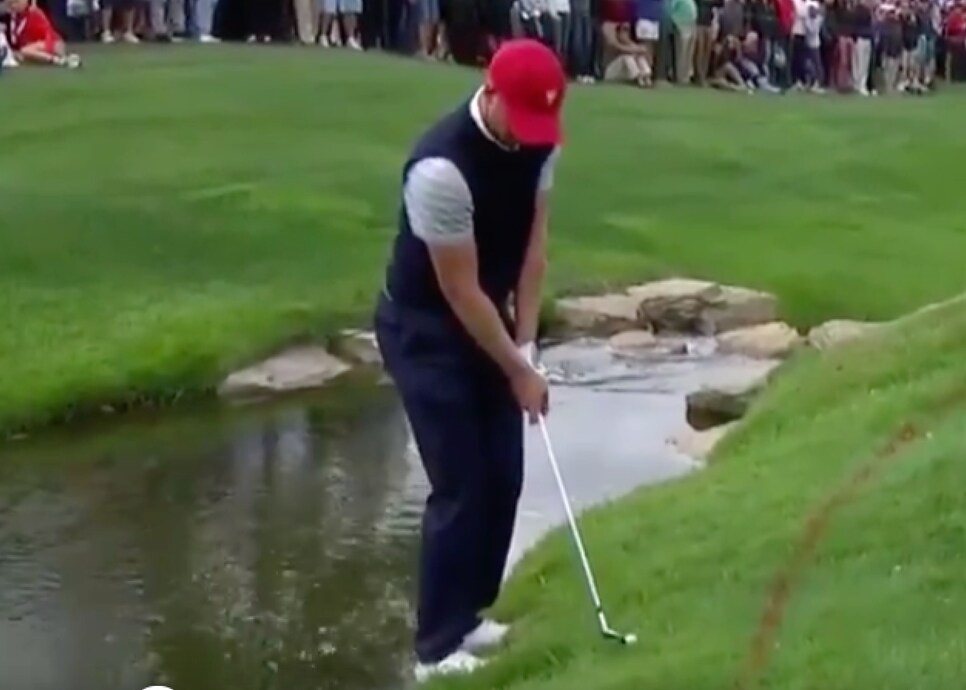 The Golf Channel showed the replay of Woody Austin's legendary shot from the 2007 Presidents Cup when he fell back into the water. Berger didn't fall into any water -- look how perfectly stable he stayed before impact -- and proceeded to one-up Austin's result.
After sitting the last two sessions, Berger was surely chomping at the bit to do something for this ultra-talented U.S. squad. He provided his moment with authority on the first hole of his fourballs match, partnered with buddy Justin Thomas.
His kick-in birdie was only good enough to tie the birdie of Jhonattan Vegas. But what a shot it was by Berger. We'll be seeing the highlights of that one for a while.