News
Presidents Cup 2017: PGA Tour officials are preparing for President Trump to be in attendance at Liberty National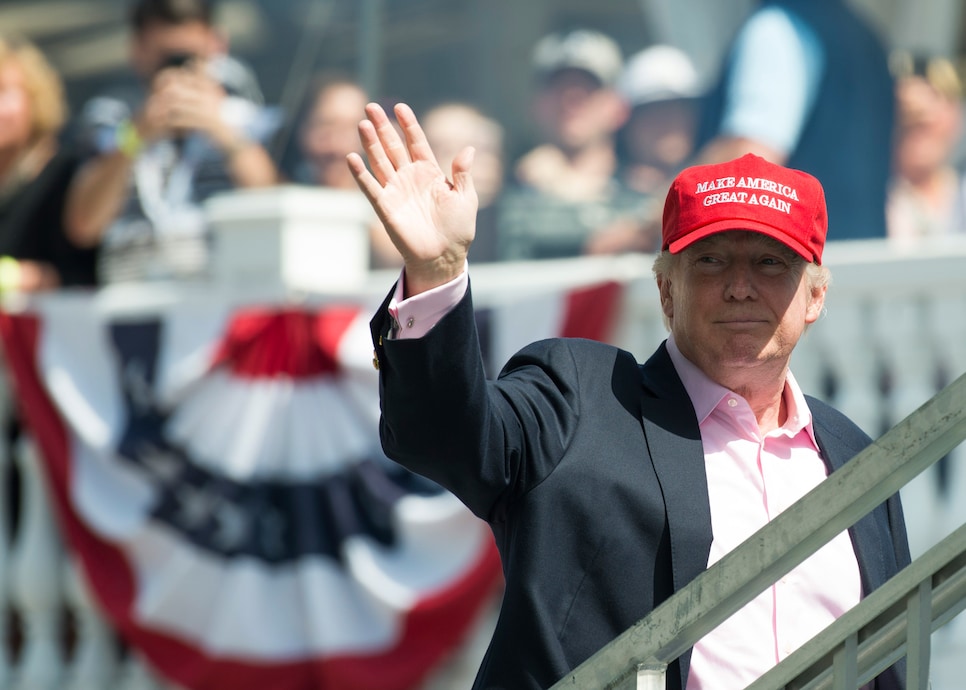 JERSEY CITY, N.J. — Three former U.S. presidents will be at Liberty National Golf Club on Thursday to help kick off the first session of the 2017 Presidents Cup. It's the specter of a fourth—the current one—being in attendance on Sunday, however, that's got people talking.
Bill Clinton, George W. Bush and Barack Obama, all former honorary chairman of the match-play team event, will take part of the festivities on the first tee during Thursday's opening session of the 12th Presidents Cup. Not since 2005 has more than one president come to the competition (Clinton and George H.W. Bush).
A siting president hasn't been in attendance at the Presidents Cup since Clinton in 2000, but PGA Tour officials are preparing for Donald Trump to be onsite for Sunday's climatic singles session. President Trump is the honorary chairman of this year's event and was invited over the summer to attend.
PGA Tour commissioner Jay Monahan said that White House officials have been out looking at the course and property. "We are thinking that he is going to come out, but he has not yet confirmed."
It wouldn't be the first golf tournament Trump has seen in person in since becoming president. In July, when the U.S. Women's Open was held at his course in Bedminister, N.J., Trump came to watch for three days, talking and interacting with a handful of players.
The timing of Trump's potential presence at a sports event would be intriguing. It would come a week after he controversially lashed out at NFL players protesting during the playing of the national anthem, which in turn instigated more protests by more players and teams last weekend.
Asked if the American team might stage some form of demonstration when the national anthem is sung by Darius Rucker on Thursday during the Opening Ceremony, U.S. captain Steve Stricker said there was nothing planned.
"We're going to do what we always do and that's take off our hat and put our hands across our chest and over our heart and respect the flag," Stricker said. "So that's what we're planning on doing."
Whether this message makes Trump any more likely to attend the Presidents Cup is unclear, but it would seem to make it more likely.