Pratima Sherpa is working to become Nepal's first golf star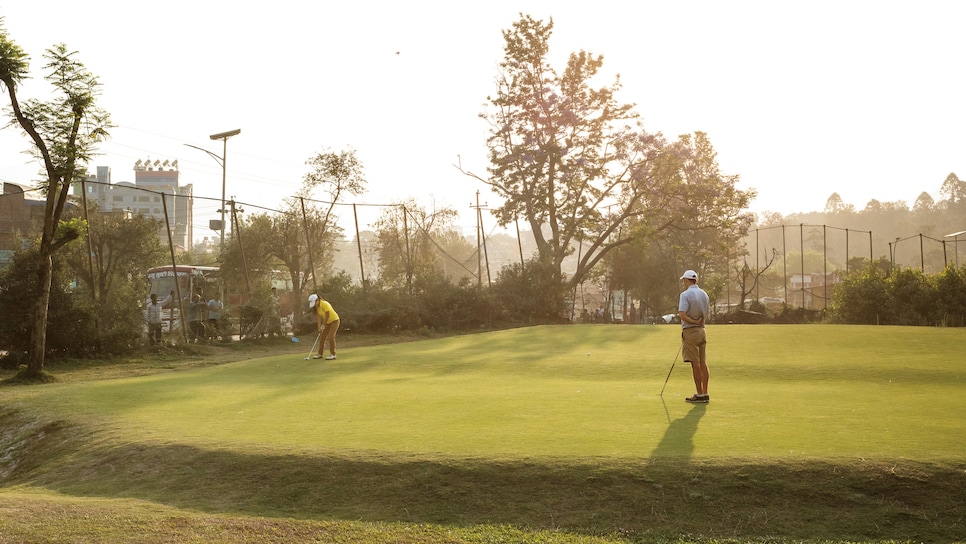 Photo by Vladimir Weinstein
Generally speaking, sport is the great equalizer. If you have talent, it doesn't matter who you are, where you're from, or what you look like. But in golf, things are a little more complicated. The wealthy have a far greater chance at competitive success. So when a child without privilege plays well enough to have his or her life fundamentally changed by the game, it's that much more inspiring.
Meet inspiration. Her name is Pratima Sherpa. She's 17, has lived her entire life in a maintenance shed on the fourth hole of Royal Nepal Golf Club in Kathmandu, and is the top-ranked female golfer in her country.
Pratima's parents are laborers at Royal Nepal, each making $2.50 a day. Although the shed is far from spacious or luxurious, it does have one advantage: The proximity to the course gave Pratima all the exposure to the game she needed to begin playing at age 11. One of the teaching professionals at Royal Nepal, Sachin Bhattarai, gave her free lessons, and a member donated golf clubs to get her started.
Today, she is a determined teenager with a warm smile, a killer swing and victories in seven of the nine tournaments she has entered this season. Her dream is to become Nepal's first female tour pro.
"She's my star student," Bhattarai says. "Always trying to improve, always learning."
The maintenance shed in which Pratima and her parents live is filled with mowers and course equipment. A subdivided room, roughly 20 percent of the dwelling, serves as the family's home. It's smaller than many American bathrooms. Two beds touch end-to-end. A table doubles as dining space and homework desk. Several feet away is a cabinet bursting with Pratima's trophies. Just a few weeks ago, Pratima made four birdies in a round to win her latest prize, the Carlsberg Classic Golf Tournament on her home course.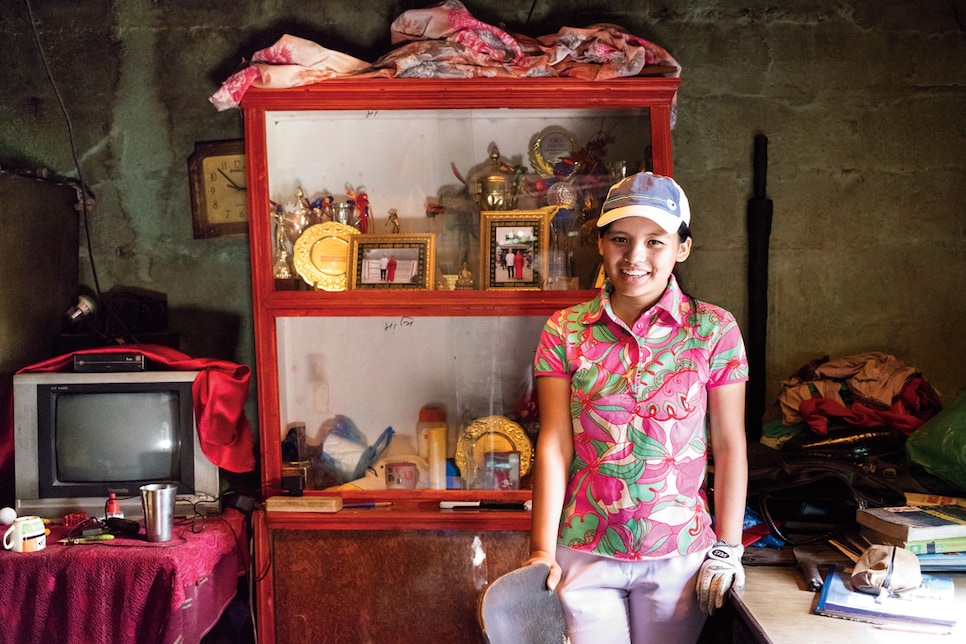 Photo by Vladimir Weinstein
Her day begins at 5 a.m. feeding her family's animals: four goats, 10 chickens, a tiny cat named Suri and four dogs. The family had five dogs, but one was eaten by a leopard. On most days Sherpa will play nine holes before taking an hour-long bus ride to school, and she still takes a weekly lesson with Bhattarai.
Pratima's favorite golfer is Tiger Woods. Her favorite food is dal bhat (lentils and rice), and she shares many golfers' dislike of bunker shots. When she crushes a drive, which is often, she proudly smiles. Perhaps the biggest reason for her success is a tireless work ethic. She practices every day, no matter what. That includes getting drenched during the downpours of monsoon season.
When she's on the course, she's rarely alone. On every hole she's watched by Royal Nepal's maintenance workers: men in traditional Nepali hats, women in flowing orange Hindu saris. There's a noticeable bond between the golfer who grew up in a maintenance shed and the workers who use its equipment. "That's Arati ... that's Lalita," Pratima says, smiling at two female workers.
Royal Nepal is something of an oddity. Monkeys roam the fairways. The fifth and sixth holes share property with the famous Hindu temple Pashupatinath. The condition of the golf course certainly isn't Augusta National, but it does look like an oasis of calm in an otherwise chaotic city.
The fourth hole runs parallel to the city's Ring Road: A metal fence separates the golf course from the crowded street. As Pratima lines up a 30-footer on the green one spring day earlier this year, five men stare at her through the metal fence, transfixed by what they're watching. Pratima knocks her putt to an inch, smiles bashfully, then taps in. Meanwhile, two young Nepali girls also stop to watch, hugging the fence to get a glimpse of her in action. To observers, it's as if they know they're seeing something special.
Pratima's success on the golf course comes at a time of change in Nepal, not just because of last year's devastating 7.8-magnitude earthquake, which temporarily turned her home golf course into a refugee camp for 2,000 residents.
Opportunities for girls in Nepal have historically been limited. But its government switched from a monarchy to a democratic republic in 2008, ending 240 years of royal rule. Now two of the main leaders in Nepal are women: President Bidhya Devi Bhandari and Speaker of Parliament Onsari Gharti Magar.
Changes are coming, the next of which might be having the country's first female tour professional.
Pratima knows she's not just on a quest for herself. If she continues to improve on the course, maybe she could help inspire a whole generation of young girls in Nepal to rise above their economic hardships, and realize their dreams.